Kit Addendum | 1st Flights | Major Kit Components | Super Bandit Specifications | Super balsa Bandit

The Super Bandit
by Bob Violett
For the Jet Pilot who appreciates maximum performance
and absolute precision control


Improved knife edge flight was a real discernible difference. It flies very fast and yet is very stable in slow flight just like its predecessor. Extended knife edge flight and on-the-deck slow rolls will become Super Bandit trademarks.

A taller, wider fuse explains the knife edge superiority and it is accomplished with no elevator or aileron inputs. This extra volume is most helpful during the equipment installation phase of assembly.

A lot of things have been upgraded in the Super Bandit. The machined carbon fiber hinges with integral control horns on the control surfaces are one of the improvements.
Click to read why the Super Bandit is a finely tuned machine.
The prototype model was subjected to very high speed flight to check the integrity of all systems. It passed the test.

Super Bandit builders are going to appreciate the many other refinements - we estimate that at least 1/3rd of the assembly time has been eliminated.

A JetCat P-120 provides the push.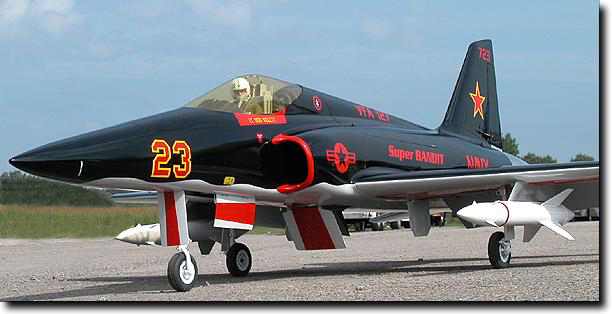 A very light grey contrasted with military insignia red provides enhanced visibility during aerobatic maneuvers.



All fiberglass parts are finished in grey primer. Hatches have plywood framework factory installed.

Composite wings, tails and rudder have molded lines for cutouts. Flap is factory cutout, while rudder and elevators have factory hinge line cut.
Superb Undercarriage
the best in the business
Landing gear systems get better if the manufacture actually flys them. And the BVM factory team flys a lot - that's how we know what can be improved. We are confident that you will find this system of retracts, Duro-Struts, Wheels & Brakes and Smooth Stop brake valve unmatched in quality of manufacture and durability in use.
Paint Scheme
We call this the "Primer Plus" scheme. Some red vinyl graphics and a little red paint on the nose, tail and wings provided sufficient visibility for initial flights. The "Bullpup" missiles are by Dan Gill and certainly add to the "Attack" appearance of the Super Bandit.

The under wing pylons are from easy-to-assemble, laser cut kits and can also serve to mount the normal Bandit external tanks. External stores of all types assist in visual orientation.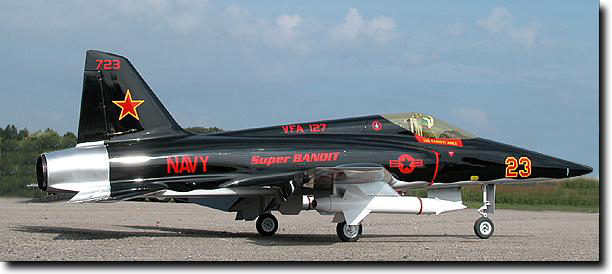 Our thanks again to Mitch Weiss for the fantastic photos.

---
SUPER BANDIT
Airframe Directive (A.D.)
And other helpful notes

Wing Pylon Mounting
Locate drill locations per plans.
Drill pilot holes with 1/8" bit. be sure to align drill vertically with respect to ground stance of model. (not surface of wing skin).
Re-drill with 3/16 bit, then with 13/64" bit. (hole size is critical for proper installation of brass insert.)
Install brass insert onto 4-40 socket head bolt. Slowly thread insert into hole. Maintain vertical alignment to avoid braking maple block loose in wing.
Remove bolt from insert, if insert does not release, place a drop of water into hole to swell maple block around insert. Wait 10 minutes, then try to remove bolt again. If needed, a drop of ZAP can be used to hold insert in position in block.
---
Heat Blanket & Aluminum foil insulation template
The first Super Bandit kits that shipped were missing this drawing. Please click here to download the drawing and print it out. The actual sizes are listed on the drawing. This is now part of the plans.