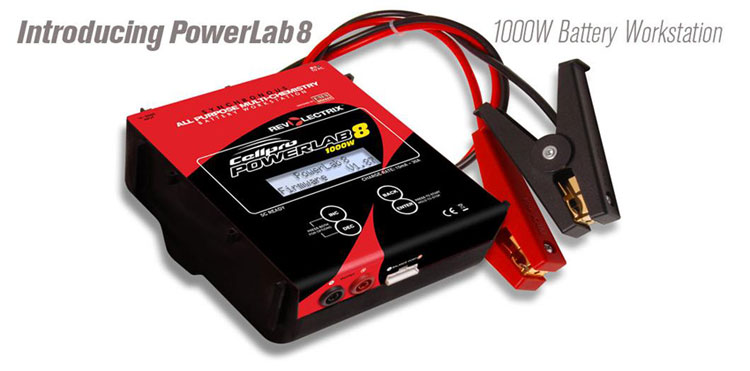 BVM has been using the new Cellpro Power Lab 8 charger for several weeks now, with very impressive results. At first glance you will notice this is a big charger; it is capable of charging up to 1,000 watts at one time. This means you can now recharge your power packs at higher "C" rates, and in turn have less downtime between flights.
Over the last six months BVM has been flying 3 packs of 4S 6500 and 7600 mAh batteries on the EVF-2-12s systems. This configuration allows for even cell cooling and discharge as well as allows parallel charging. Parallel charging is when you connect similar chemistry and cell count packs together in parallel and charge as one large pack.
Example:( 3 x 4s 6,500 mAh = 19,500 mAh) Note: Batteries of different cell count must be charged separately.

The photo shows 3 x 4s 7600 mAh batteries charging at 30 amps. At this rate the packs will be recharged in less than 30 min. The standard 12 volt, 55 amp Iota power supply is all that is needed to charge your 10-12s system at full power (30 amps output).

When your flying day is complete the Power Lab 8 will conveniently charge or discharge the packs to 50% capacity for storage by selecting "Storage Charge".

BVM sells this charger complete with three parallel balancing boards and three high current charge leads. Battery connectors not included, order 3 male Deans plugs for use with BVM Saddle Cells.


When you buy this charger from BVM, you also get the lengthy instruction manual in printed format.

Additional balance boards and charge leads are available for charging up to nine batteries in parallel.
Now you can fly virtually back to back flights with a little time to give your thumbs a rest.
This is a very capable charger, please see the charger's specifications below:
For Battery types: Lithium Polymer (1s to 8s balanced, 1s to 2s unbalanced), Lithium Ion (1s to 8s balanced, 1s to 2s unbalanced), Lithium Manganese (1s to 8s balanced, 1s to 2s unbalanced), A123 (LiFePO4) (1s to 8s balanced, 1s to 10s unbalanced), NiCd (1s to 21s), NiMH (1s to 21s), 6v, 12v, 24v Lead Acid batteries (Flooded, Gel, AGM, SLA)
Pack capacity: 20 mAh to 360Ah
Input voltage: 10-32VDC, reverse polarity protected
Input current: 1A to 50A, software limited
Power conversion: Synchronous DC/DC converter, supports multiple switcher frequencies of 31.25 kHz, 62.5 kHz, 125 kHz; user selectable by preset, 85% to 93% efficiency depending on output current
Output battery charge current: Adjustable range 10mA to 30A, limited by 50A input current*
Output battery discharge current: Internal discharge 10mA to 10A, 100W max Regenerative discharge 10mA to 30A, 1000W max**
Continuous max output power: 516W @ +12VDC input, 1008W @ +24VDC
Cell balancing: Resolution 78uV (16 bit) for 1s-8s Li or A123 (LiFePO4) balanced charging
Voltage calibration: Cell voltage measurements are factory calibrated to a standard traceable to NIST; calibration is to +/- 6 mV
Current calibration: Charge current is factory calibrated on a 4A standard; calibration is to +/- 1mA
Measurement accuracy:
Voltage resolution: 78uV (16 bit)
Voltage tolerance: +/- 6mV
Charge current: +/- 1%
Capacity added to pack: +/- 1%
Percent capacity ("Fuel"): +/- 5% (with accurate fuel table defined for battery being charged)
Serial data output: 19.2kbps, 8 bits, 1 start bit, 1 stop bit, no parity
Data integrity: Checksum, CRC checking
Cooling fans: Twin, 13 CFM, 50mm diameter
Heat sink: Internal 200W aluminum, thin finned
Output battery connector: "Cellpro" compatible, JST PA series, 9 position
LCD: 2 line, 16 character, light grey/blue backlit


BVM Part # V-FM-CP POWERLAB 8


Contact Us
All graphics and photos Copyright 2014 BVM, Inc.
Use of graphics or photos without written permission from BVM is strictly prohibited.