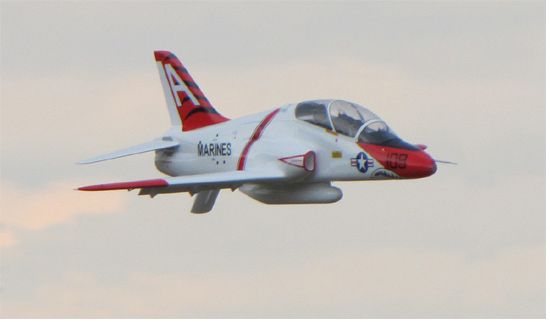 BAE Hawk
from
Skymaster
by Bob Violett
"This is a great flying airplane, one that can score well in the Pro/Am classes at Top Gun," say's Dustin. From my observation, it appears to take off and land as good as our F-100 and the rolling and looping pattern style maneuvers are super axial and on track.
BVM is producing a supplementary instruction manual with a few BVM parts to help perfect this Skymaster Pro product. Harley Condra now lives close to BVM and helped us assemble the model and produce the manual. An important part of the BVM instructions is how to set-up the controls and you can download the JR12X program that Dustin perfected. An important feature of the control set up is the automatic or manual use of the speed brake.
We chose the US Navy/Marine T-45 Goshawk version as our BVM demo because of my Naval Air background, many other choices are available.
Sized Right
The proper size for a model is certainly a personal issue. We like the 77" wingspan, 94" length, and 34# weight of this Hawk. It can be handled by one person if needed, fits into an SUV (wings off) or in most trailers (wings on). Ours is powered by a 5 year old JetCat Titan so a later model P-120SX or P-160SX would be good engine choices. The air-over-oil landing gear shock struts can make you look good on touch down.
The finish, fit, and details are typical Skymaster Pro Series which is earning a reputation for excellence.
BVM BAE Hawk 1:4 3/4" Supplementary Parts
Group 1
part # PA-SR-6020


includes - Laser and Router cut plywood mounting board, etc. that allow a very orderly radio, fuel system, and engine components installation. The hardware package includes USA linkages, screws, nuts, bolts, and threaded rods. The 48 page photo enhanced BVM manual helps you get it all together.

$204.00

Group 2
part # PA-SR-6021

includes - Speed Brake, Brake Install, and Landing Gear Install w/ Door Install


$339.95

Group 3
part # PA-SR-6019

includes - U.A.T., BVM tank fittings, vent fittings, tubing, and Hopper Tank

$139.95

Main Gear Door Cylinder Upgrade
part # PA-SR-6013

$69.95
Contact Us
All graphics, photos, and text Copyright 2012 BVM, Inc.
Use of graphics or photos without written permission from BVM is strictly prohibited.