| Electra Missiles | Electra Addendums | Electra Instruction Manual | Electra Video | Electra Paint Masks | Adapting a Jetcase to an Electra | Servo List PDF | JR Radio Performance Packs | Electra on 10s power | Electra Gyro
An all electric jet done the BVM way.

Perfect for the modeling craftsman.
With interest in electric airplanes sizzling, it was only natural for the BVM team to set their sights on a jet model with all the performance, quality, reliability and thorough engineering that BVM products are so well known for the world over.
The new Electra Jet is designed as a quick build kit with wood wings and stabs so precisely engineered that the building process is sure to be a delight. The lightweight, super strong structure assures superior performance and ultra slow landings.
BVM's engineering team developed integrated power systems that'll provide 13-15 pounds if installed static thrust (see EVF brochure) for thrilling take-off, climb and high speed performance. Cool and reliable operation is the result of our engineering excellence.
Of course, your Electra will be exceptionally complete for hassle-free swift assembly. And should you get in a bind, BVM support is just a call away.
Let's take a closer look at what makes the Electra JetTM so special.
In Action
| | |
| --- | --- |
| | |
| | |
The airframe components are all made in the USA at our Florida facility. The fiberglass fuselage and molded fin have strategically placed Carbon Fiber and Kevlar reinforcements. A crystal clear canopy and molded cockpit deck with instrument panel are standard. All formers are laser cut for accuracy and a complete color photo enhanced instruction manual and C.A.D. plans are included.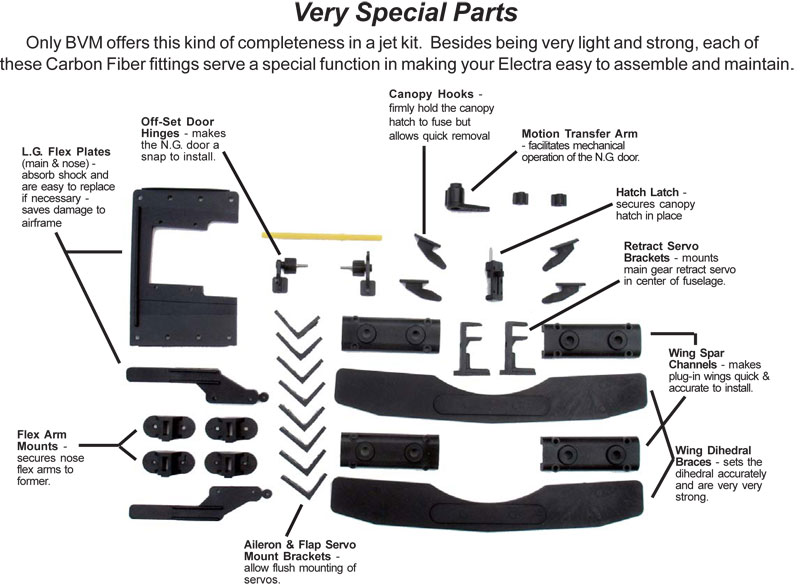 Wing & Stab Details
Every rib, spar, brace and wing skin (1 piece) is laser cut to perfection. Shaping of the L.E. & tips is aided by laser cut templates.

Flaps and ailerons are easily assembled using laser cut 1/32" ply skins and balsa ribs providing thin, straight and dent resistant trailing edges. The very generous size flaps provide short grass field take-offs and super slow stable landings.

Servo and landing gear cover plates are a unique combination of thin poly-ply and balsa.

The low landing speed and zero residual thrust of the EVF (throttle trim down) negate the need for wheel brakes. This saves weight and money.
Access is Important
Even though the power and guidance components are minimum in this "all electric" jet, easy access to them is a convenient feature of your Electra.


Canopy hatch pulls forward and off exposing the front area.


Power hatch allows quick removal of BVM Saddle Cells™ and access to the EVF.


Nose gear door opening provides retract and Flex Arm access.


Bottom hatch exposes wing mounts, main gear retract servo linkage and elevator servos.
Strong & Light Undercarriage

Hundreds of landings without a glitch
The mechanical retract operation is smooth and reliable using 2 JR 791 retract servos.
The injection molded Carbon Fiber retract frames and all aluminum machined internal parts provide superior strength. BVM's heavy duty 3/16" main wire struts with precision axles and Du-Bro wheels complete the landing gear package.
Benefits of flying an Electra Jet™:
·

No turbine waiver needed.

·

Minimum support equipment necessary - bring spare batteries and a charger for more flights.

·

No vibration to wear out components.

·

No liquid fuel to saturate the inside of your model.

·

Low heat environment.

·

Electric Reliability

·

150+mph performance.

·

SUV transport in one piece, wings remove easily for more compact transit and storage.


Your Electra, your favorite tool kit, transmitter, spare batteries and a charger and you are set for a day of jet flying. Vehicle is a Suburban or similar.
Electra Servo List - click here to download the pdf file
To order JR Radio Products click here
---
| | |
| --- | --- |
| | The Electra Jet is big (60" wingspan) for an electric powered sport jet, but still compact enough to fit into many midsize SUV's like Bob Fiorenzi's Mazda Tribute. Shown here with the wing and tail covers removed, it rests on a foam padded box and there is still space available for spare batteries, chargers, and a cooler. |

Click here to view the Electra Jet video
(22mb .wmv file)


The Electra Jet with EVF propulsion was impressive at FL Jets '07 that many of our dyed-in-the-wool turbine customers want to add one to their arsenal of sport jets.




The utter simplicity, quiet operation, model field acceptability, easy transport, and the fact that it flies like its big brother "Bandit" are convincing qualities.
Impressive Performance


It's not a Viper or a Bandit but just the right in between size to absorb the 5+ H.P. we now have available for the EVF. We have learned a few things over the years and the inlet design reflects our experience in that area. The fan, inlet and tailpipe designs must have a determined performance point prior to executing the tooling. We believe that the design point we chose provides an excellent balance between take-off thrust and thrust available at 150mph. Enthusiasts at Florida Jets '07 or other recent flight demo's can attest to the wide envelope of performance of the Electra / EVF combination.



One really has to see it to fully appreciate it, but this video should help.
Receiver Batteries
For BVM Electric Jets
BVM uses and stocks 2 cell 7.4 volt LiPo batteries in 1800 mAh and 2600 mAh capacities. We find the 1800 mAh quite sufficient for 4 flights or so on the Electra.

Here the battery is taped to a 1/8" ply tongue that in turn is screwed to the forward servo mount. Combine these 7.4 volt batteries with a Duralite 5.1 volt regulator for very reliable and weight efficient flying.

Your EVF power battery charger will charge it in a jiffy at 1C.
Electra Jet Kit
Airframe Directive (A.D.)
And other helpful notes
---
(3) 4s Battery Install Addendum
(04/15/2010)
---
Servo-Operated Nose Gear Retraction Addendum
(02/02/2010)
---
Canopy and Engine Hatches Lapping Addendum
(06/10/2009)
| | |
| --- | --- |
| As a final procedure for fitting the canopy and engine hatches, use a piece of #220 grit sandpaper (grit up) slid between the fuse flange and hatch and "lap-in" any tight spots for a relaxed fit of the hatch to the fuse. | |
---
Retract Pushrod Addendum
(06/08/2009)
From: Bob Belluomini
To: Bob
Sent: Tuesday, June 02, 2009 12:48 PM
Subject: Electra Retract Pushrod Mod

Hi Bob,

I incorporated a small mod that limits how far the retract pushrod bends. I reduced the overall throw at the servo so as to reduce the twisting action that occurs at the servo mount and former. With the gear in the down position I cut a j shaped notch in two of the blocks that are used to mount the servos, one for each side. The notch is cut just deep enough so the pushrod rests against it with the block mounted on the back of the front blade spar about 3/16" out from root of the wing. The blocks are mounted at 180 to each other to allow the pushrod to go through it stroke correctly.

If you depress the over center link on the retract by hand you will see the motion is transferred to the other retract unit making it impossible for either retract to unlock.

Thanks,
Bob Belluomini
---
F8 Installation Addendum
(06/08/2009)
The canopy frame is of very lightweight fiberglass structure, support the model on soft foam rubber for the installation of F8 on page 71 of the manual.
---
Flap Setting Addendum
(10/02/2008)
The landing flap position that we recommend in the manual may be a bit to much for some landing techniques, It works if you add a bit of power just prior to touch down. For a total power-off flare out, a setting of about 10° less will afford smoother landings. Try it and let us know what you think.
---
Main Gear Flex Mount Stiffener Addendum
(09/30/2008)
---
Main Gear Retract Servo Installation Addendum
(09/11/2008)
The following instructions and photos clarify what has been published in the assembly manual and plans. The location of the main gear servo mounting is important for the proper function of the retracting mechanism.
---
Inlet Duct Installation Addendum
(09/11/2008)
It is important that the aft end of the inlet ducts is centered in the fuselage. The Saddle CellsTM require equal space on each side of the thrust tube.
---
Securing The Wings Addendum
(04/18/08)
---
Addendum
(11/29/07)
---
Elevator Servo Mounting Addendum
Servo Mounting
(8/20/07)
---
Electra Jet Addendum #051607
To clarify the correct orientation of the wing cradles (used to hold the wing to apply bottom skins), all 3 cradles are taller on the front end than the rear.

Use an accurate measuring device to properly determine this. Later kits have a "tick" laser cut into the front edge of each cradle. Proper orientation of these cradles is necessary to achieve the wing "wash-out".
Contact Us
All graphics, photos, and text Copyright 2014 BVM, Inc.
Use of graphics or photos without written permission from BVM is strictly prohibited.