RE-INTRODUCING
The Proven
BVM MiG-15

NEW REDUCED PRICING
All Composite still Made In The U.S.A.
Turbine Version BVM Aluminum $4,899.00

Turbine Pricing Includes: Airframe, Hardware, Clear Canopy, Cockpit, Full Landing Gear Doors, Photo enhanced/detailed instruction manual, precision machined aluminum retracts, scale wheels and brakes, air tank, valves, airline, "T" Fittings, Fill Valve, BVM High temperature Carbon Fiber Bypass, double walled Stainless Steel Tailpipe, and mounting hardware, and 3 Kevlar Fuel Cells with hardware.
Easy To See And Land
From any view it is obvious, the MiG is easy to identify in the air because of its high tail and swept outline, and, its positive wide ground stance allows short field take-offs and crosswind landings. It's a perfect scale jet subject for EVF and small turbine power.
A generous wing area, a stretched tail moment and an unmatched wide-stance landing gear make the MiG-15 a very desirable jet fighter for scale modeling. This BVM kit is quick to assemble with every detail attended to in the parts provided and assembly manual.
Superior Composite Structures
| | |
| --- | --- |
| The MiG-15 airframe is entirely hand laminated with just the right amount of fiberglass, Kevlar, and Carbon Fiber in just the right places. You get the lightest, strongest airframe possible and it's all accomplished in our Florida, USA factory. | |
Wing and Tails Factory Mounted
| | |
| --- | --- |
| After demolding, the formers and tubes that mount the wings and tails are installed into the fuselage at BVM using precise fixtures. These are the neatest and strongest glue joints you will ever see in a kit airframe. | |
Under Carriage - Grass Field Proven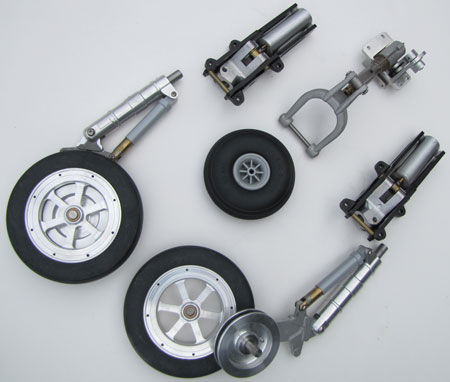 Turbine powered models require a full braking system and these BVM main wheels and brakes get the job done. The Oleo struts are CNC machined from Aluminum for maximum strength and the spring knee action gently compresses on landing. Great for sport or competition flying.
Wing Details
click on images to enlarge
| | | |
| --- | --- | --- |
| | | |
| The scale swept wing fences that are so much a part of the MiG-15 are included and pre-slotted. | The wing flaps internal skin detail is cleverly assembled in the mold and skin hinged for your convenience. | The Ailerons and Elevators are also skin hinged, reducing your chores for servo and linkage installation. |
Full landing gear and wheel well doors are especially important for electric jets to save battery energy. The BVM MiG-15 features molded doors with all the hardware and details of installation attended to.

Scale wheel is not shown in this photo.
Options:
Servo Driven Speed Brake Kit
For EVF or Turbine powered MiG-15

# K7600-37 $225.00

In keeping with BVM's trend towards more electric powered accessories, we now offer this option for our MiG-15 kit. The Speed Boards are layed-up with multiple layers of Carbon Fiber, glass cloth, and epoxy resin.

BVM Carbon Fiber Off-Set Hinges, laser cut formers, and many small bits of hardware items complete the parts package.

Extremely detailed and color photo enhanced instructions describe every detail of adapting Speed Brakes to a new or finished MiG-15.
Power Option Support
The BVM MiG-15 can be operated turbine power.
14-22 Lbs.
Thrust Engine

Inlet

Correct inlet ducting, engine ByPass, and a double wall S.S. Tailpipe allow efficient, cool running turbine power.
Wing Tanks and Pylons
BVM # 7544 Price $295.00
| | |
| --- | --- |
| Whether your MiG is scale or for fun, wing tanks always add to the overall look and visibility of a model. These tanks come complete with all materials necessary, including wood for the pylons and tank fins. The wing tanks are fiberglass and come as one piece from the factory. They require assembly and painting. The "Hard Points" are built into the wings at BVM. | |
A Scale Jet That Can Travel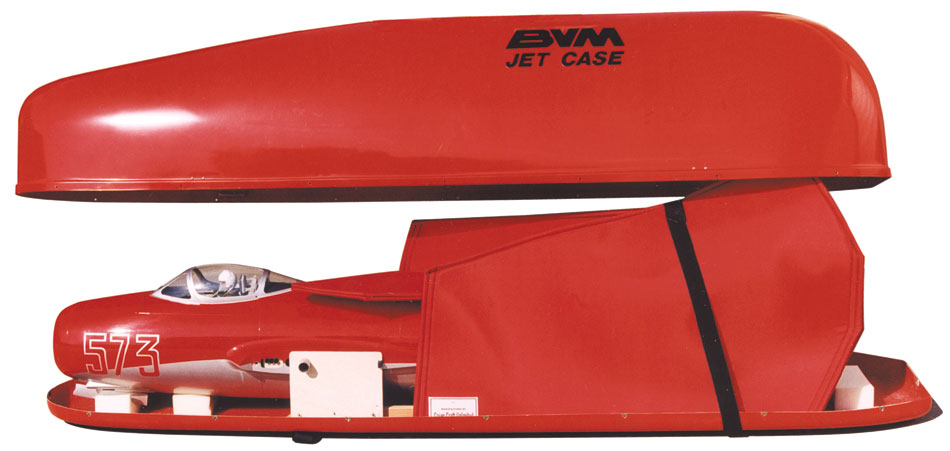 Plug-in wings, stabs and fin provide easy transport, especially if you have a BVM Jet Case. The fiberglass molded case is UPS legal and can travel as extra baggage with you on an Airline.
TURBINE PRICING
MiG Turbine Pricing
K7400
MiG Kit (BVM Aluminum)
$4,899.00
includes -
Airframe with hardware, clear canopy, cockpit, full landing gear doors, and photo enhanced/detailed instruction manual
Landing Gear System with Scale Struts retracts, scale struts, 4" main scale wheels and brakes, 3" scale nose wheel, air tank, valves, airline, "T" Fittings, Fill Valve, etc.
Turbine Installation System BVM high temperature Carbon Fiber ByPass, double walled Stainless Steel Tailpipe, and mounting hardware.
Fuel System 3 Kevlar Fuel Cells with hardware
Options:
K7600-37
Speed Brake - servo operated
$225.00
7544
F/G Molded Wing Tanks (2) with laser cut pylon kits
$295.00
Convert Retract System to Electric
Available
5732
MGA PILOT
$45.00
PA-SR-0046
Epoxy Starter Kit
$98.95
Includes - glue gun, 3 glue cartridges, 2 long nozzles and 2 short nozzles
650
JET CASE
$629.00
PA-SR-0080
General Purpose Jet-Foam Cradle
$155.00
E-Brake Valve
$85.00
6044
UAT (Ultimate Air Trap)
$74.95
5340
Smooth Stop II
$114.95
PRICES SUBJECT TO CHANGE WITHOUT NOTICE AND APPLY TO SALES WITHIN USA ONLY.
Bob Violett Models Inc. 3481 State Road 419 Winter Springs, Florida 32708 USA tel 407-327-6333 fax 407-327-5020 www.bvmjets.com
Contact Us
All graphics, photos, and text Copyright 2022 BVM, Inc.
Use of graphics or photos without written permission from BVM is strictly prohibited.