Conversion Packages | All Composite | Wing Tank Configuration | Inlet Ducting | Main Gear Door's and Belly Pan | Landing Gear Choices | Scale Struts and Wheels | SUV Transportable | Power Options | Paint Schemes | Pricing | C.G. Location
Shooting Stars
F-80 & T-33 Shooting Stars
All Composite Kits Available Now!
for EVF ~3~ 12S or small turbine power
100 % Made In The USA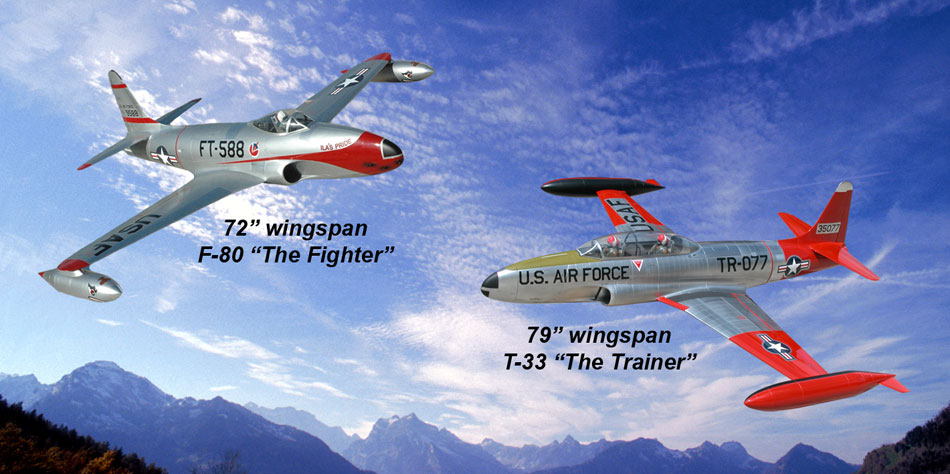 Specifications

F-80
T-33
Length: 64"
Wingspan: 72"
Weight EVF: 21.5 # RTF
Weight Turbine: 22.5 # + fuel
Performance: 35 - 180 mph
Length: 69"
Wingspan: 79"
Weight EVF: 22 # RTF
Weight Turbine: 23 # + fuel
Performance: 35 - 180 mph
"Shooting Stars" have been in BVM's product line since 1994. They have progressed through multiple structural and powerplant adaptations. We have retooled the wings, tails, and all internal parts to set a new standard for all-composite, very light weight structures suitable for EVF 12S or small turbine propulsion. The retractable landing gear with full wheelwell doors, are available as a pneumatic system or all electric powered.

The all-composite panel lined structures have primer in-the-mold surfaces ready for assembly, paint, and scale detailing. Full size C.A.D. plans, and a photo enhanced 60+ page manual cover every detail of assembly and component installation. We even offer some tips on finishing and flying your Shooting Star.
Easy to see jets
Because of its straight wings and tip tanks, these lightweight, small engine class scale jets offer great in-flight visibility. To get this much visibility from a jet, normally one would have to buy into a larger class engine - not so with the BVM Shooting Stars. This great visibility, convenient transport, one person handling, and economical operation are unique to the F-80/T-33 kits from BVM.
Good design and prudent use of the best materials for the job produced very light, yet very strong airframes. That's how you can get performance and size in a model that will fly great on EVF or small turbine power.
We think that many new and old timer jet jockeys will warm up to these time honored designs and they will again show up in numbers at the jet events.
The value in building a BVM Jet
The hobby of building and flying models should be a rewarding experience. It should be a relaxing, non frustrating period of your leisure time activities.
If the parts are all there, they fit, and the instructions are explicit about how to install them, your "building time" is productive. It is this feeling of accomplishment and pride in one's work that makes building and finishing models so important to us.
The staff at BVM keeps improving our trade. Our computer skills, software, and machinery are constantly upgraded to be able to offer you a better product. And, we have to, because the new crop of model builders probably did not grow up building. Most likely they got started with an ARF, learned to fly, and now want something better. BVM offers that "something better" in our All Composite scale jets.
We invite you to take a close look at the F-80 and T-33 Shooting Stars.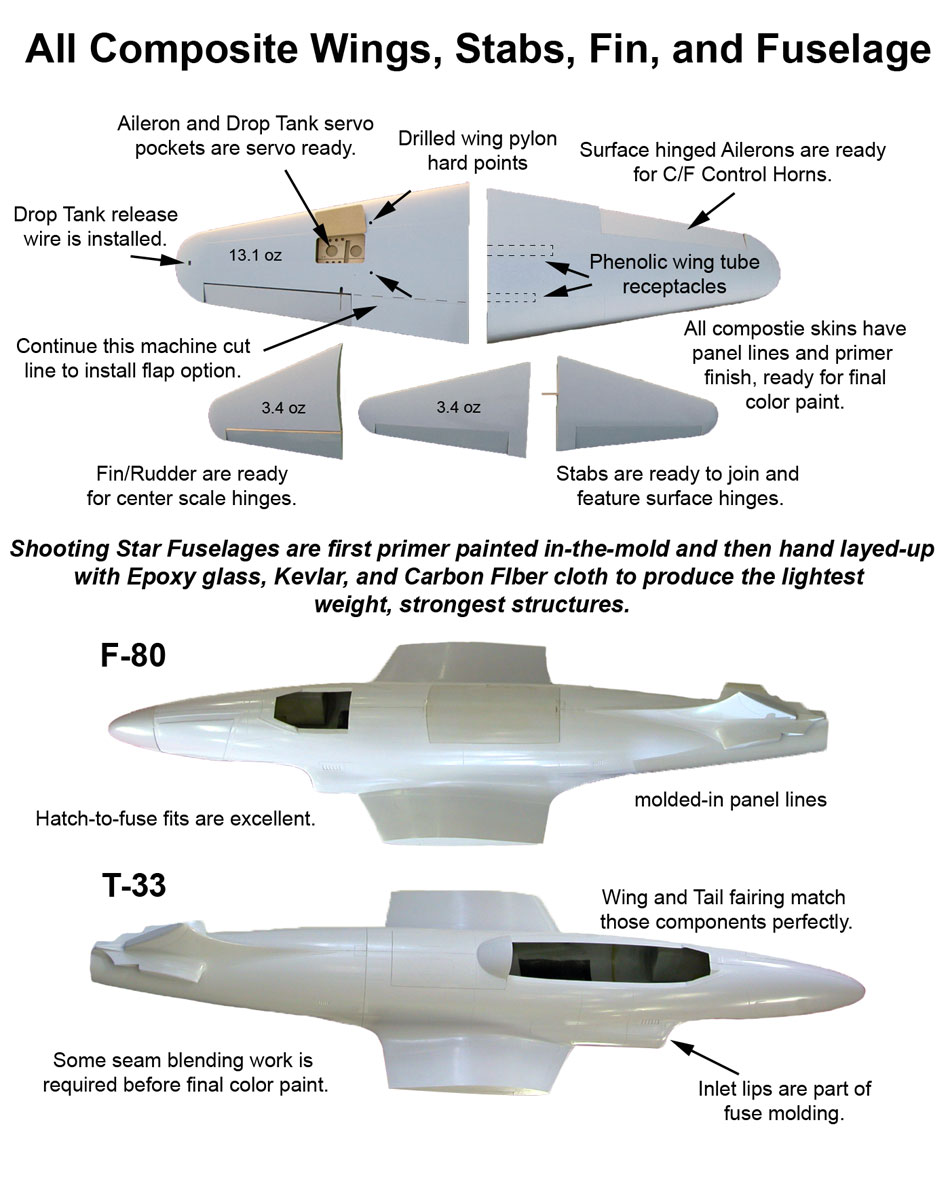 Properly designed and molded inlet ducts are very important components of model jet aircraft. This is especially true for electric ducted fan powered jets. BVM DOES IT BEST, and the proof is performance and flight time.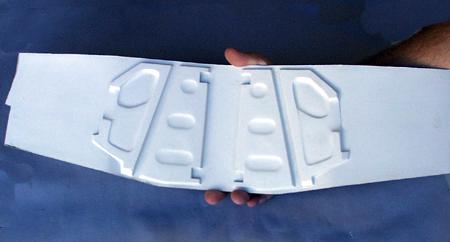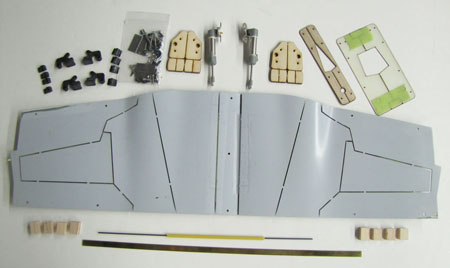 The Shooting Stars main gear doors are first match molded to produce true 3 dimensional details on the inside of the doors. Then, we CNC cut the doors to perfect outline and supply all of the fittings to ease the assembly process.
Electric
Pneumatic

BVM/Down & Locked all electric retracts and wheel well doors are operated by JR MC35 servos.

BVM purple retracts and the wheel well doors are operated by small BVM Door Cylinders.


Instructions and parts for both of these systems are absolutely complete.

Scale Struts and Wheels
with BVM O'Ring Brakes

Scale Struts and wheels with BVM "O" Ring Brakes are precision machined from premium metals. Smooth Oleo action and tires that won't spin off are important for jet operations.

Use the Smooth Stop II brake valve or the BVM E-Brake V2 to actuate.
Removing the wing panels of the F-80/T-33 models is a simple one bolt, one servo lead
(F-80 = 2) per wing affair. Since the landing gear are mounted in the wing stubs, there are no other connections to be made. The flaps are mechanically engaged at both ends as the wing panels slide on to the aluminum tubes, a 5 minute assembly at the field.
Electric VioFan
Turbine

12S EVF

JetCat

(3) 4S 2P 7700 mAh

ByPass + Cover - Carbon Fiber
P-60, P-70, and P-100


Stainless Steel Tailpipe

CellPro PowerLab 6

Fuel Cells 2.7 liters
Note: The EVF or turbine powered F-80 and T-33 kits include:
All composite airframes, match molded gear doors, cockpit kit, CNC cut formers,
comprehensive instruction manual, and full size C.A.D.
All Composite Kits

PT#
Description
Price
K3580
F-80 Airframe - specify EVF or Turbine power
$3,750.00
K3533
T-33 Airframe - specify EVF or Turbine power
$3,950.00

Landing Gear Systems
Common to both F-80 & T-33
EVF or Turbine Power

K3500-10
Pneumatic System
$1,475.00
includes-retracts, pneumatic door cylinders, air install package, air diagram, scale oleo struts, "V" Lite scale wheels, BVM Brakes, Smooth Stop brake valve, air tanks, tubing, valves, etc.
K3500-17
All Electric
$1,995.00
includes-E-Purple retracts (3) with Down & Locked motors, Xicoy Controller and Analyzer, door servos (4), linkages, special instructions, scale oleo struts, "V" Lite scale wheels, BVM brakes,
BVM E-Brake V2.

Options

K3500-80
Flap Kit - for F-80 or T-33
$195.00
includes-F/G molded flap skins, ribs, spars, hardware, complete plans, and instructions.
Wing Tanks - specific to scale replica of your choice F-80 or T-33, hardware included
K3500-40
Lockheed (2) FiberGlass Molded
$245.00
K3500-42
Misawa (2) FiberGlass Molded
$245.00
K3500-44
Fletcher (2) FiberGlass Molded
$245.00
Pilot(s)
VS-0007
F-80 (E or T) requires 1/7.5th Scale Skymaster Pilot
$79.50
5732
T-33 (E or T) requires (2) MGA Bust
$45.00 each

Turbine Install System

K3500-30
Kevlar Fuel Cells (3 fuel cells w/U.A.T. & hardware) 2.7 liters
$352.00
XXXX
ByPass (Carbon Fiber), Tailpipe (Stainless Steel) F-80 or T-33
$462.00
Designed for JetCat 14#-20# thrust engines - specify engine with order
These paint scheme images are from various aviation publications, most of which are out of print.
If you need more information about a particular schemes, you can search websites such as:
Contact Us
All graphics, photos, and text Copyright 2016 BVM, Inc.
Use of graphics or photos without written permission from BVM is strictly prohibited.