Customer Hotshots
click on images to enlarge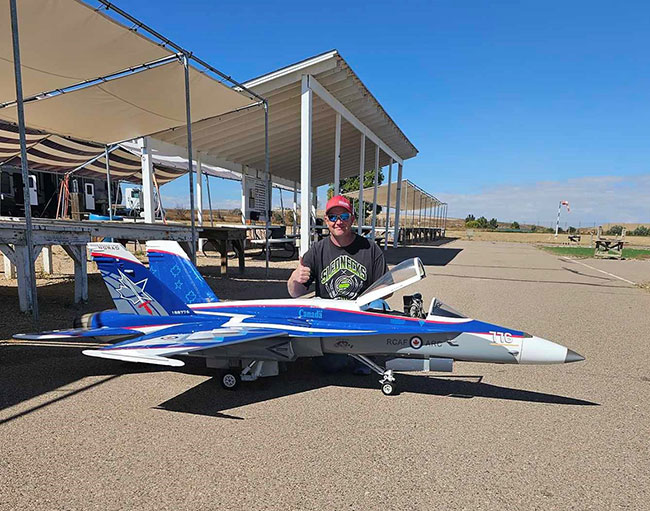 Successful Re-maiden of my new to me 1/5 F-18. This airplane is powered by a Kingtech 320G4+, Cortex Pro and Spektrum Guidance.

Brian Blois
---
Jesse Patrick from Indianapolis, Indiana with his BVM 1:5.5 F-18.
It has Jeti and Cortex for guidance and is powered by a Kingtech 260.
---
Sent: Tuesday, April 25, 2023 7:59 AM
To: Patty <patty@bvmjets.com>
Subject: Pics of local community event

Patty,

Recently I had the opportunity to attend a community event for a local STEM program with my flying club. It was for the Southern Maryland Jr. College STEM program. It is a youth outreach program that involves local schools and get them interested and exposed to a wide variety of science and tech programs.


On display was the 1/5th scale F-18 Blue Angels and IT WAS A HIT! We had flight simulators and was able to sign up 9 families to AMA and our club. There was a huge interest from the Southern Maryland ROTC as well. Iím scheduled to do a talk and demo with their group coming up as well.

Take care and be safe.

VR
CHUCK RUSSELL
BVM Team Representative
---
BVM as always!!! Excellent product


Thx

Juan Vidal
PR
---

From: Michael Sarysz
Sent: Tuesday, April 4, 2023 11:55 AM
To: Patty <patty@bvmjets.com>
Subject: SARYSZ - WINGS OVER HOMESTEAD

Hi Patty!

We had a great show for the Wings over Homestead 2023 air show!

Lots of great photos were taken of the F-18 and many people asked questions about the model.

The pilots especially enjoyed seeing it fly :)

Michael Sarysz
---
Sent: Sunday, October 16, 2022 5:25 PM
To: Patty <patty@bvmjets.com>
Subject: BVM F-18 dream

Patty,
I canít thank you , Heather and Rob and the rest of your team enough for all the support in getting this 1/5th scale F-18. The dedication, determination and the basic willingness to go the extra mile was absolutely appreciated!! The entire experience was fantastic. This plane is a show stopper and fly amazing!!!

Thank again for everything you guys are a pillar in the hobby community for sure!!!!

God speed and safe flying..

V/R
Chuck Russell
---
Hi Patty,
Hope all is well. I just happen to catch a few nice shots of the plane. Itís really a beautiful model! Great work!


Thanks,
Jay A. Foehr
JFK A320 Captain
---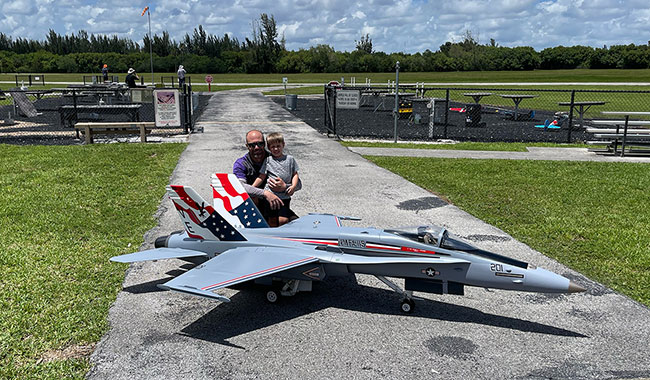 "Great day with the Hornet!"
Michael Sarysz
---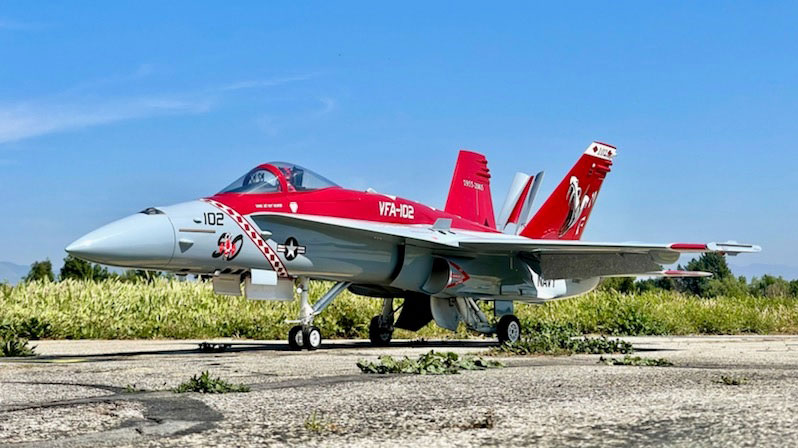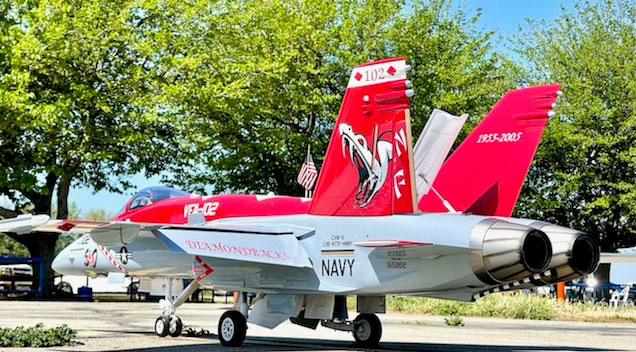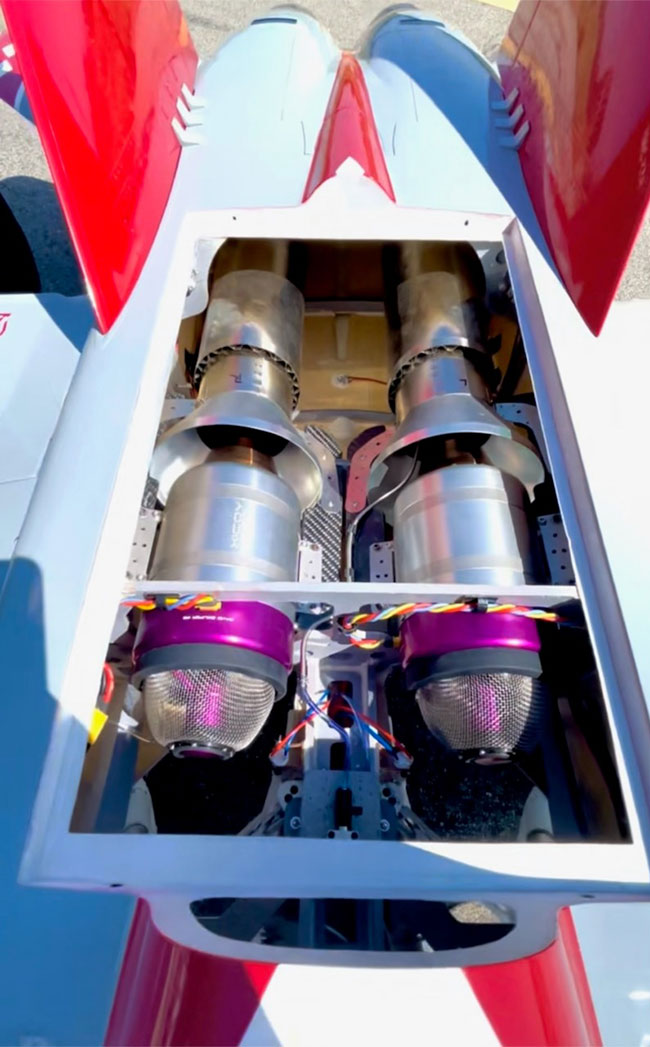 Good Morning Patty,
Flew my 1:5.5 F-18 twin. What a awesome jet! Thank you for all your help.
David Soufer
California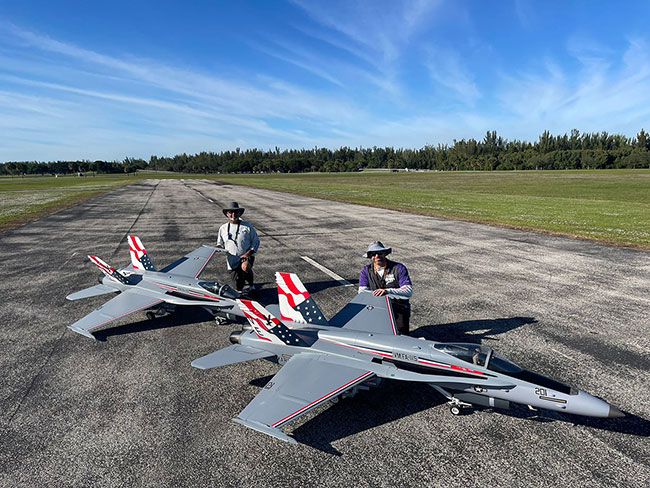 MICHAEL SARYSZ and SAL DiFLORIA WITH THE BVM F-18 1/5.5 SCALE HORNET

SALS HORNET IS POWERED BY (2) EVO 170 TURBINES
MICHAELS IS A SINGLE VERSION POWERED BY AN AMT OLYMPUS HP TURBINE.
---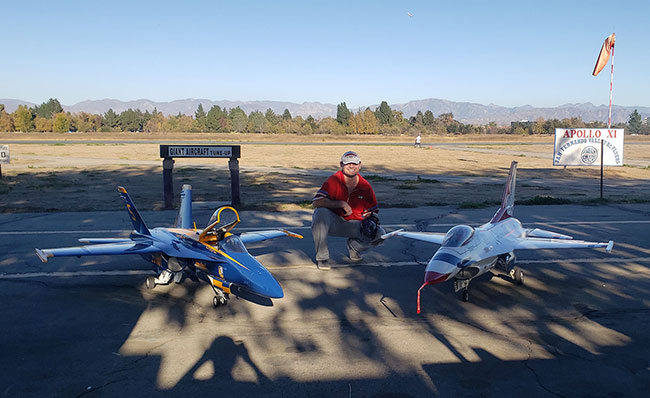 Vadim Konviser from Playa Del Rey, CA with his F-18 5.5 and F-16 1:5. The F-18 has twin Jetmuntz 166S, Spektrum DX18, and a Cortex Pro. The F-16 has a Jetmuntz 250XBL, Spektrum DX18 and a AS3000X.
---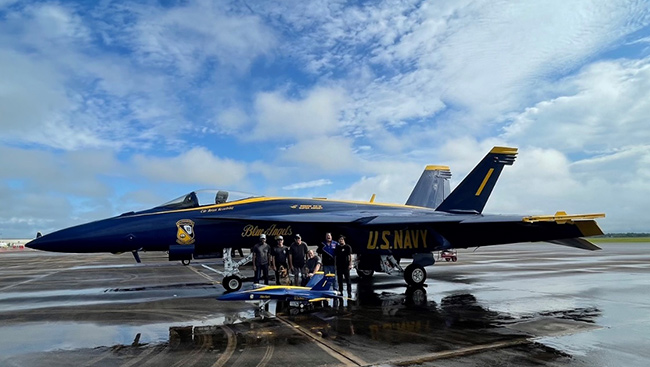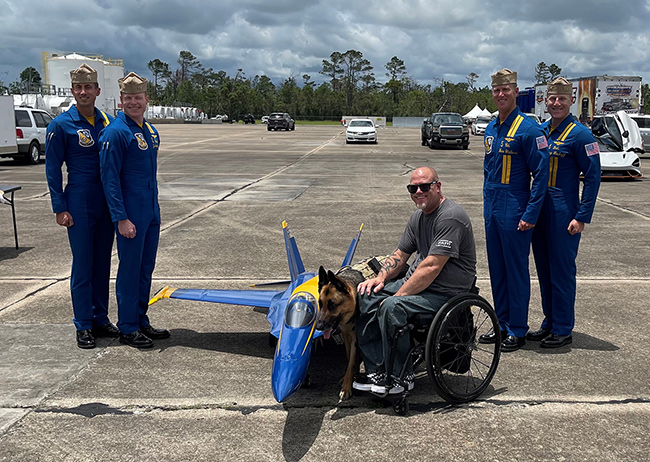 James Hillin from Houston Texas with his BVM F-18 5.5 scale Blue Angels scheme.
"I've had quite a few RC JetĎs over the years. By far BVM is the best right out of the box flights are amazing."
James Hillin
FullArmor Firearms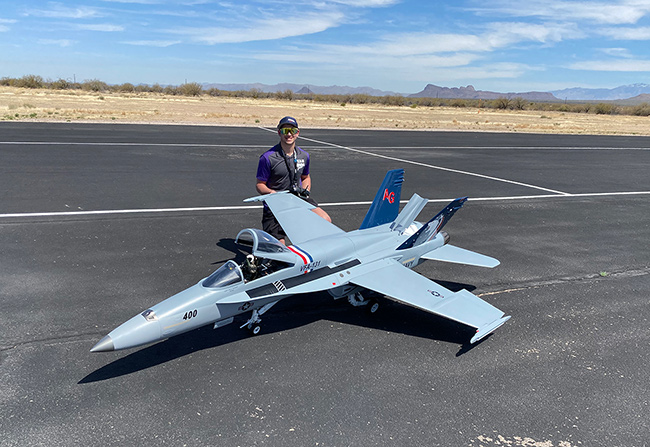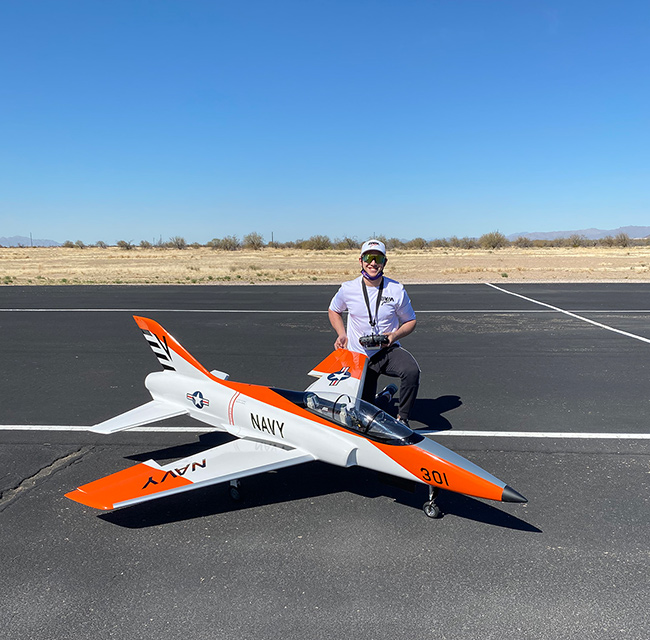 From: Kelly Rohrbach
Sent: Monday, April 19, 2021 9:34 PM
To: Heather@bvmjets.com
Subject: Hot shot pictures of our 1/5th F18 and Classic Ultra Bandit

Hello Heather
Here are a couple pictures from Tucson Jets 2021 where we did both maidens on these two birds,
F18 is powered by Swiwin 300 and guided by JR 28x. Classic Ultra Bandit powered by Swiwin 220 and guided also by JR 28x.

Look for them both at Kentucky Jets

Kelly Rohrbach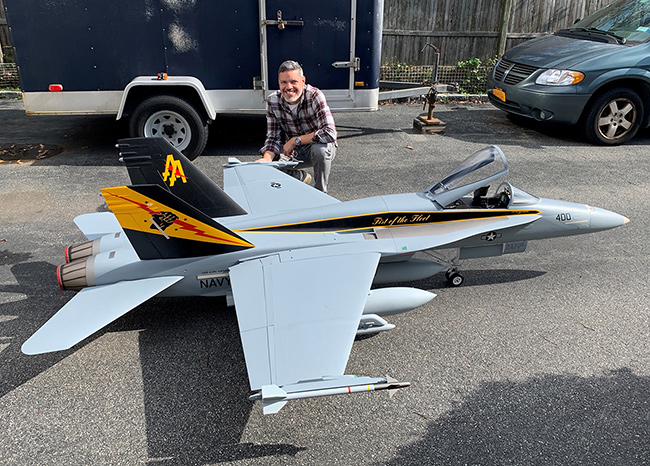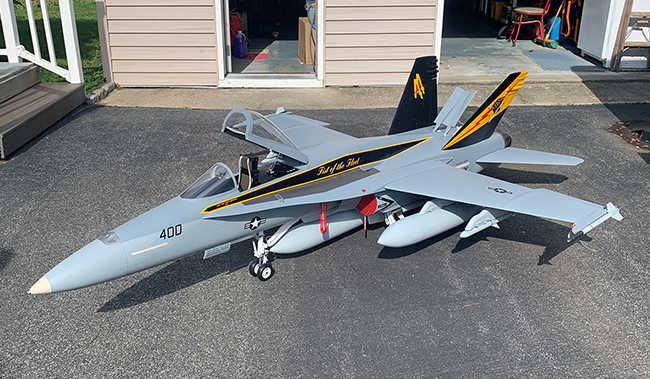 From: Brown, Jermaine
Sent: Monday, October 19, 2020 1:48 PM
To: Patty@bvmjets.com
Subject: Hotshots :)


I couldnít be happier with it Patty! You guys did an amazing job, itís perfect!



Jay Brown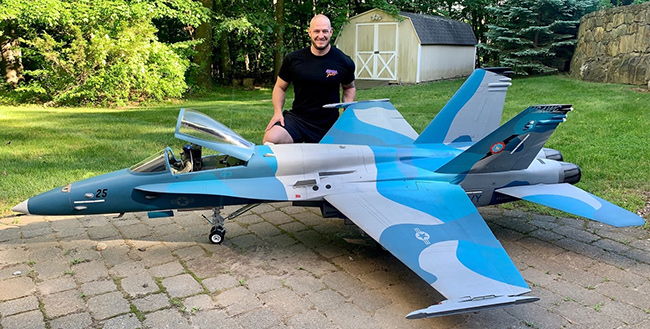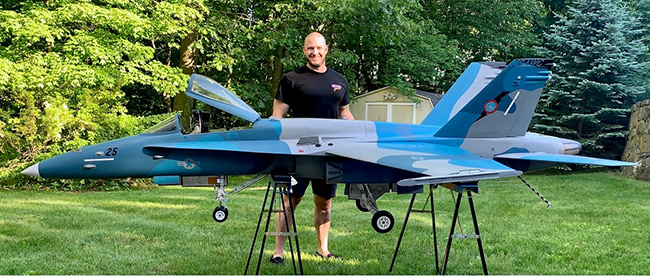 Chris Gleason from New Fairfield, Connecticut with his BVM F-18 5.5 scale. The F-18 is powered by a
K-320G4 and guided by a DX-20 and a Cortex Pro.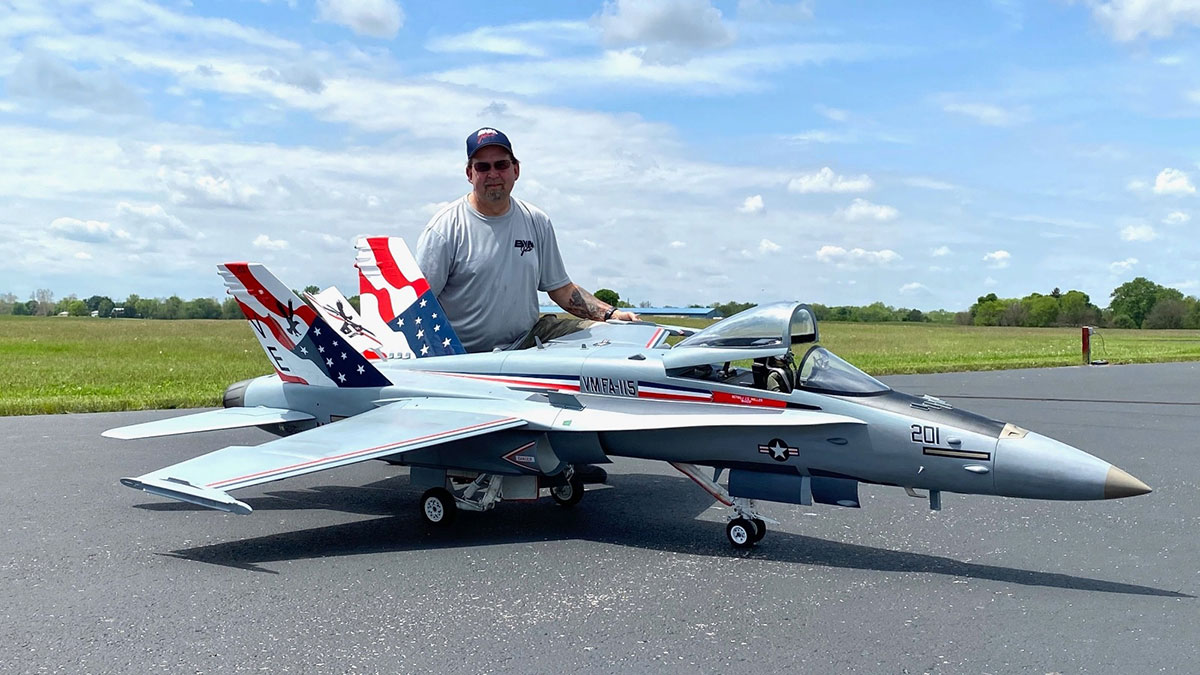 Greg Alderman with his 1:5.5 scale BVM F-18. The F-18 is powered by twin JetCentral 160s and Jeti guidance.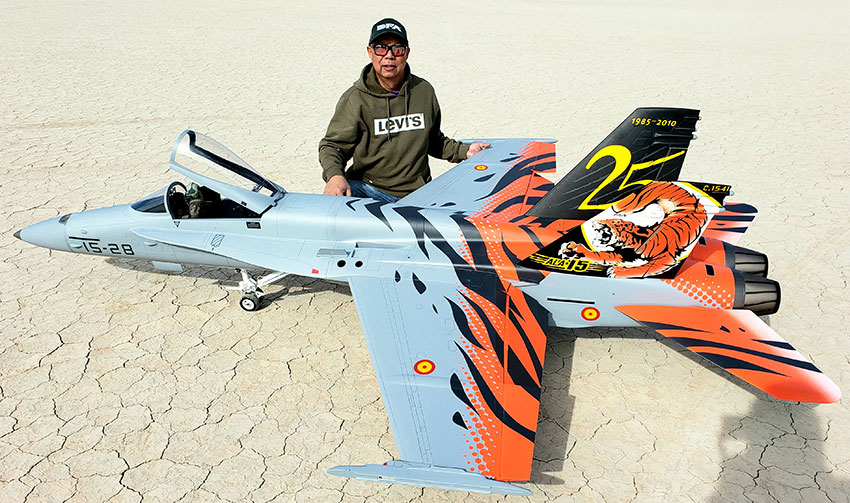 Richard Verano with his BVM F-18 1:5.5 scale. He flies it with JR28X and a Cortex Pro. He has a single K320 for power.
This photo was taken in Stage Coach, Nevada
---
Barry Hinrichs (L) and Sylvain Allard (R) with their very visible 1:5.5 scale F-18ís. Barry's F-18 is guided by a Spektrum IX 20, Cortex Pro and is powered with a single K320. Sylvainís F-18 is also Spektrum guided with a Cortex Pro. His is powered by 2-K160'S. Barry has more than 70 flights on his now since January of this year.
Sylvain just put the first 3 flights on his.
---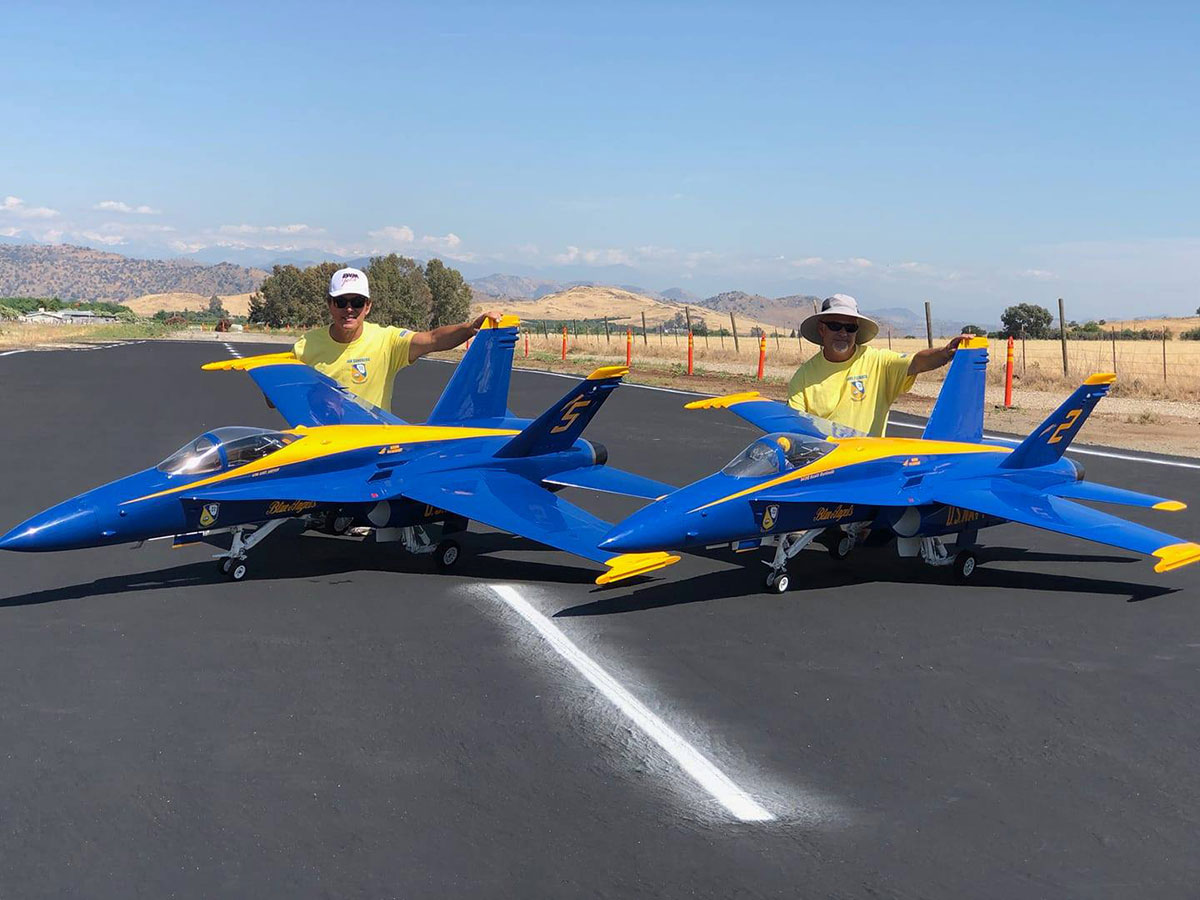 Jan Sundberg (L) and Dave Fusinato (R) with their beautiful 1:5.5 scale F18's. They both did their maidens last weekend. Both planes are flying with Spektrum DX18's for guidance and AS3000 gyros. The planes are powered with K320's.

Congrats to them both.

---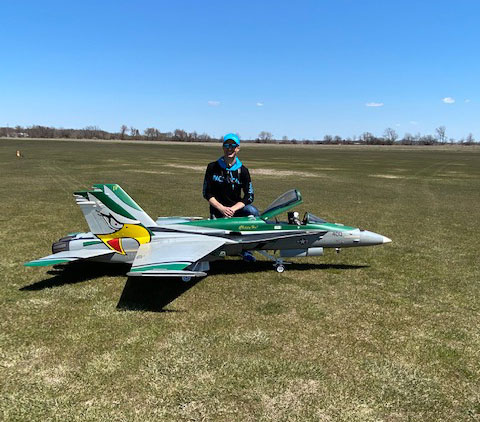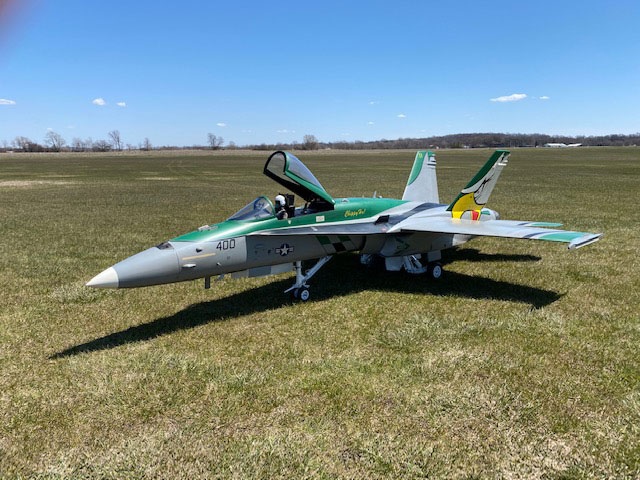 From: Paul LeTourneau
Sent: Monday, April 27, 2020 11:43 AM
To: Patty
Cc: Rob Lynch
Subject: F-18 maiden
Good morning Patty & Rob,
I was able to maiden the F-18 yesterday in Fond du Lac WI, all I can say is that its an incredible flying aircraft!! The BVM team has certainly produced a first class model!
Thank you for all the support and I look forward to more of the BVM PNP aircraft!
Paul LeTourneau
---
Barry Hinrichs and his beautiful F-18 5.5 scale in Canadian Livery. Barry loves the plane and all smiles after completing the first flight. The plane is powered by a Kingtech KT-320 and guided by Spektrum and Cortex Pro.
---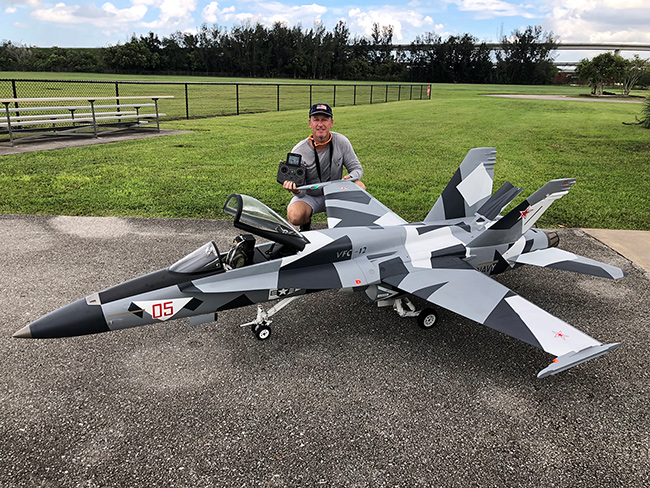 Marten Verheggen with his beautiful F18. Model is powered with a Jet Cat turbine and guided with a Jeti radio system. First flight video below.

---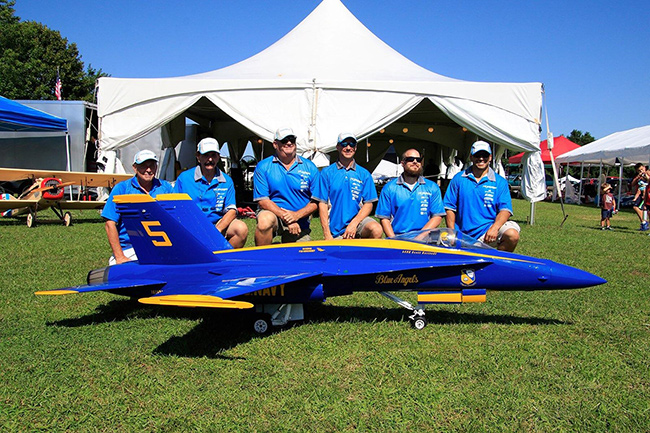 Warbirds Over Delaware
Dave Malchione, Pete Malchione, Andy Kane, Paul LeTourneau, Dave Machione Jr., and Anthony Dimaio
BVM F-18 1:5.5 scale with a KingTech 320 and Spektrum DX18 guidance.
---
Juan Vidal from Puerto Rico enjoying his Twin F18 in Canadian Livery.
The aircraft is powered by twin Jet Central Cheetahs.
---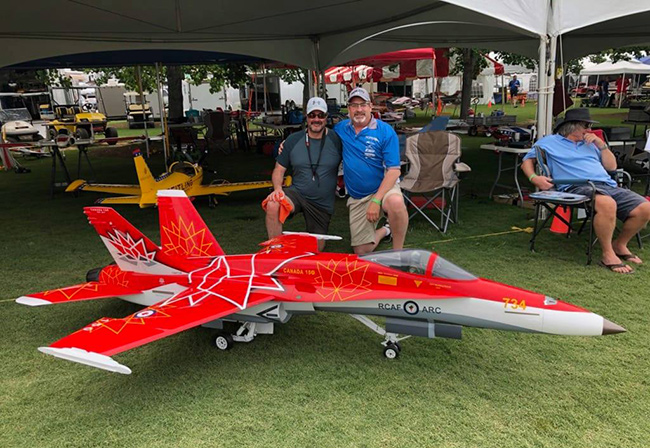 Mike Warner got some help from Tim Redelman to finish his F18 1/5.5 scale. It sports a beautiful Canadian airshow scheme. Its powered by twin 160s. Great job guys.
---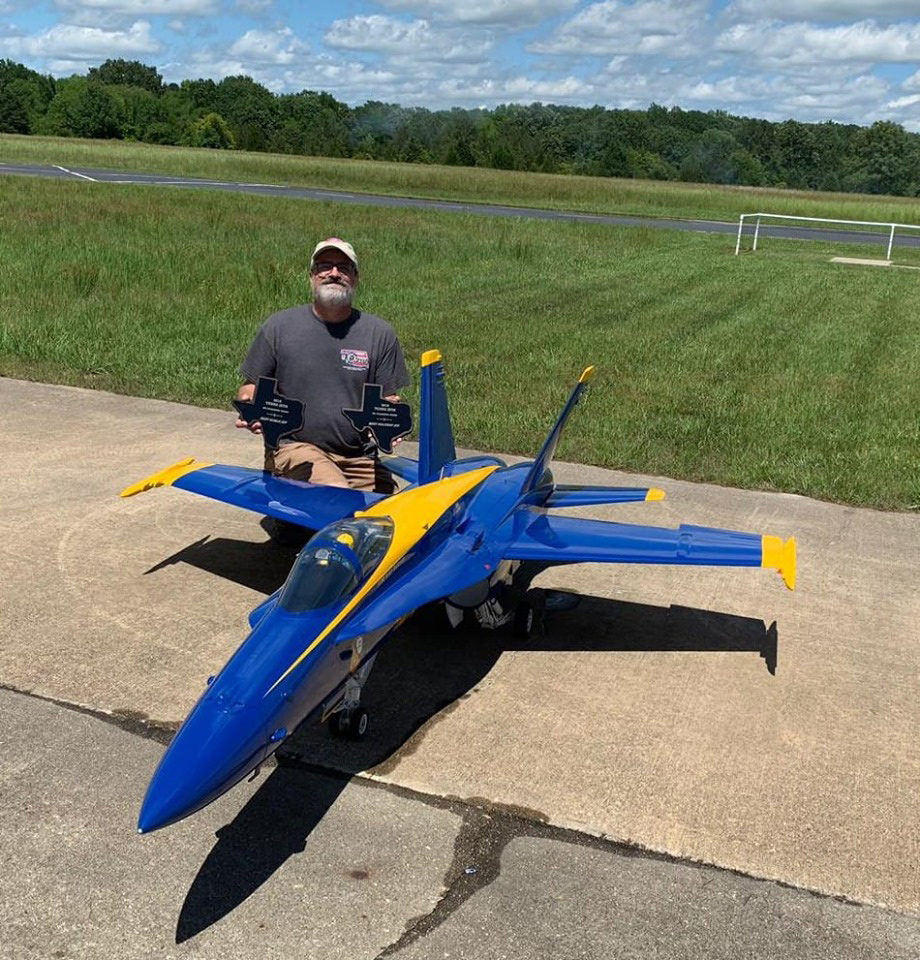 Andy Andrews did a great job at the Mt Pleasant jet rally in Texas.
He was awarded with Best Military Jet and Best Scale Jet flying his F-18 1:5.5 scale.
---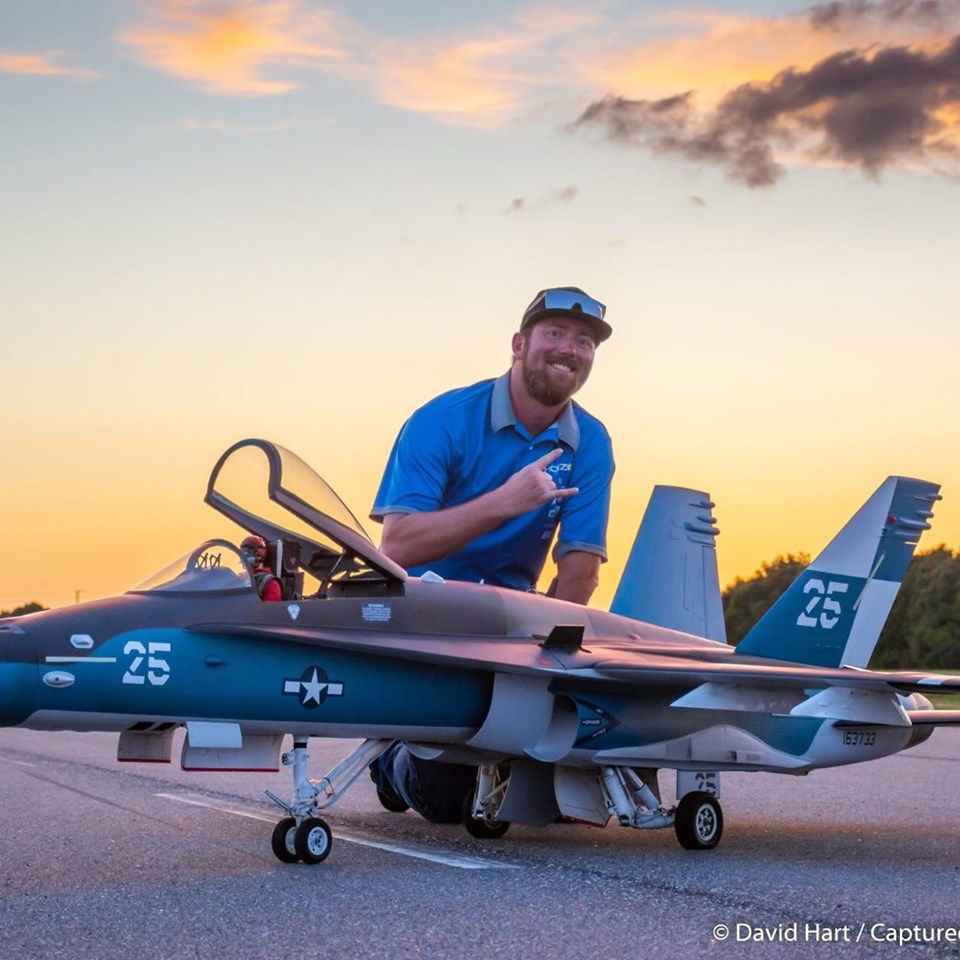 Cole Thornton is a proud guy with his 1/5.5 scale F18. He does a great job flying it as well.
Photo is by David Hart at Top Gun.
---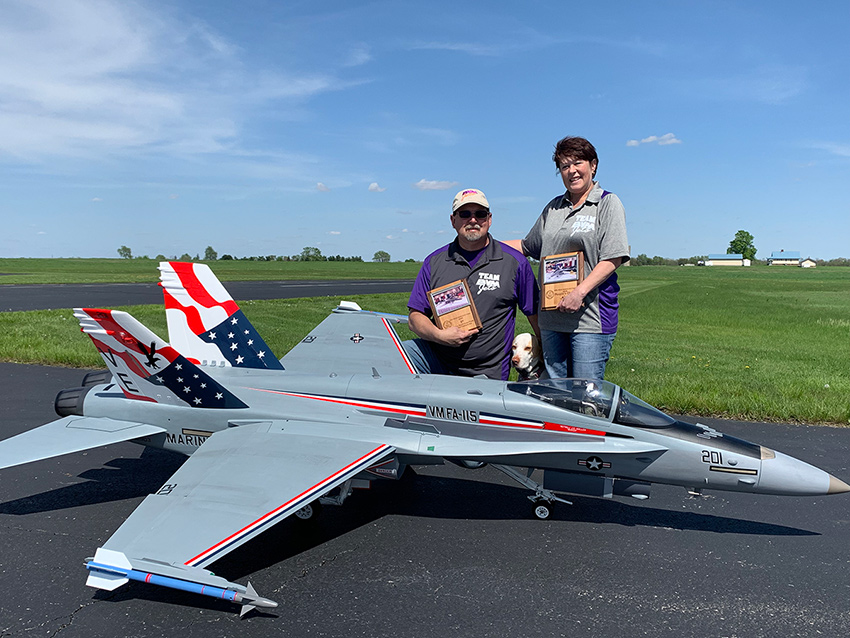 Greg Alderman recently attended the Toledo Weak Signals Show Static Competition with his 1:5.5 F-18 PNP. The F-18 came in 1st place in the "Military Sport Scale" category, Greg also received the "Peopleís Choice" award that was selected by the attendees at the show. Greg wanted Jenni and Addi in the picture since without Jenniís support Greg certainly would not be doing this! And Addi, well she is in the picture since she is always with them at events and when flying!

Greg's F-18 is painted in the VMFA-115 ďSilver EaglesĒ Patriot scheme normally flown by the Squadron Commander. It has 2 Jet Central Cheetah 160 turbines and the Jeti Duplex Radio.
---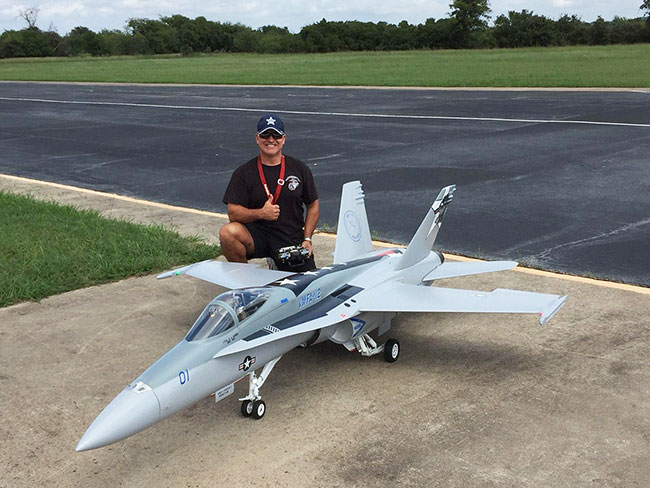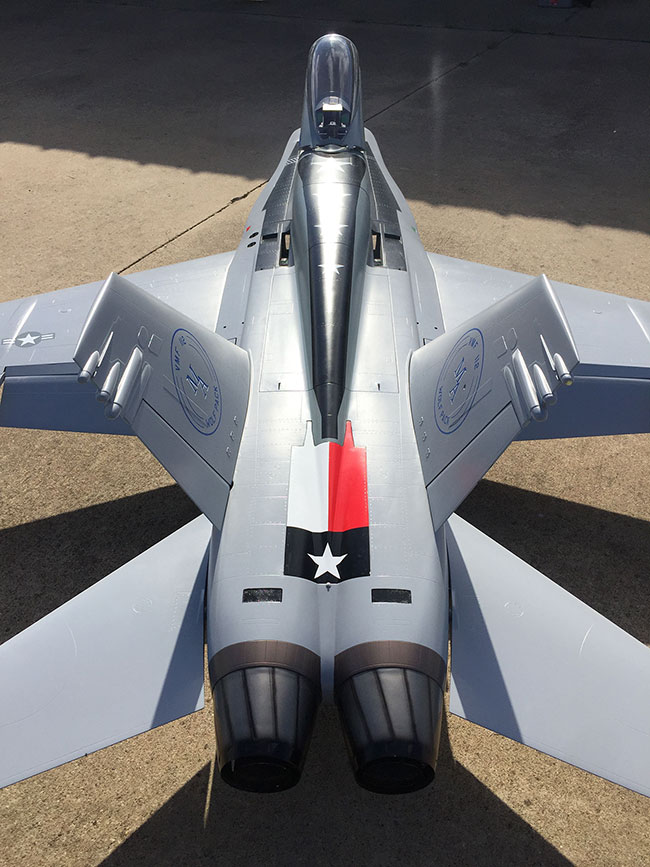 Buck Garza from Benbrook, Texas with his BVM F-18C 1:5.5 PNP painted in a replica of the aircraft he flew while in service. Buck's squadron was the VMFA-112 Cowboys. The F-18C is powered by a AMT Turbine.
Contact Us
All graphics, photos, and text Copyright 2018 BVM, Inc.
Use of graphics or photos without written permission from BVM is strictly prohibited