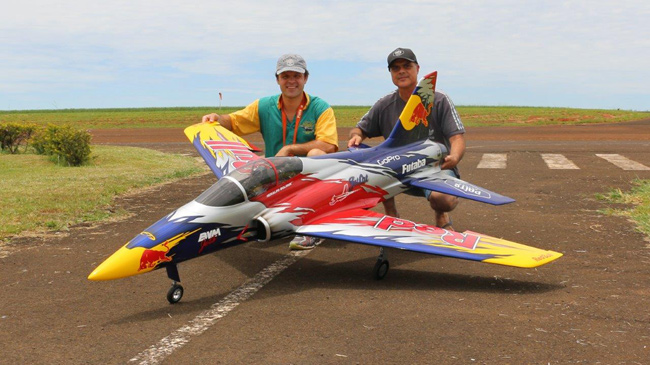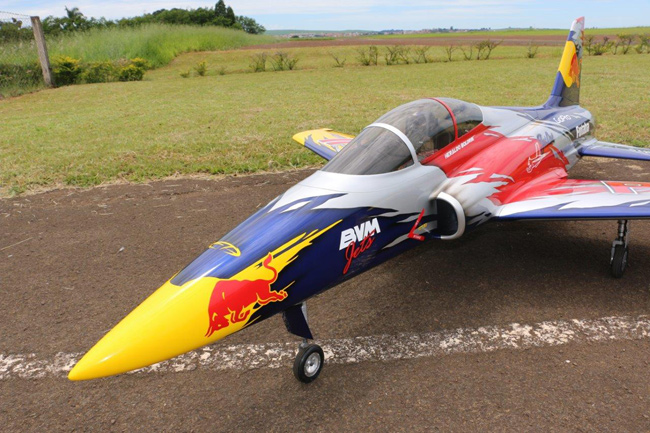 From: Heraldo
Sent: Saturday, December 24, 2016 3:19 PM
To: 'Patty Generali'
Subject: Ultra Bandit
Patty
I did 3 flights today on my new Ultra Bandit with JetCat P220Rxi. The paint looks amazing in flight. Congratulation for this Formula One Jet.
Regards
Heraldo Boldrin
---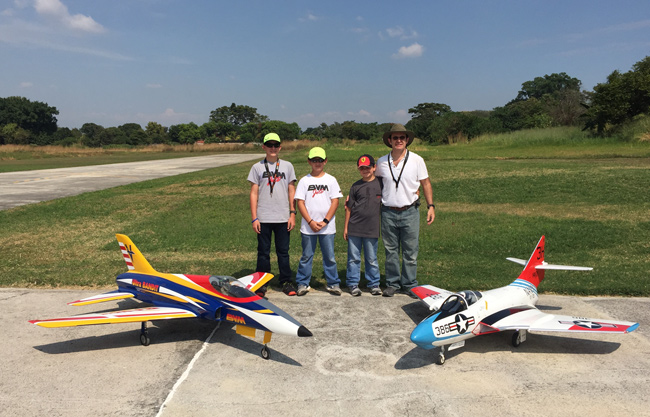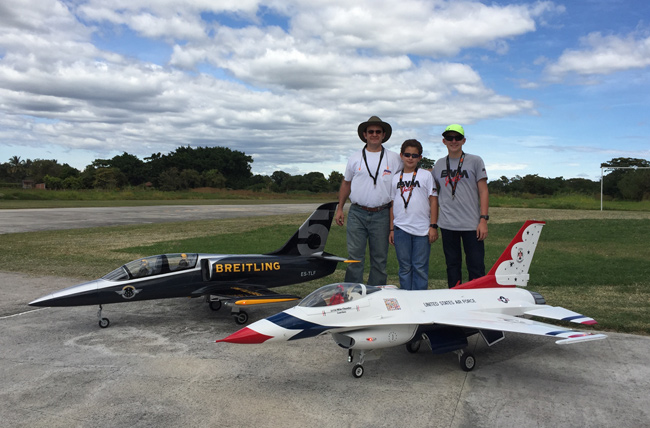 BVM Jets is well represented in El Salvador by Jimmy Safie and sons flying an Ultra Bandit, Cougar, L-39, and the F16.
---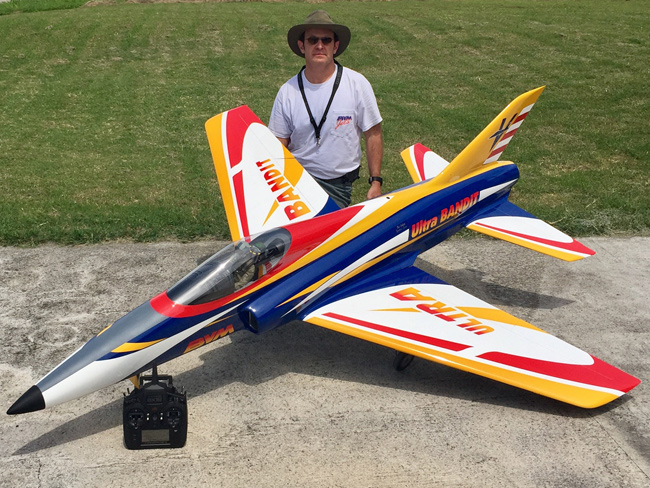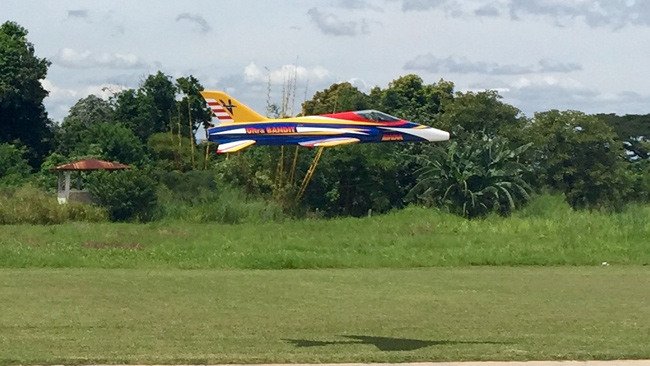 From: Jimmy Safie
Sent: Saturday, October 15, 2016 7:16 PM
To: Patty ; Heather
Subject: Ultra Bandit Maiden successful
Patty / Bob,
Team BVM! What a great plane! Maiden was a great experience! Perfect flying from flight 1!
Jimmy Safie
---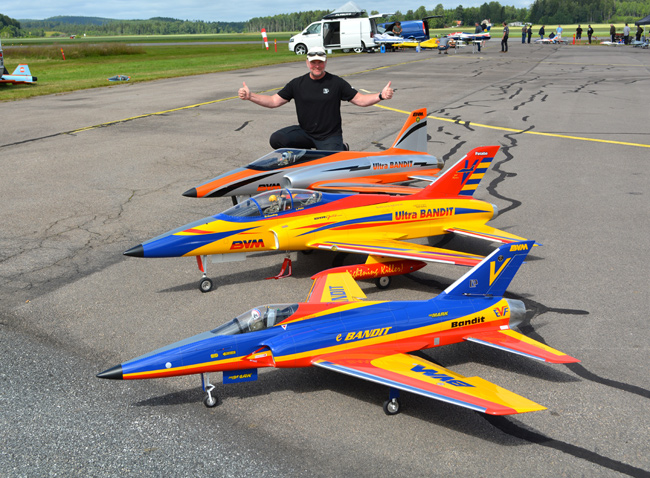 Sent: Saturday, August 13, 2016 2:05 PM
To: Heather@bvmjets.com
Subject:
Dear Patty and Bob!
Thanks for a great reliable products and awesome support.
Regards
Lasse Palm
lp-airdesign. se
---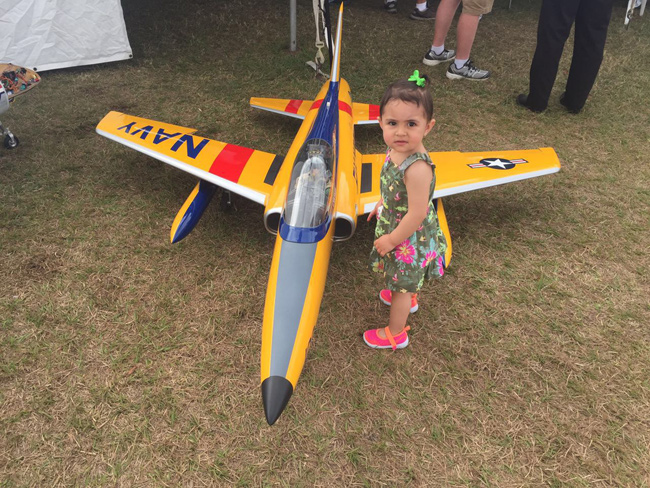 From: Angel Chazaro
Sent: Tuesday, June 14, 2016 10:27 PM
To: Patty Generali
Subject: Bob's Ultra Bandit
Hi Patty and Bob I found this photo from Florida Jets where my daughter Regina is taking care of your Ultra Bandit. Hope you like it.
Best Regards
Angel
---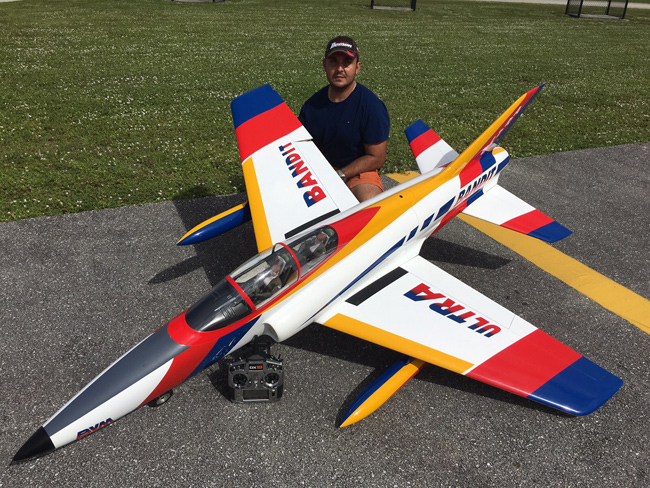 Another proud Ultra Bandit owner is Franco DiMauro, proprietor of the House of Power Hobbies in Fort Lauderdale, Fl.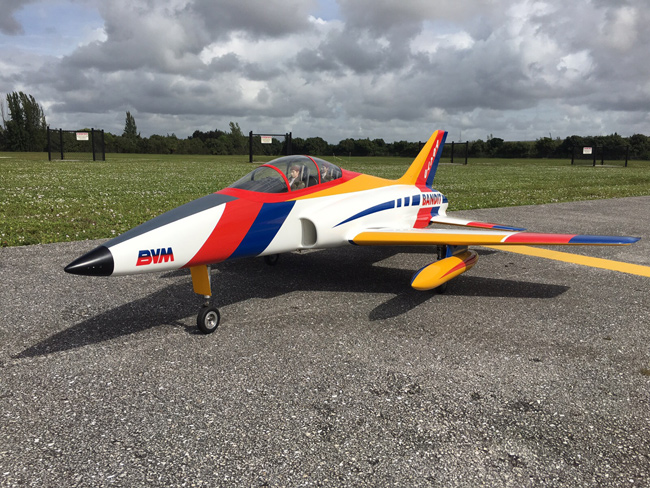 The Wing Tanks add to the ground and airborne appearance.
---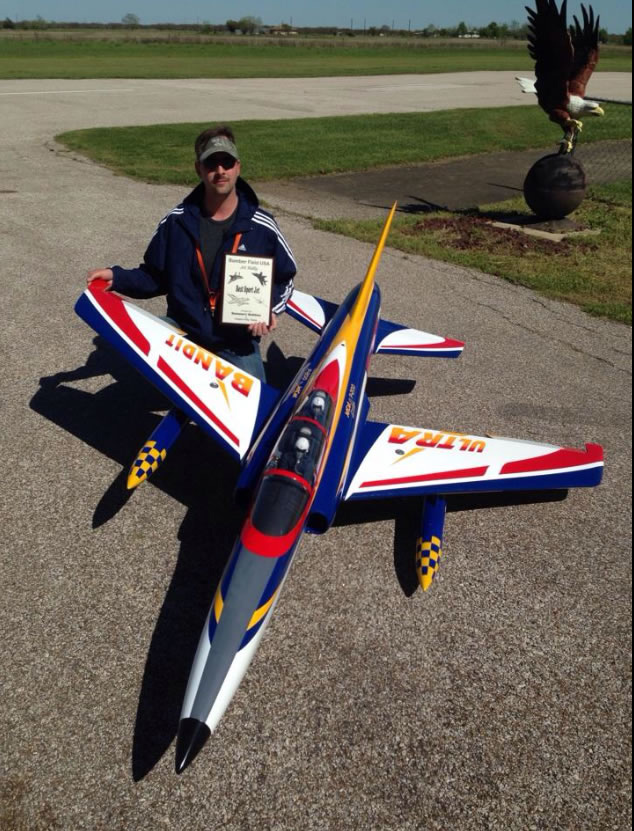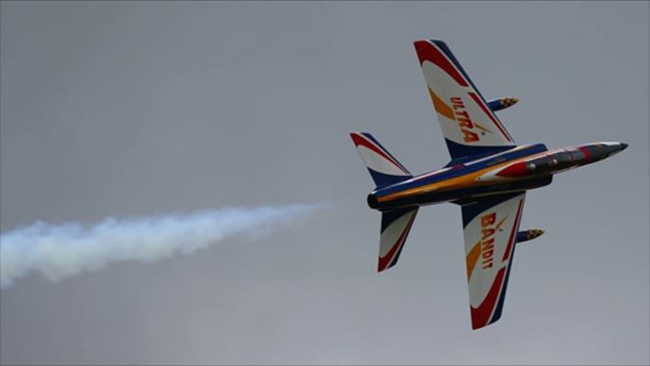 From: Shannon Guidry
Sent: Wednesday, July 15, 2015 10:54 AM
To: Patty
Subject: Ultra Bandit
Hi Patty,
Just wanted to share a few pictures of my awesome Ultra Bandit.
Best Regards
Shannon Guidry
---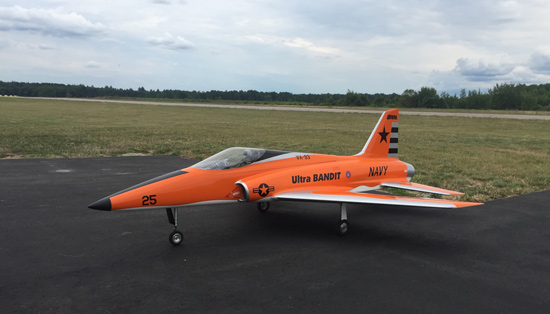 Jon Stotz has a new Ultra Bandit in the latest HiViz Aggressor scheme. It is equipped with BVM's all electric landing gear and EBrake V-2. No air systems required. Jon's words "It's Amazing"!
---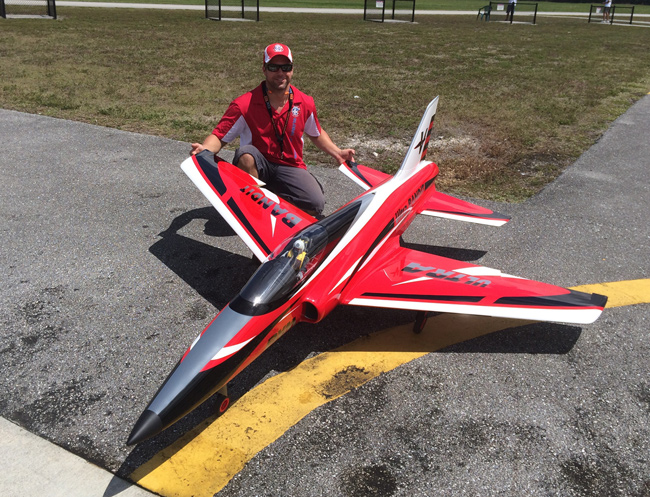 Mike Sarysz likes Ultra Bandits so much, he has two of them. This Red/White/Black/Aluminum scheme is a favorite. Mike's attention to the inside finish adds to its appeal.
---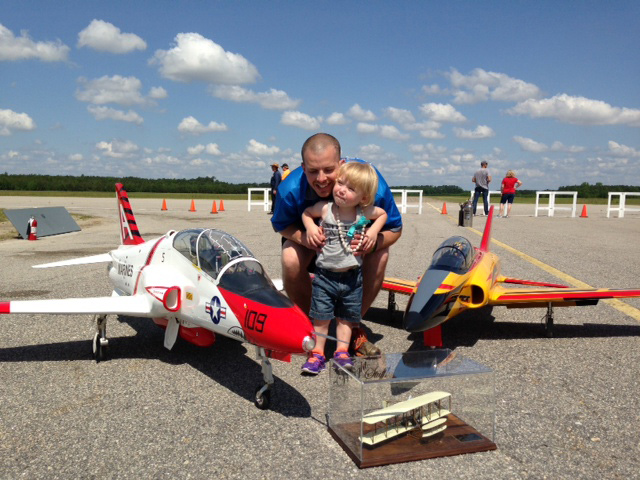 Lot's of moral support from 2 year old Gweyn, helped Dave Malchione Jr. win the very prestigious First In Flight "Right Stuff" award. Dave flew 7 different Malchione family owned jets including this Skymaster Master Hawk and BVM Ultra Bandit.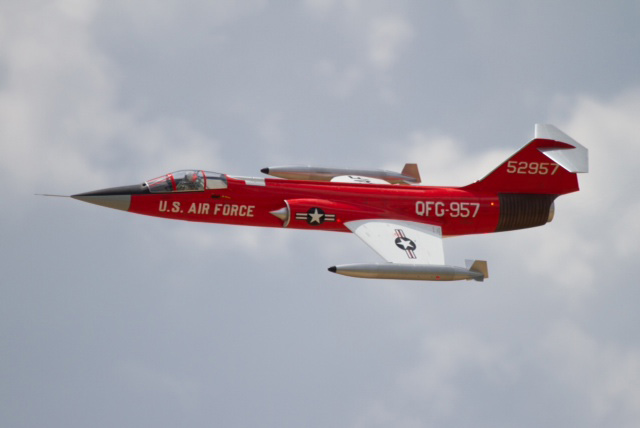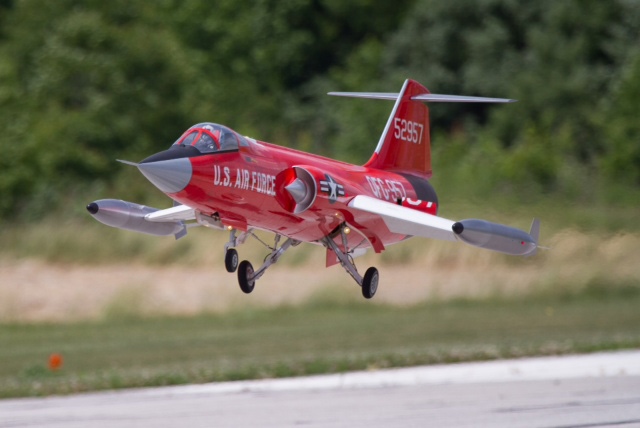 One of the other 5 models Dave flew was this Skymaster F-104G.
---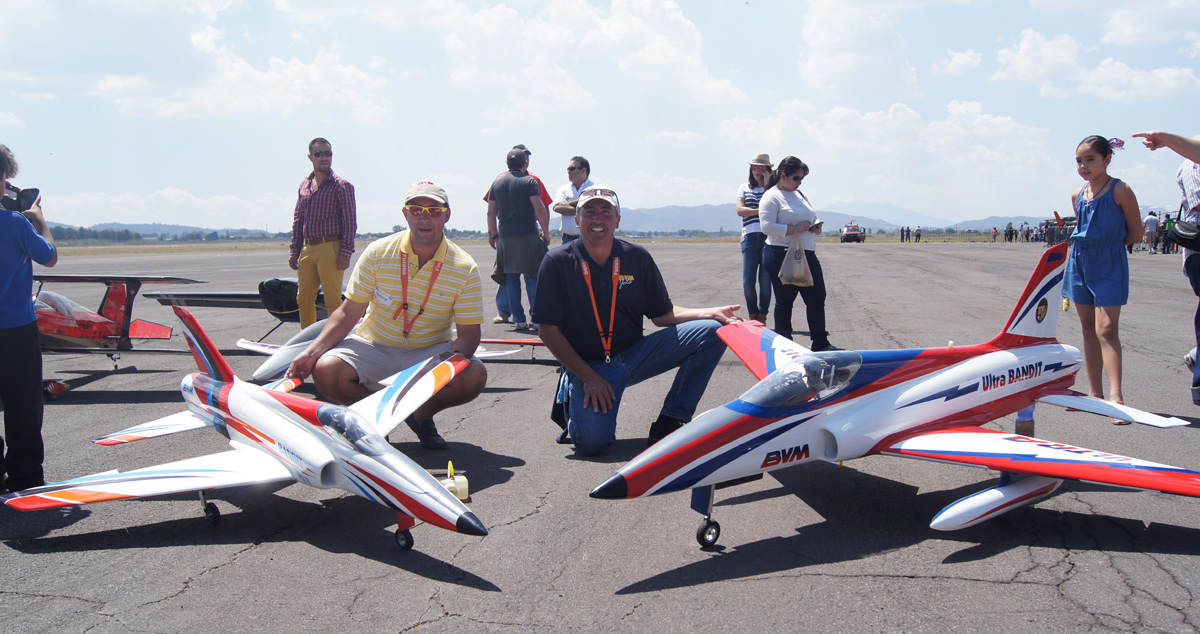 From: Angel Chazaro
Sent: Tuesday, March 31, 2015 12:24 PM
To: Patty Generali
Cc: Javier Ulloa
Subject: Javier Ulloa UB and Bandit MKII mine
Hello Patty and Bob,
We had the pleasure to fly together Javier Ulloa with his Ultra Bandit and myself with my Bandit MKII this weekend at the Mexican Air force Base in Guadalajara Mexico on the 100th anniversary for the Mexican Air Force. We enjoy both models and we made a show for more that 27,000 people.
Greetings,
Javier and Angel
---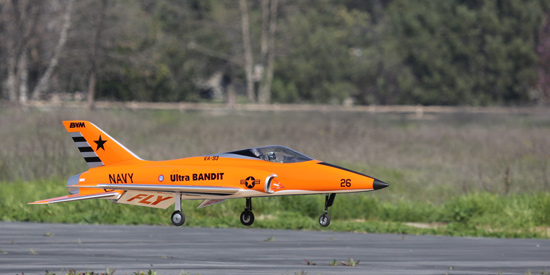 From: David Soufer
Sent: Friday, February 20, 2015 1:40 PM
To: Bob Violett
Cc: Patty Generali
Subject: Hi Viz Ultra Bandit.

Hi Bob,
I've been flying the Hi Viz Ultra Bandit lately and its such a pleasure… I have attached couple of pictures for you…
I'm not sure if Patty informed you but now my Bandit fleet is complete… I have now TWO Ultra Bandits, ONE Super Bandit, THREE Bandit MKII, and an eBandit.. All ready to go with engines…
Look forward to the new product built locally at your facility….
Also wanted to let you know how professional your staff at the office are Pat, Patty and Heather… Always a pleasure talking to them…
Look forward to seeing you again at Top Gun…
Have A great weekend.. And Thank you for your products

David Soufer
---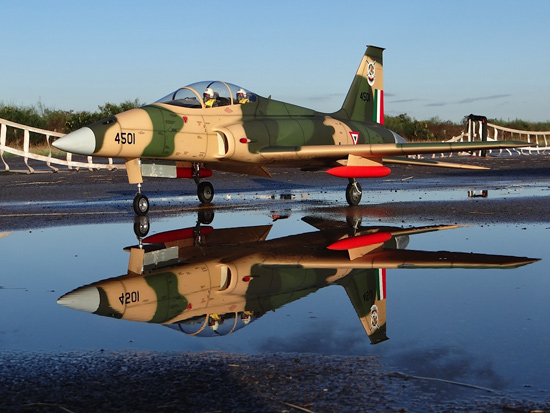 From: Jacobo Sevilla
Sent: Monday, February 02, 2015 2:40 PM
To: Patty Generali
Subject: ULTRABANDIT NOW WITH ROCKETS
Hello Amiga,
I took this photo yesterday at our R/C Club Bitaches. I think Bob will like to see the effects on the Ultra, after a nice cool little rain.

Warmest regards
Jacobo

---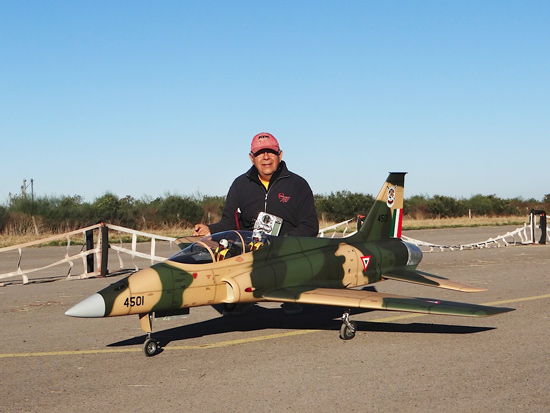 From: Jacobo Sevilla
Sent: Tuesday, January 20, 2015 6:19 PM
To: Patty Generali
Subject: ULTRABANDIT/ F-5 FAM (Fuerza Aerea Mexicana )

Dear Patty,
Happy New Year for all at BVM, the best for you and Bob and your Mother, I am very exited because I have my airplane ticket to go to Florida Jets, so I will see you there !.

Here is a photo of my re-painted and converted Ultra Bandit in to a Mexican Air Force F-5 T, it flies just great,like an Ultra Bandit should do, for me it is like a new jet, after almost 10 years. See you soon.

best regards,
Jacobo
---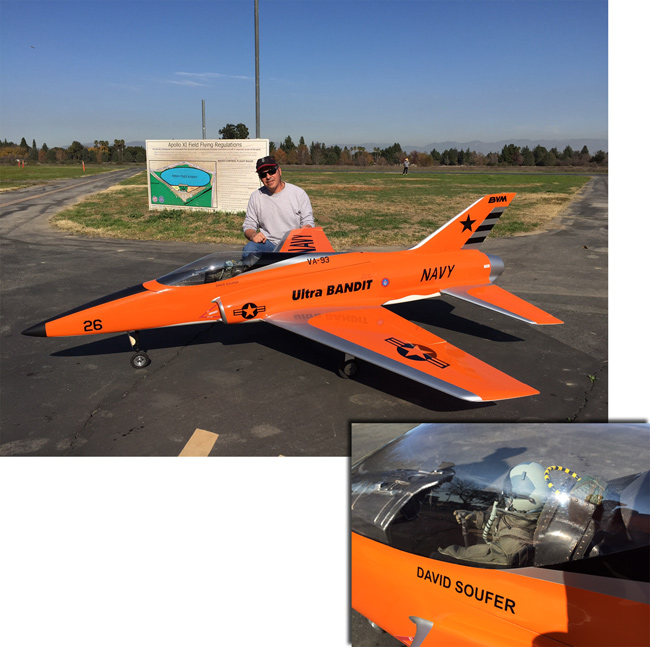 From: David Soufer
Sent: Thursday, January 08, 2015 10:35 PM
To: Patty Generali; Bob Violett
Subject: Hi-Viz Ultra Bandit

Dear Patty,

Today I maiden my second Ultra Bandit. This jet is equipped with a Jets Munt M200XBL, with all JR HV servos. The combination of the power plant and smaller fuel tanks (4.8 Litter) made this big jet fly like my Bandit MKII's.

The "High Flow" fuel system made sure that turbine has fuel when needed and on demand and contributed to this "Perfect Combination"

Ronny Derhacopian did a fantastic job of assembling this jet and it only needed a few clicks of up elevator and it flew perfectly and on rails...

Wanted to thank you and Bob for ANOTHER perfect jet... appreciate all you cooperation and help.


David Soufer


---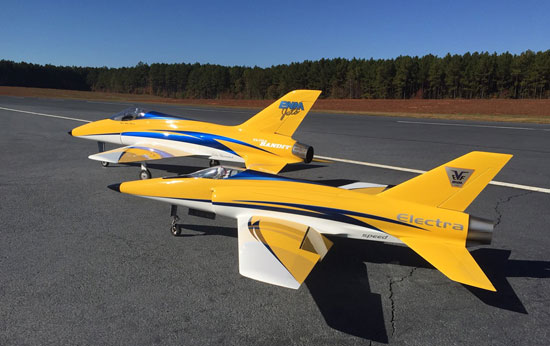 From: Mike Pascoe
Sent: Monday, November 10, 2014 10:04 AM
To: patty
Subject: BVM Ultra Bandit & Electra
Hi Patty,
I wanted to share with you that after 6 years of being tucked away on a shelf, I finally found the time to finish a few projects I've had laying around. I was able to get this accomplished with help from Joe Rafalowski. I've been taking heat from Joe for years now about not having this done, so after Super Jet South, Joe said "You're coming to my house, my paint booth is clean and were going to paint these planes." I said ok and a few late nights later and with Joe somewhat unwillingly letting me use him as a human paint stand… here is the end result, Thanks Joe. The Ultra Bandit is outfitted with a Jetcat P-180 RX with the new Hi-flow fuel system and JR high voltage servos. The Electra is outfitted per BVM specs with a few additions. Joe decided to add gear doors and all internal linkages which resulted in a super clean finish. The Planes have exceeded my expectation of what a BVM quality kit means! A big THANKS to Bob and everyone at BVM.
Mike Pascoe
Executive Director
---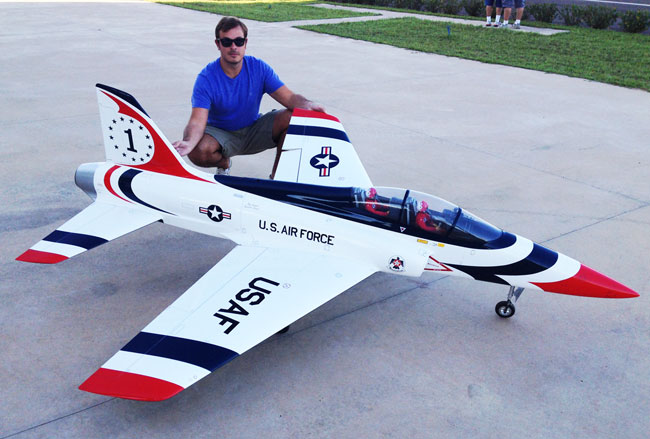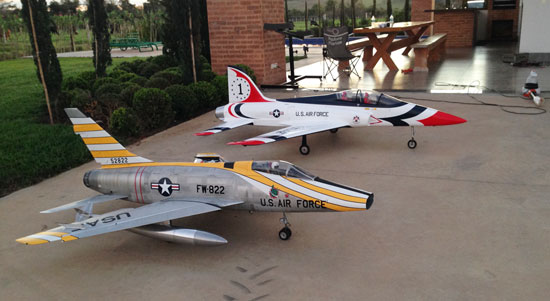 From: Gabriel Pellegrini
Sent: Monday, August 4, 2014 3:32 PM
To: heather@bvmjets.com
Subject: Ultra Bandit Shot
Heather,
I have attached a Picture of my new Ultra Bandit. Needless to say how happy I am with the plane.
Best,
Gabriel Pellegrini
From Brazil
---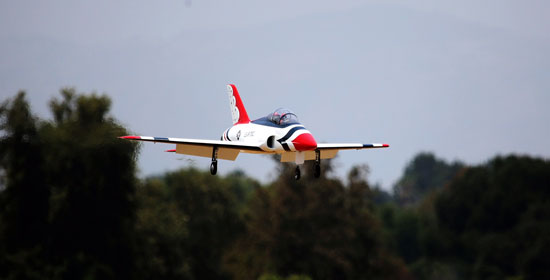 From: "David Soufer"
To: "Bob Violett"
Sent: Thursday, July 03, 2014 5:59 AM
Subject: Ultra Bandit
Hi Bob
Wanted to share a few pictures of the ultra bandit with you. This is the best flying, stable jet I have ever owned. Looking forward to my second ultra bandit.
Best Regards
David Soufer
---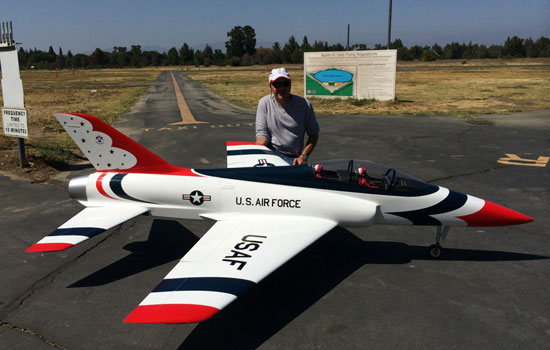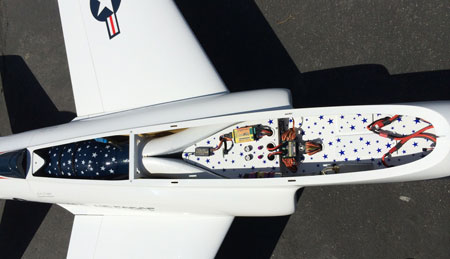 From: David Soufer
Sent: Tuesday, June 24, 2014 12:13 PM
To: Patty Generali
Subject: 4 great iPhotos of the Ultra Bandit

Hi Patty….
I maiden the Ultra Bandit yesterday… what a fantastic jet. Ronny Derhacopian did a beautiful job on the cockpit and the assembly. The Ultra Bandit is equipped with a Jetcat P-300RX (of course de tuned!!!) and all JR 8911HV servos. It needed a few clicks up elevator and one click left and it was flying beautifully. It flew so nice I'm thinking of ordering another Ultra Bandit.. The tough decision is which color scheme…
Another excellent product by BVM… thank you for all your help…
Sincerely
David Soufer
---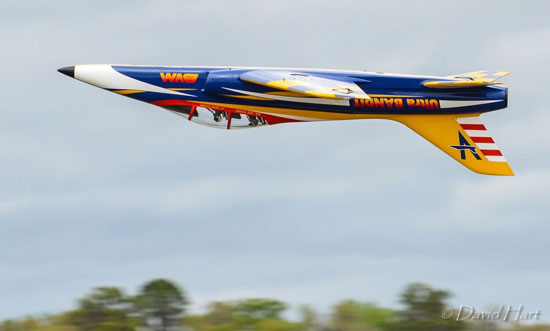 From: Shani Studnik
Sent: Monday, April 07, 2014 10:23 AM
To: BVM Generali
Subject: Fl Jets
Patty
In its 6th season, my UB is still as smooth as silk!!
Shani Studnik
---
From: Luiz Fernando F Pires
Sent: Saturday, April 19, 2014 7:04 PM
To: BVM Jets
Subject: BVM Jets
Hello Patty
My Bandit and Ultra Bandit are the best jets!
Luiz Fernando F Pires
---
From: Kirk Jensen
Sent: Friday, February 21, 2014 9:30 AM
To: Patty
Subject: New Stuff In The Air
Hi Patty,
Thought I would send a couple pics of the new planes. Put the first flight on the Ultra last weekend, and the Electra has about 20 flights on it. As usual they both are great! The Ultra has a P200SX, and both are flying with JR DMSS 2.4 with telemetry.
Thanks,
Kirk Jensen
---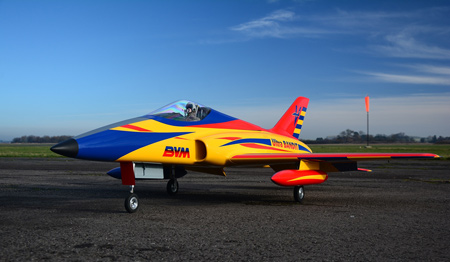 From: Jason Fletcher
Sent: Sunday, January 05, 2014 4:57 AM
To: Patty Generali
Subject: Jason Fletcher's Ultra Bandit has flown.
Hi Patty
Please find attached a couple of pics of my P200SX powered Ultra Bandit which was test flown on the 20th of Jan 2014. The test flight went without a hitch and there were a few comments from other pilots present that "BVM stuff just works, doesn't it" So true. There has been some positive comments on the color scheme too.
Thanks
Jason
---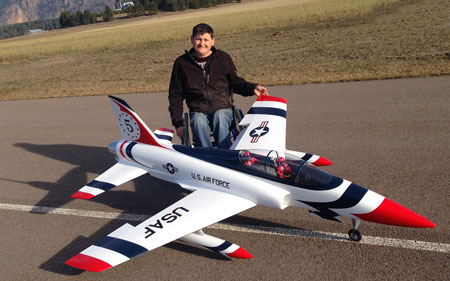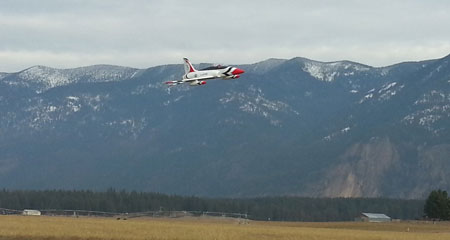 Justin Sands from Columbia Falls, Montana is justly proud of his BVM Ultra Bandit in the ThunderBird scheme. Justin is an expert craftsman and pilot. This Ultra Bandit is powered by a JetCat P-200.
---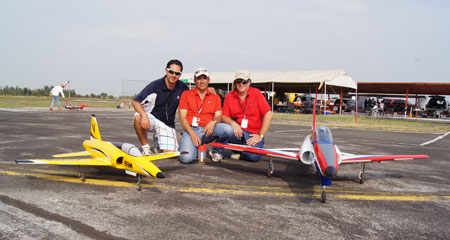 From: Angel Chazaro
To: Patty Generali
Sent: Sunday, October 06, 2013 11:04 PM
Subject: Texcoco Jets pictures
We are Javier Ulloa, Juan Ramon and me, with Javier's Ultra Bandit and my Maverick
---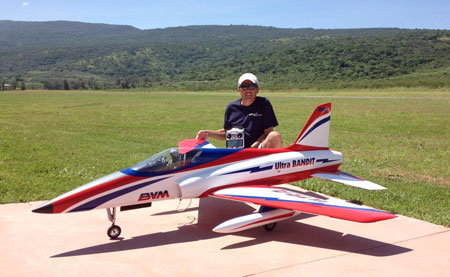 Patty:
Just wanted to share with all BVM staff that I maiden my UB. After having a couple of Bandits ARF and one Super Bandit, all I can tell you this one is by far the greatest plane I have ever owned and fly! Simply incredible flying characteristics and at the same time easy to fly and see. Sincerely I want to congratulate BVM for such a terrific design and thank you guys for all the support for making this possible. I installed the very reliable Mexican turbine a Mammoth and all Futaba Servos guided by a Futaba 18MZ. I decided to put a Powerbox and the Igyro.
Looking forward to fly it a lot more in the coming weeks as I am really enjoying it!
Thanks Again!
Javier Ulloa
---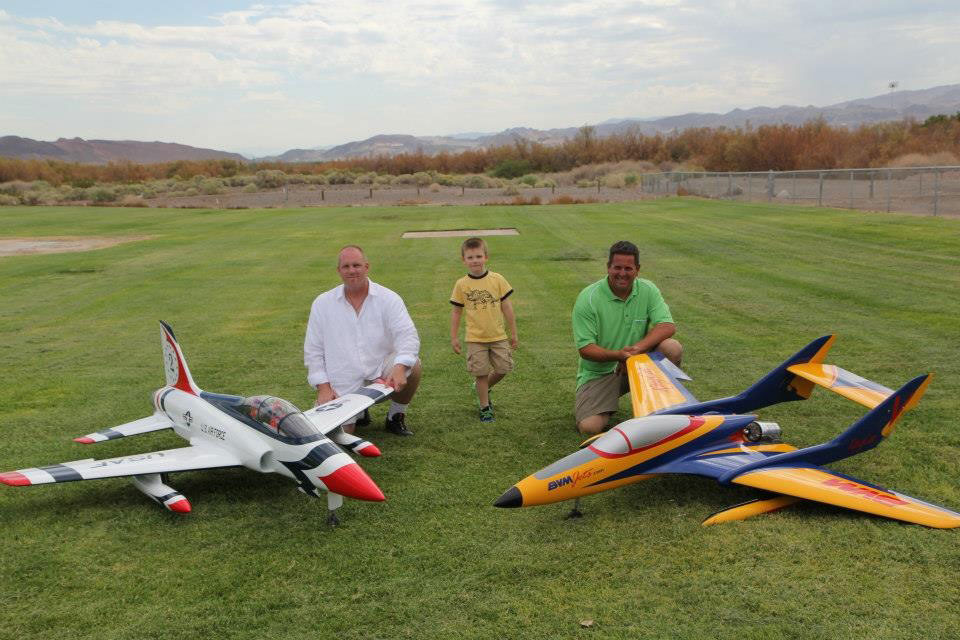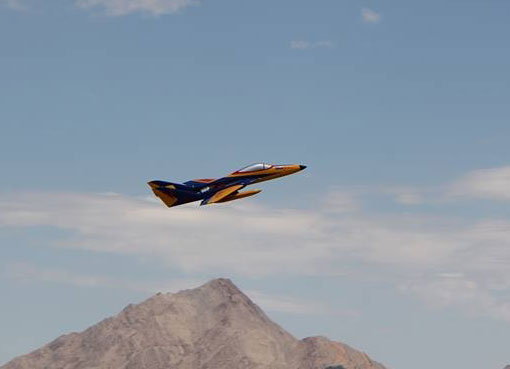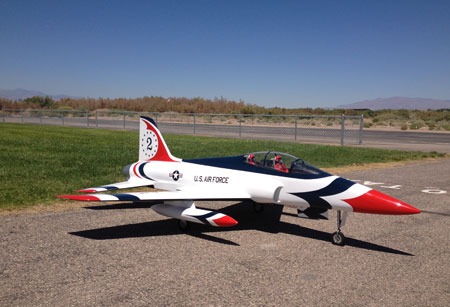 Eric Conrad, Misha Conrad, and Pablo Fernandez pose with a BVM Ultra Bandit and KingCat.
From: PABLO FERNANDEZ
To: Bob Violett
Sent: Friday, August 16, 2013 12:47 PM
Subject: Happy customer
Hey Bob,
I just wanted to forward you some pictures along with letting you know how pleased Eric Conrad is with the BVM products, Elite Aerosports turnkey service, and flight training. Eric has been able to progress from never flying a jet, to successfully flying and landing in less than a week and a half. The BVM products and Elite Aerosports services have really proven how valuable they are to jet modeling. Keep an eye out at the shows, Eric is an outstanding pilot and person.
---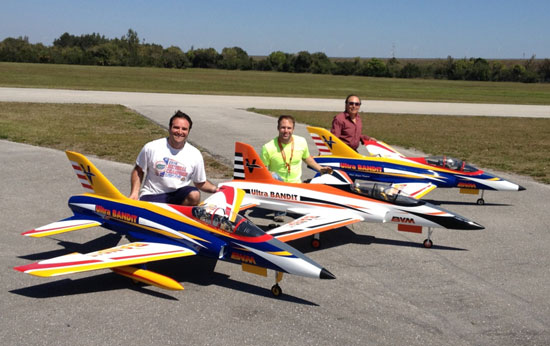 From: Studdoc007
To: BVM Generali
Sent: Friday, March 08, 2013 4:21 PM
Subject: Markham Park UB
Hi Patty
Here's what we love to do on a beautiful Friday morning in S Florida...fly the #1 SportJet in the market, The Ultra Bandit. Mine is starting its 6th season and still flying like its brand new. From left to right is me, Mike Sarysz, and new UB owner Carlos Tschen. Mike did the trim flight today, and by the smiles you know all went well. Plenty of jet fuel burning on all of our UB. Thanks
Best regards,
Dr Shani Studnik
---
From: Anurag Saraf
Sent: Sunday, January 27, 2013 10:47 AM
To: Harley Condra
Subject: UB picture
Dear Team BVM,
Here is a picture of my Ultra Bandit. It has been painted by the master himself, Ralf Schneider of Tailor Made Decals. He came to India last week and painted this plane for me in chrome finish. The plane is so amazing and makes me look like a much better pilot than I really am. Its powered with an AMT Netherlands Olympus HP ES and Powerbox SRS technology. I want to thank Harley Condra for his technical support during the build of this airplane. I think I will always own a UB.
Cheers
Anurag Saraf
India
---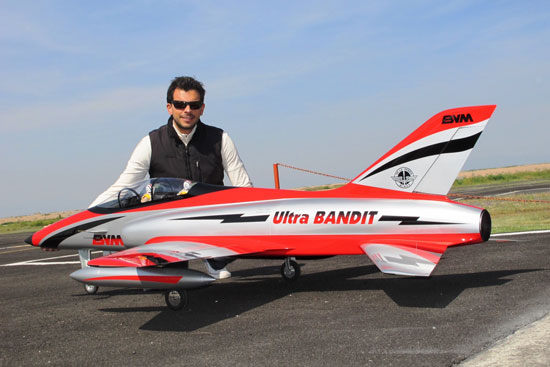 click on image to enlarge
Patty/ Bob:
Just wanted to thank you and BVM team for this amazing plane. I am really enjoying my new Ultra Bandit and believe me that this is the very best plane I have owned and fly. Our Local builder Juan Carlos de la Parra made a great job putting it together and the maiden went just perfect with almost no trim changes.
My UB is powered by a Jet Central Mammoth that is more than the power needed even though we fly at 8000ft, it is guided with the new Futaba 18MZ and JR servos all around. After this plane I am most sure what will follow that can really be above an Ultra Bandit.
Kind Regards
Juan Pablo Piña
---
From: Ritch
To: Patty
Sent: Tuesday, January 08, 2013 9:08 AM
Subject: New paint job on Ultra Bandit
Hi Bob and Patty,
Sending pictures of new paint job on my Ultra Bandit. My friend Paul did a fantastic paint job. I came up with the scheme to support American made products. American made Beer with an American made jet. Hope you enjoy the pictures.
RITCHIE HOLT
---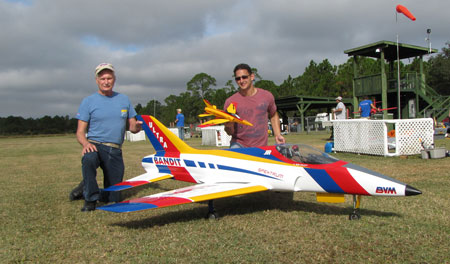 The Extremes of R/C Jets
December 2012
by Bob Violett
Bret Becker spent a few days with the BVM gang during his transfer from Medical Intern rotations between Miami, Florida and Los Angeles, California. A doctor that can also design, prototype, build production tools, and fly jets is an interesting and admirable combination of talents and passions. Bret got some Pilot-Link time on the Ultra Bandit while I got a little stick time on his Electrolyte. December is a fun time in Central Florida. The BVM gang has a jet together at least once, sometimes twice a week. We were all glad that Bret could join us.
---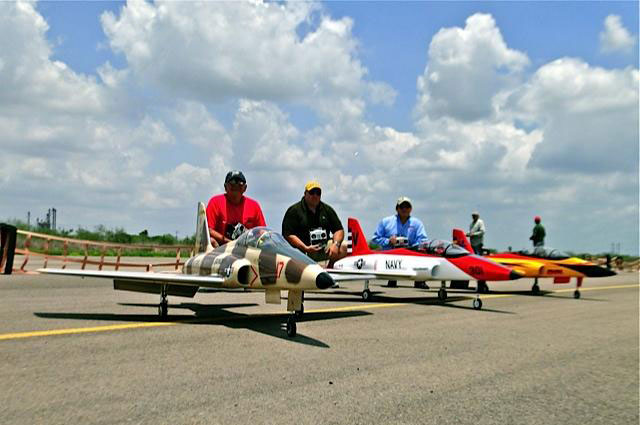 From: Jacobo Sevilla
To: Patty Generali
Sent: Friday, July 27, 2012 9:32 PM
Subject: OUR ULTRA SUNDAY !
Hi Patty, we had an excellent Sunday at our field , with the arriving of Fernando's Ultra , now Culiacan's BITACHES R/C Club bases 3 beautiful Ultra Bandits. Here you can see us, proud pilots, Paul, Fernando, and myself (old Camo Ultra) . My regards to your Mom and Bob, and I hope to see you soon.
Your friend ,
Jacobo Sevilla
---
From: James McAlpine
To: Patty Generali
Sent: Monday, July 30, 2012 2:46 PM
Subject: James McAlpine's Ultra Bandit
Hi Patty,
As promised, here are a few pictures of my Ultra Bandit. The final finishing and painting was done by Steve Elias to his usual high standard. It is powered by an EvoJet 180vx and controlled by a Futaba 18MZ, along with a Powerbox Cockpit SRS system. Final weight is 17.6 Kgs (39 Lbs). I am looking forward to flying it soon. Thanks for all your help during the build.
Kind regards,
James McAlpine,
---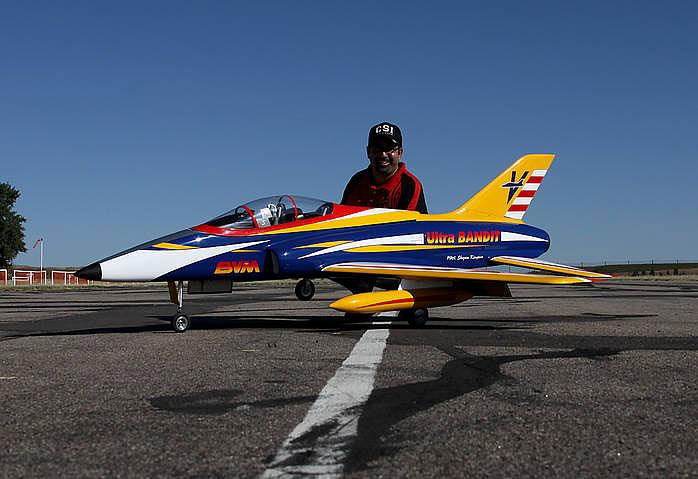 From: Shazam Kianpour
To: Patty Generali
Sent: Thursday, February 23, 2012 5:56 PM
Subject: My Ultra Bandit is finally air-born!
Hi Patty,
Thought I would send you a couple of shots of my Ultra Bandit. P200SX, BVM UB Performance Pack. I loooove how she flies!!! Notice on landing I added a little CROW to the ailerons. She comes in at 30-40 MPH at most with this setup. Once she lands, she sticks to the runway. Couldn't be happier! :)
Thanks for everything!
Shazam S. Kianpour, Esq.
---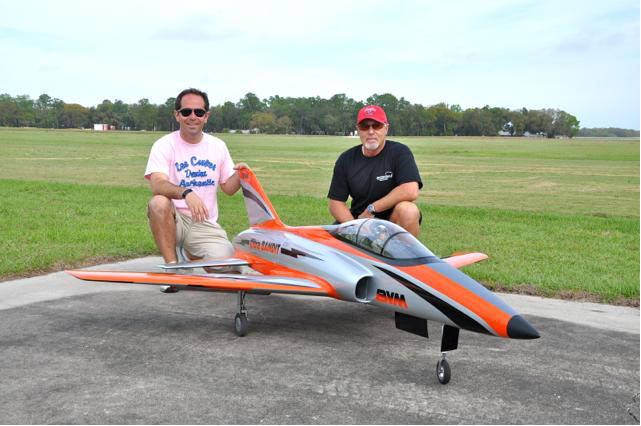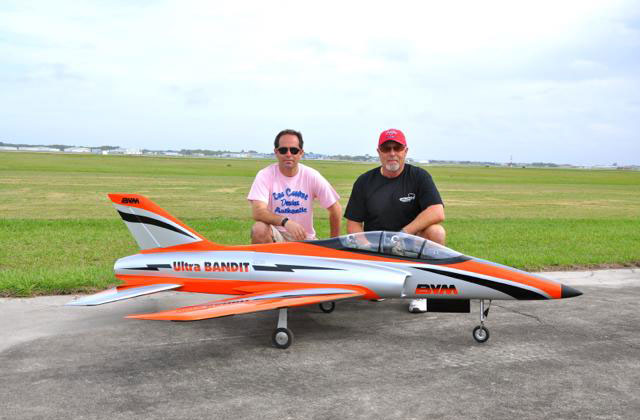 From: Richard Curry
To: BVM Jets
Sent: Wednesday, January 11, 2012 8:08 AM
Subject: Ultra Bandit
Hey Patty and Heather,
Ali and myself with my new Ultra Bandit .This is a very Impressive kit and a builders dream to assemble. Ali put the maiden flight on her , a few clicks of up elevator and the rest was history. Between us we put a dozen flights on her in 3 days with no issues. Set up is with a JR 12X all JR HV servo's , JR R1222 Receiver and the Jet Central Mammoth Kero start. This combo with the engineering of the Ultra Bandit makes for a very EXTRAORDINARY flying aircraft. WELL DONE BVM TEAM !!!
Regards
Richard Curry
---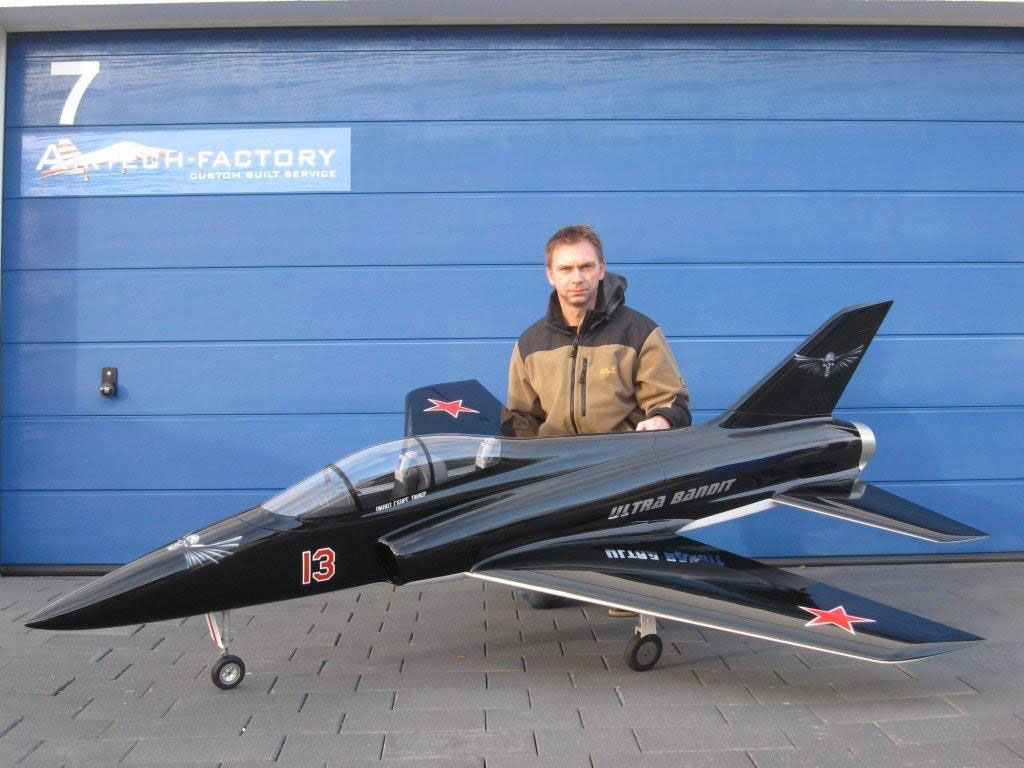 From: Jörg Schlüter
To: Patty Generali
Sent: Thursday, December 29, 2011 8:59 AM
Subject: Ultra Bandit Pictures
Hi Patty, here some pictures from my Ultra Bandit, maybe some for your "Hotshots Gallery".
Mit freundlichen Grüßen / best regards
Jörg Schlüter
---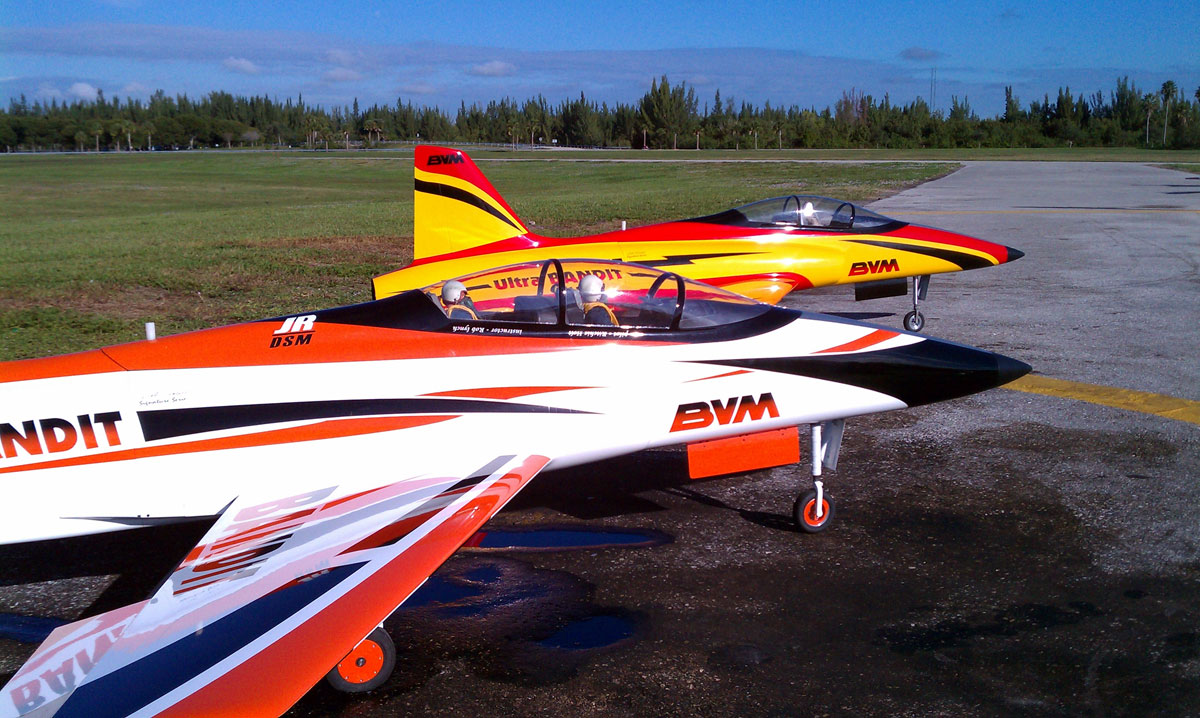 From: Ritch Holt
To: Patty Generali
Sent: Thursday, December 29, 2011 9:27 AM
Subject: UB pictures
Hi Patty,
Sending picture of myself and Rob with both Ultra Bandits ready to enjoy Markham Park. It was fun having two Ultras in the sky at same time. By far the best flying sport jet.
RITCHIE HOLT
---
From: Ramon Lozano Yuste
To: Patty Generali
Sent: Friday, December 09, 2011 6:15 AM
Subject: Formula 1 event
Hello Patty,

The Formula 1 organization made the presentation of the new car for the next season. They thought it would be beneficial to show our jet with the race car. This was a wonderful promotion because a lot of important people around the world went to this event.
The Ultra Bandit next to the car was awesome and everybody was impressive. Also the Formula 1 pilot, Adrian Sutil could see the plane and took a lot of pictures of it. He loved it!! I am sending you the pictures. The place is in Marina Salinas, Torrevieja, Alicante.

Regards,
Raúl
---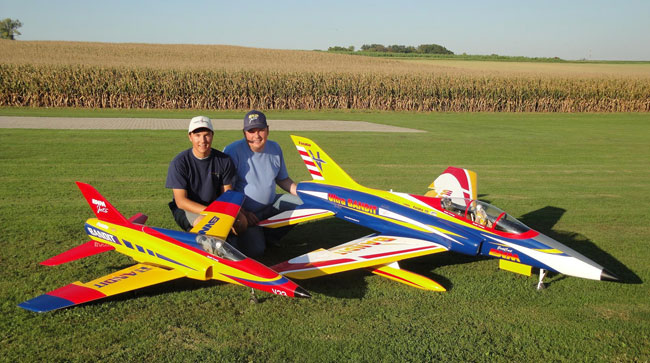 From: Ewald Trumpp
To: Patty Generali
Sent: Tuesday, December 27, 2011 7:27 AM
Subject: Order
Hi Patty,
I hope in your factory everything is fine and you had all great X-Mas! Attached find 2 pictures of me and my son flying our BVM Jets.

Best regards and a happy new year!
Ewald Trumpp
Germany
---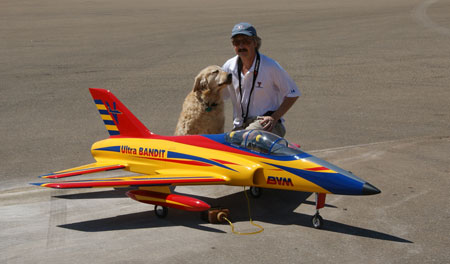 From: R. Michael Danchak
Sent: Thursday, September 08, 2011 4:22 PM
To: BVM
Subject: Ultra Bandit
Dear Heather, Patty, and the rest of the BVM Team,
I finally flew my Ultra Bandit. This was the nicest kit that I ever worked on. Everything fit perfectly, and the instructions were superb. Thank you for all of your help and advice along the way. I must also mention that Ad Clark, one of your Factory Representatives, was instrumental in the ultimate success of the project. The aircraft is set up with a JR 12X, and a JetCat P-200 SX. Everything works flawlessly, and the first few flights have gone without incident. The "Lasse Palm" color scheme shows up really well in the Texas sky. This airplane flies big, and it flies great! I cannot wait to fly it again.
I have attached a picture of the Ultra Bandit, myself, and Blizzard Beach, Chief Mechanic.
Mike Danchak
---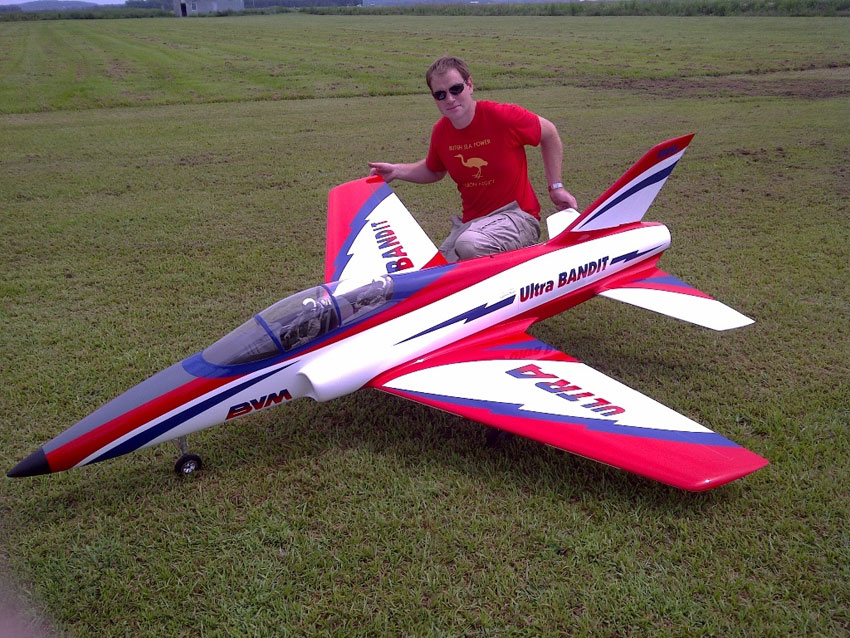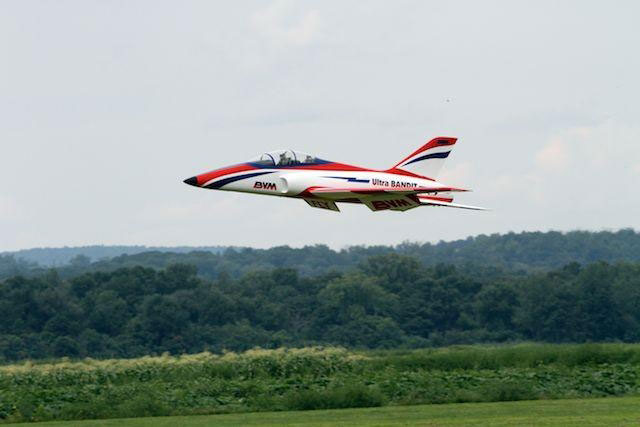 From: Andrew Bird
To: 'Patty Generali'
Sent: Monday, August 15, 2011 10:14 AM
Patty,
I flew the Ultra yesterday from our 700ft grass runway. I can't even begin to explain how well the plane flies! I seemed to groove with it straight away and it gives the pilot a lot of confidence. The stock flap set up is excellent and allows you to be very accurate with where you want to put it down. The only down side was I totally underestimated how much fuel the P200 eats, so I only managed (3) 11 minute flights with 5 gallons of Jet A!
My friend Phil Factor built the plane for me while I was in the UK for 6 weeks with work. He did and absolutely stunning job, kept everything simple giving a dry all up weight of 18.5kg! Very impressive for an aircraft this size.
Andrew
---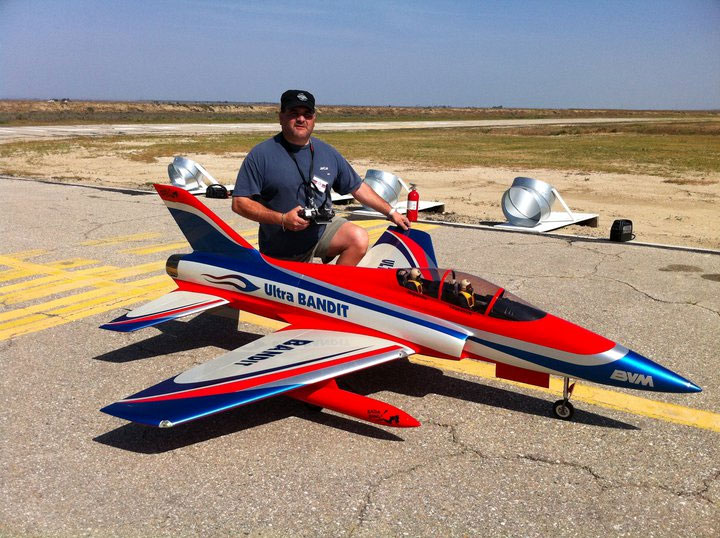 From: Joe Castelao
Sent: Thursday, July 21, 2011 12:16 PM
To: Heather
Subject: BVM Ultra Bandit

Hi Heather,
I wanted to send BVM a picture of me with my custom painted Ultra Bandit, Picture was taken at the 2011 California Jets. P-200, JR

Joe Castelao!!!
Note: Joe is hosting the "Best In The West" Jet Fly September 29 - October 2nd. Click here for the website
---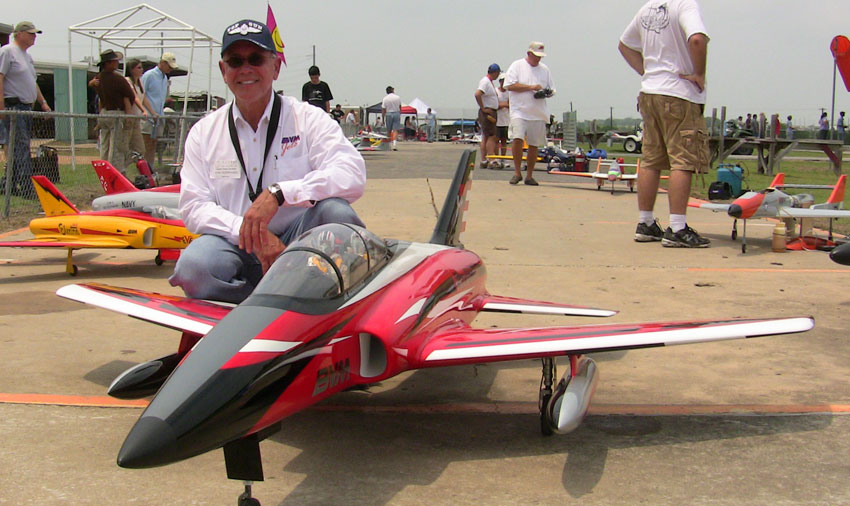 From: Jose Rodriguez MD
Sent: Tuesday, May 24, 2011 9:29 AM
To: Patty BVM
Subject: Pilots Choice in Austin Jet Meet may 20/21
Jose Rodriguez seems very pleased with his "Pilots Choice" Ultra Bandit at the Austin, Texas jet meet 2011.
---
From: Ewald Trumpp
To: Patty
Sent: Sunday, February 13, 2011 11:24 AM
Subject: Ultra Bandit
Hi Patty,

It´s powered by a JetCat P200SX and Futaba radio and servos.
"The UB (similar to the other BVM-Jets) is the best Jet I´ve ever flown with unbelievable flightconditions and RollsRoyce-quality"
A short documentation of the building is on my sons website.
Please check it:http://www.robin-trumpp.de.tl/Ultra-BANDIT.htm
If you want, you can post the pictures on your "Hot Shots-wall"

I only fly the fantastic jets of Bob Violett. I have 2 KingCats, 1 Bandit-ARF and one Electra in building.
I´ll send you some pictures when the winter is over here in Germany.

Best regards
Ewald Trumpp
Germany
---
Proud Of Their Work
The Ultra Bandit is 100% manufactured in our WinterSprings, Fl. factory and these gentlemen are justly proud. They know that the Ultra's reputation for being the "Best in the World" is the result of their talents and dedication.
This Navy Trainer scheme is popular lately because it is military and HiViz.
For all of the Ultra Bandit schemes click here
---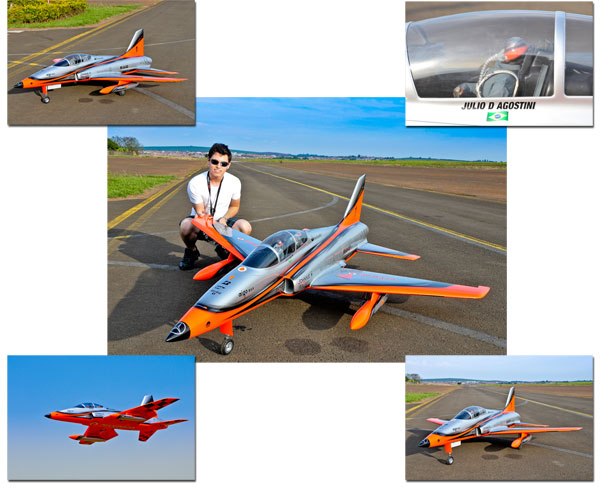 From: Julio Cesar D' Agostini
To: Patty
Sent: Friday, October 22, 2010 9:07 AM
Subject: Ultra Bandit photos
Hello Patty,
I'm sending the first flight photos of my Ultra Bandit, Heraldo and I bought the planes together do you remember? I made the
McLaren paint, custom by a friend here in Brazil, I loved it, I'm using P200 and JR8711 servos, the plane is amazing, the best.
Regards,
Julio D Agostini from Brazil.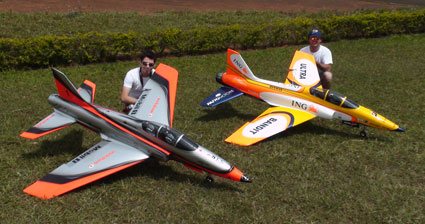 From: "Heraldo Boldrin"
To: "'Patty Generali'"
Sent: Wednesday, October 20, 2010 1:16 AM
Subject: SPAM-LOW: Ultra bandit
Dear Patty
I am sending the pictures of the Ultra for your website, I can say that is the best Jet that I fly. I am using all JR 8711 servos, and JETCAT P200Sx Turbine. The Jet is custom painted by a friend here in Brazil.
Regards
Heraldo Boldrin, from Brazil
---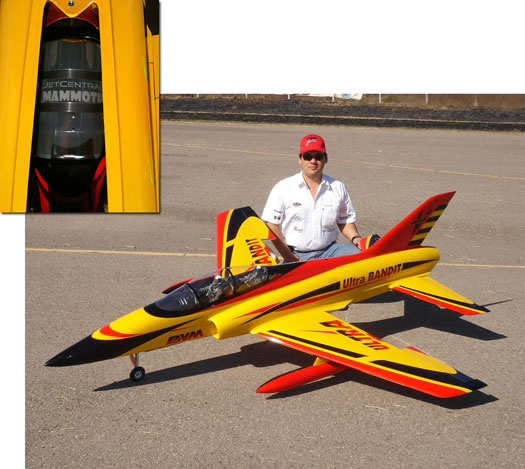 Paul Uriarte really likes his BVM Ultra Bandit and its JetCentral Mammoth powerplant. Paul lives in Culiancan Sinaloa, Mexico
---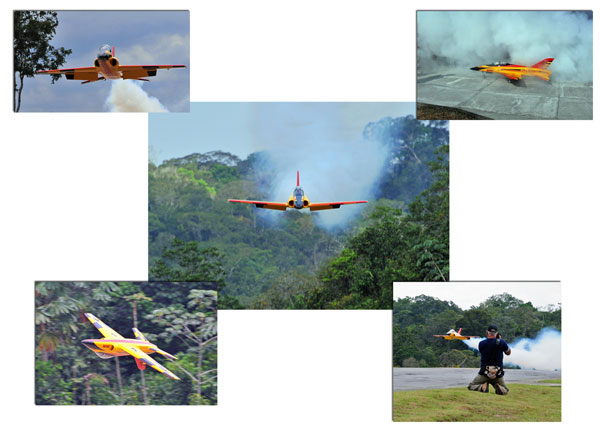 From: Ary Figueira
To: Patty
Sent: Sunday, September 12, 2010 7:39 PM
Subject: Ultra Bandit
Hi Patty,
See this picture of Ultra Bandit in the meeting "1º FigueiraJet" in Manaus, Brasil.
Best Regards,
Ary Figueira
---
Ultra Sunday
by: Bob Violett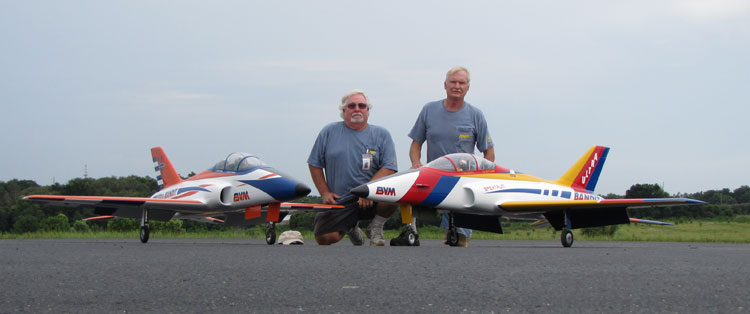 Ultra Bandit owners know that no other model jet flies and lands as smooth as does this big bird. And, since our "Pilot Proficiency Training Program" at BVM requires that we fly every Sunday afternoon, this day in July 2010 was designated "Ultra" day. It also happened to be "World Cup" soccer day so the R.C.A.C.F. field was practically deserted.
Some cloud cover and unusually cool weather (mid 80's) provided Harley Condra and I a perfect opportunity to enjoy our JetCat P-200 powered "Best of the Best".
Disciplined throttle management, assisted by the JetCat "Speed Limiter" provide a comfortable safety margin for club field operations.
---

From: Al's Hobbies Jet Centre
To: Patty
Sent: Monday, May 24, 2010 8:31 AM
Subject: Als Hobbies
Hi Patty,
Please find photos attached of Raul Lozano Solsona from Spain and his new Ultra Bandit.
This Ultra is powered by the new Jet Central Mammouth turbine, and controlled by Hitec servos on every surface. With Raul on the sticks it is sure to be a fine flying combo. We look forward to seeing it being put through its paces at demos around the world in the coming months.
We at Al's Hobbies are delighted to be associated with such a great pilot and model. This is the 9th Ultra bandit that we have supplied to customers from around the world, all of which have had nothing but great feedback on what must be the worlds ultimate sport jet!
Regards,
Ali Machinchy, Al's Hobbies
Managing Director
---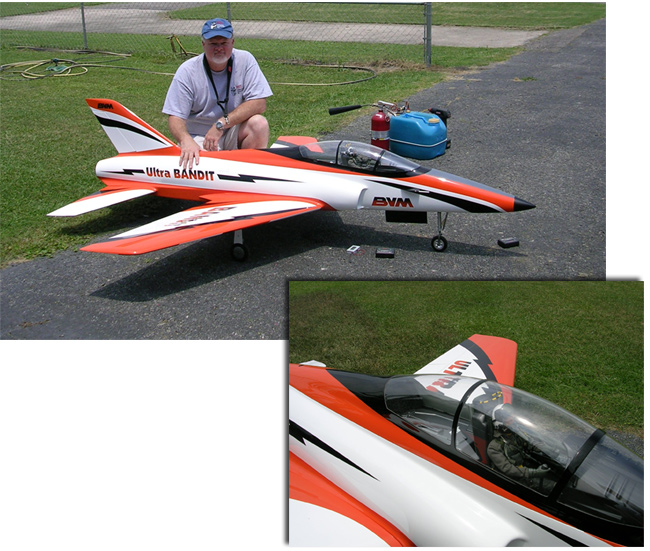 From: Kirk Jensen
To: Patty
Sent: Monday, May 10, 2010 10:47 AM
Subject: ultra maiden
Hi Patty,
I maidened the Ultra Bandit this weekend. All went well and it fly's like a rock solid dream. It took 3 clicks of up trim. I went with a single place cockpit and used left over parts from a Bobcat to finish off the rear hole. This is the first time I have used a 100% high voltage system powered by 2S JR LiPo's and no regulators. All the servos are the JR 8711HV "high voltage" servos. It also has the full EagleTree system onboard.
Kirk Jensen
HTI Hydraulics Technology, Inc.
---
From: J Rodriguez
Sent: Friday, May 07, 2010 10:35 AM
To: BVM
Subject: Rodriguez pictures
Dear Bob and Patty: Included are pictures of Joel and I during the recent Mississippi Afterburners event. Both jets are fantastic birds. Hope you like them for your website pictures. Regards; Jose E Rodriguez
---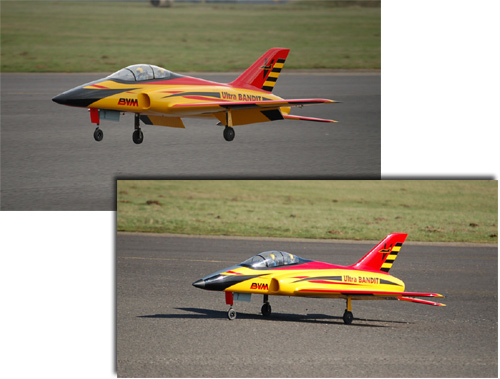 Sent: Monday, April 05, 2010 5:04 PM
To: BVM
Subject: Ultra Bandit
Couple of pictures of Jason Fletcher's Ultra Bandit taken at our JMA event over the Easter weekend
---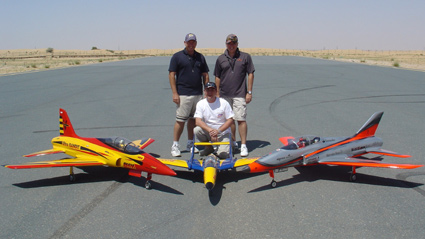 From: Darryl Tarr
To: Patty
Sent: Monday, April 12, 2010 8:32 AM
Subject: BVM Jet in Dubai
Hi Patty,
Last week Greg McCarthy, Lee Cox, and myself got together to fly some of our BVM models at the Dubai RC Club (see photo). There is an estimated 20 BVM jets flying in Dubai. This means that BVM dominates approximately 33% of the jet scene here.Regards to all there.
Cheers,
Darryl Tarr
---
From: Caravanland sales
To: Patty
Sent: Wednesday, March 03, 2010 11:58 AM
Subject: Jason fletchers Ultra
Hi Patty
Thought you might like a couple of pics of my Ultra Bandit for your site. It's powered very well by an Olympus.
thanks
Jason
---
Engineered for Success
The BVM slogan is verified again with these recent test and familiarization flights on Harley Condra's Ultra Bandit.
Harley assembled the model, BV checked it out at the shop and Dustin accomplished the first test hop. It was perfect! Harley was all smiles after his first "fam" flight and landing.
Note about Center of Gravity: The published C.G. locations on BVM jets are conservative to ensure a safe first flight. Generally, it can be moved aft 1/4" to 1/2" depending on the pilots experience and technique. Sometimes, it is as simple as shifting a battery location. Smooth, flared landings are more easily achieved with the C.G. a bit aft.
---
From: Rafael Villeda
To: Patty
Sent: Monday, November 23, 2009 12:59 PM
Subject: Ultra Bandit

Thank you for all your help with my Ultra Bandit! Here are some pics from my maiden day! She flies great, she's stable and a rocket ship when the engine gets a chance to show its stuff! Thank you for all the hard work you do to make sure we really do enjoy this hobby!

Sincerely,
Rafael Villeda
---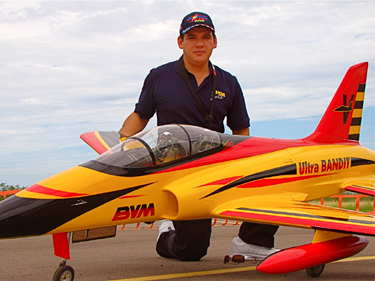 Patty, it was very nice to speak with you today, and to know that every body is doing well at BVM. The only sad thing, is that you can not sale me the F-16.
Here you will find Paul's photos, you take the one you like , I will send you another mail, with some interior of the Ultra, he want you to see his excellent work he did.
Well, please give my best to the family, regards
Jacobo
---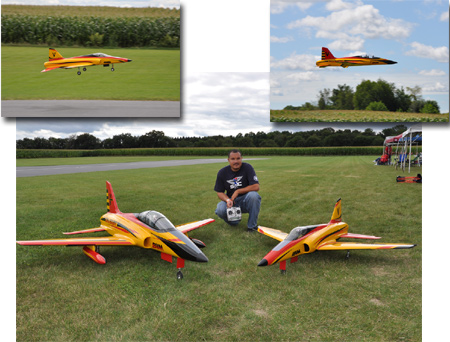 My Bandits
Here are some pictures of this past week's Windy City Jet Rally in St. Charles, Il. My Bandit and Ultra Bandit flew great. Thanks again.
Juan Colon
August 23, 2009
---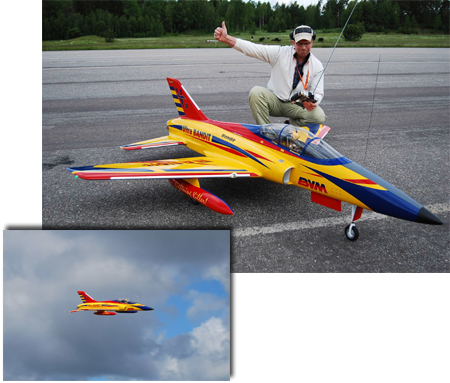 From: Lasse Palm
Sent: Friday, June 19, 2009 10:35 AM
To: modelers
Subject: EVF 5012
Hello my friend!
I can only say, this is the best model I have flown. See pictures!
Regards
Lasse Palm
Lp-Agentur team jet Sweden
---
First Flights
April '09
click to enlarge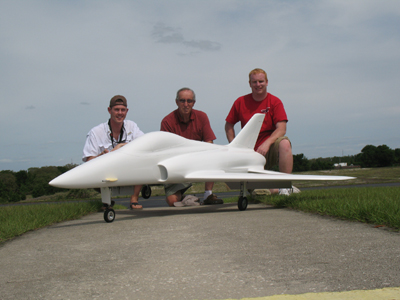 Phillip Weikert, Bob Jesse, and Dustin with the soon to be painted "Ultra"
Bob Jesse from Ellenburg Depot, NY spends his winters in Clearwater, Florida. This winter he absorbed some time assembling an Ultra Bandit and finished it just in time for test flights before his "snowbird" pass expired.
When you get the BVM Team to pre-flight the model and assist with the first flights, success is for certain. Bob's expert craftsmanship is apparent with the canopy hatch removed. The JetCat Speed Limiter was activated to harness the power of the P-200.
Leonard Smart from Plattsburg, NY will be applying the final finish and this "Ultra" should be appearing at some North East Jet Events this season.
---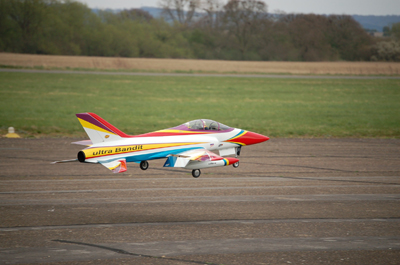 Dave Wilshire of "Motors and Rotors" kindly forwarded this photo of Steve Elias's custom painted Ultra Bandit. As Steve might say; "It is stunning!"
---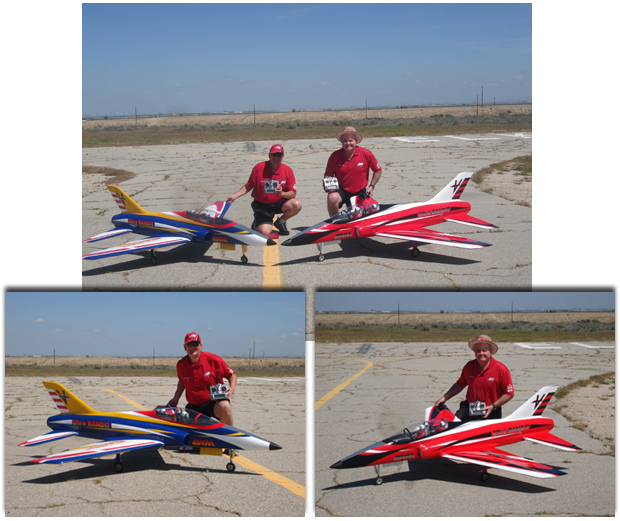 From: Jon Vance
Sent: Saturday, March 28, 2009 4:12 PM
To: BVM
Subject: Ultra Bandit Pictures
Bob and BVM Team: I have enclosed photos of my Ultra Bandit and Kent Nogy's Ultra Bandit. Kent offered to complete the install on my Ultra Bandit so we would have time to test fly it and have it ready for the upcoming California Jet Event on April 2-5 at the Button Willow airstrip outside of Bakersfield, California. Both of the Ultra Bandits are identically equipped with Jet Cat P 200 for power with the JR 12X transmitter and JR 1222, 2.4 receiver. Servos are a mix of JR 8711 and 8611's for the primary flight surfaces. Batteries consists of two JR 4000 mah, 7.4 volt, Power Safe Lipos on the ECU. The airborne setup consists of a JR 1222 receiver with dual, JR 10 amp voltage regulators handling the two JR 4000 mah, Power Safe Lipos. Jet Cat smoke system is installed.
I was able to get 2 test flights on the Ultra Bandit and all I can say is.....FANTASTIC! This is one great flying machine with excellent flight characteristics throughout the speed envelope. It tracks like it is on rails and the control surfaces are very effective. Landings are a dream....slow and very predictable. Can't wait to get some more stick time.....Jon Vance, Team JR
---
From: Cooper Henry
Sent: Tuesday, March 24, 2009 9:14 PM
To: BVM
Subject: Ultra Bandit

Dear Bob and Patty,

I thought that I let you know that "we" test flew the Ultra on Sunday 22nd. It was a typical English Spring day....blowing a Gale! We had three successful flights and after two flights Ali had her dialed in just right. She looked so positive in the air, just like she was on rails. It was a great kit to build, great instructions and everything was in the box, and what was in the box fitted! I have built many BVM's and they are always a pleasure. I have sent you some pictures of the Ultra while Ali's doing what he does best, showing a plane off to its best. Ali and Ultra Bandit a great combination! I look forward to many more flights with this plane and better weather!

Kind Regards,
Henry Cooper
---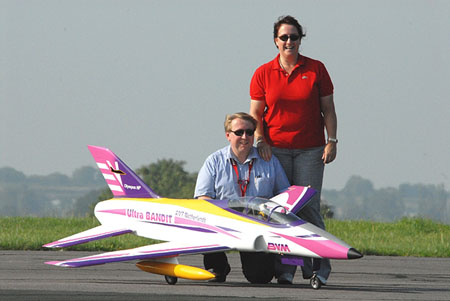 From: "AMT Netherlands b.v."
To: Patty
Sent: Saturday, January 03, 2009 8:45 AM
Subject: BVM Ultra Bandit pictures.
Good morning Patty,
We want to thank BVM for the excellent work on our Ultra Bandit, we did get many complements of spectators who saw this plane during Jet Power 2008 in Germany.
Attached are a few pictures of our first flights with the Olympus Hp powered Ultra Bandit. As you know the UB was painted at the BMV factory and finished by Geoff White from the UK. Together with Jonathan Smith and Andrew Kayes we made the first flights at a airfield called "Ilminster" located the UK at the end of August 2008. We are looking forward to many hours of flying time with our new demo plane in the year 2009.
Thanks again,
Bennie / Anita
---
"This is the best jet I've ever flown."
Lincoln Figueiredo

The Ultra Bandit earns this praise from every jet pilot that flies it. Lincoln ordered his Ultra in July '08 and contracted Tom Wood Sr. to assemble it and then have BVM give it a final check out.
Everything was accomplished on schedule and the flight check out at the R.C.A.C.F. (Radio Control Club of Central Florida) "Jet Friendly" field was flawless.


Dustin assisted Lincoln for 3 flights and multiple approaches to landing so that Lincoln could have full knowledge of the machine and enjoy it at his home field in Brazil.


Names L-R: Igor Caraballal, Edson Bernardes, Antonio Maia, Lincoln Figueiredo, and Dustin Buescher.
---

From: Darryl Tarr
To: Patty
Sent: Wednesday, December 17, 2008 10:48 AM
Subject: Ultra Bandit
Hello Patty,
Here are some photos of my UB. It is JetCat P-180 powered and I am using JR equipment all round (JR 12X 2.4 GHz). What a beautiful flying model.
Kind regards,
Darryl Tarr
---
| | |
| --- | --- |
| Click To Enlarge | Rob Lynch debuted his Ultra Bandit at the RCACF field 15 Sept 08. He guides the JetCat P-180 powered machine with a JR DSM 12X. All of the systems functioned flawlessly. |
| So much of Rob's flight routine is inverted that perhaps the lettering on the cockpit rail is proper. | Click To Enlarge |
---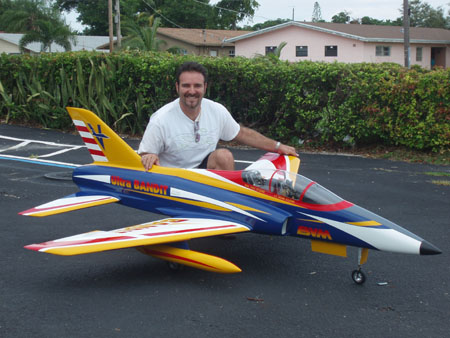 From: Shani Studnik
To: Patty
Sent: Saturday, August 30, 2008 12:05 PM
Subject: Ultra Bandit
Dear Bob and Patty
Just wanted to drop you a quick note to let you know how satisfied I am with my new Ultra Bandit. I went out last weekend to fly the "Ultimate Jet." It only took 3 clicks of up trim and it was flying straight and fast as a bullet! Once again Bob, congratulations on developing yet another AWESOME JET!!! The Ultra Bandit performs like my F100 on steroids. Its amazing how well it slows down for landings. The Lemans Blue color scheme is very visible in the air. I'm using a Jetcat P-180 for power. I had Tom Woods do the rigging and installation for me. Thanks again.
Dr Shani Studnik
---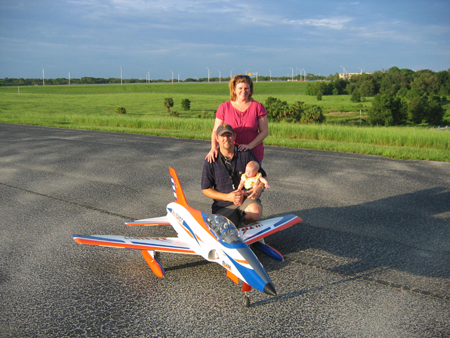 Ed, Kelly, and Ella Grace Ritsko
Ed brought his family with him to visit BVM and to get his "Ultra" checked out and test flown. Dustin did the test hop and then coached Ed during numerous successful flights at the RCACF "Jet Friendly" club field.
Sent: Monday, July 21, 2008 7:31 PM
Subject: Edward Ritsko Maiden Flight from Chuck and Karen
Here is a nice note from Kelly's parents
Dear Bob, Dustin, Patty and everyone,
We really enjoyed our weekend being involved with the team at BVM. Bob, thanks for the tour and for all your help with Edward's jet. So nice to meet Pat, Patty, and Heather. Also special thanks to Dustin, Barry, John and Chris for making the trip safe, fun, and interesting. You are a terrific group, keep up the good work! We'll look forward to seeing you in Atlanta in Sept.
We've attached some photos for your scrap book or web site. Thanks again, Chuck and Karen Edwards
---
This is Lars Palm, BVM's dealer in Sweden, with some of his BVM Jets. Lars has added a few extra's to his Ultra. Check out the ProMark transfers, chrome leading edges, and lights. Thrust is provided by an AMT Netherlands Olympus. His Classic Bandit has logged 250 flights. Great looking paint lines!
Lars can be reached at: palm.la@telia.com
---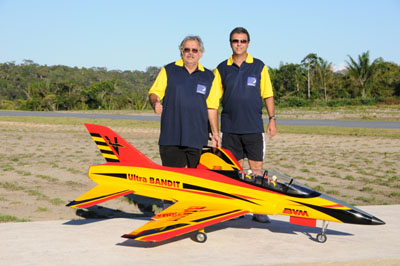 From: Ary Figueira
To: Patty
Sent: Thursday, June 12, 2008 9:31 AM
Subject: Ultra Bandit in Brazil
Patty,
Today I put the first flight on the Ultra Bandit, here in Brazil. This is the fastest and most precise airplane I have ever flown. Congratulations for having created this wonderful machine.
Thanks,
Ary Figueira
---
Keith Sievers sent along a few photos of the first flying session with his Ultra Bandit. His comments are:
"It was the best flying model off the bench that I have ever built. I am looking forward to more stick time! Thanks again, Keith."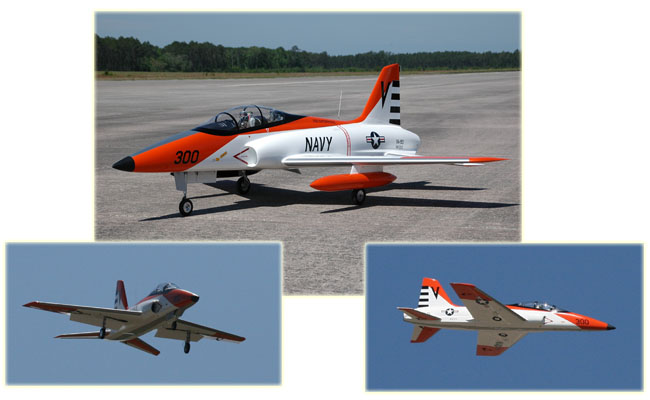 We call this scheme "Navy Trainer". It was Keith's concept for a very visible model. And why not? It works for the Navy.
---
From: Vernon Montgomery
To: BV
Sent: Wednesday, March 05, 2008 1:29 PM
Subject: Ultra Bandit
Bob,
To let you know, I test flew the Ultra and am very happy. No surprises and was comfortable like an old friend after the first trim pass. Has the JetCat P180. Just played the first flight checking out visual orientation and slow speed characteristics. It's BIG, easy to see for old man eyes and slow speed is just what I hoped for...SLOW and stable. It will be rung out over the next few days. Thanks for another great design. It is a happy addition to the other winner BVM planes in the Montgomery stable.
Long time Customer and Friend,
Vernon Montgomery
---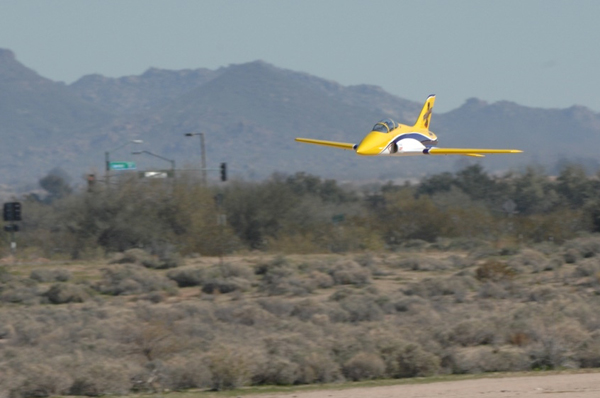 Photo courtesy of Joe Balabon.
Ron Long, from Scottsdale, Arizona, now owns and flies one of the very first Ultra Bandits. It was built and painted by Terry Nitsch and won Best Jet and Finish awards at Toledo '06. Seen here at the Phoenix Desert Storm.
---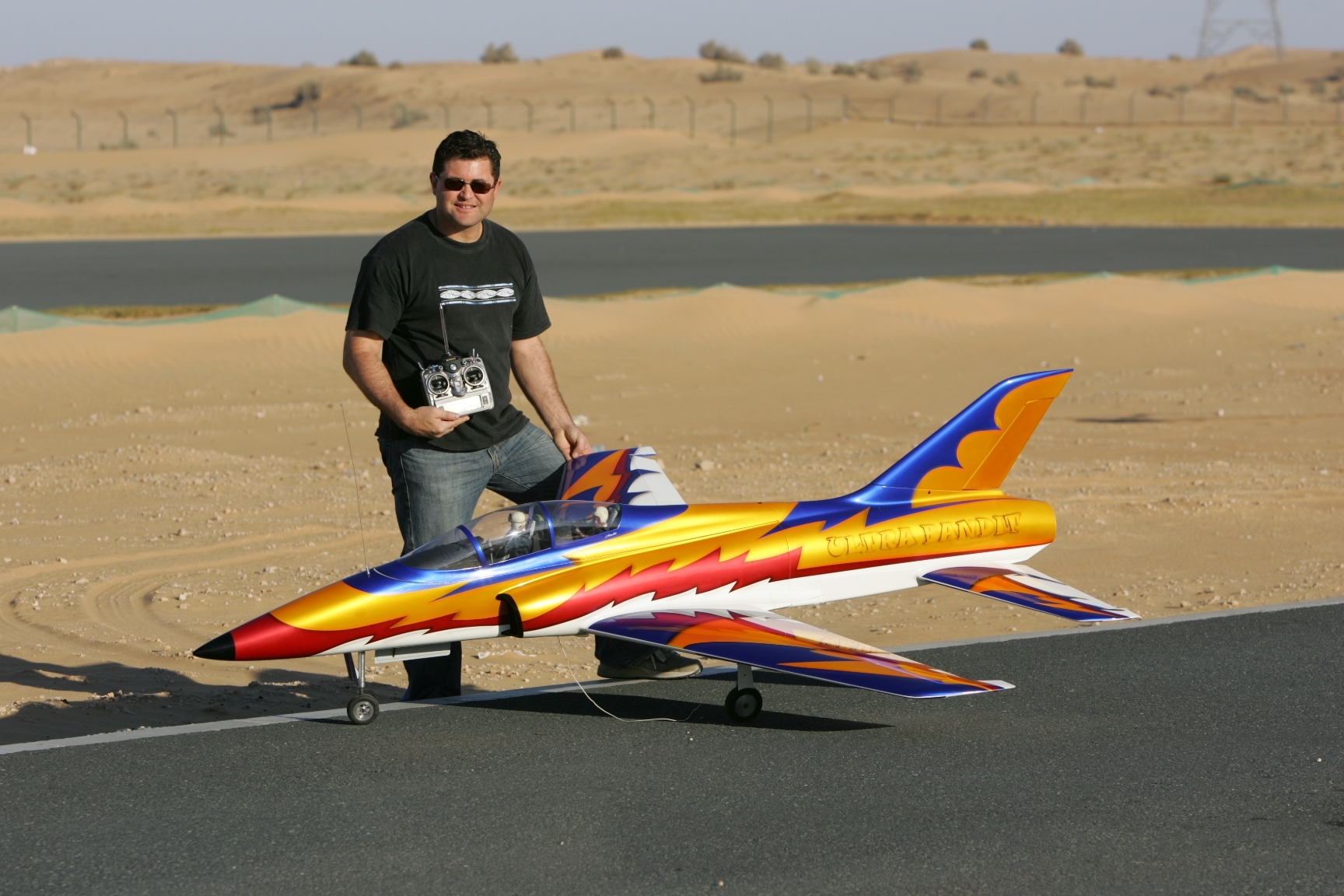 Hi Bob, I thought I would let you know that I'm having fun with the Ultra Bandit here in Dubai. This is one that was custom built for Ali at Als Hobbies in the UK. Thanks Bob for a great performing aircraft! Also, thanks to Ali for his support.
regards,
Leon Smith
Dubai, United Arab Emirates
BVM Distributor Middle East
---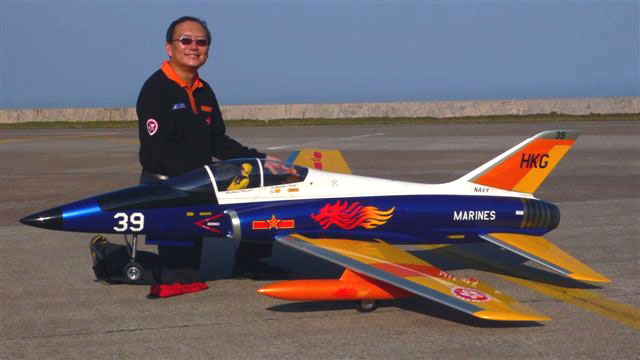 Simon To (Hong Kong) is very pleased with his Ultra Bandit. The paints were provided by Lamborghini cars with their pearl affect. Simon has a straight fin on order and will compare flight characteristics of both.
---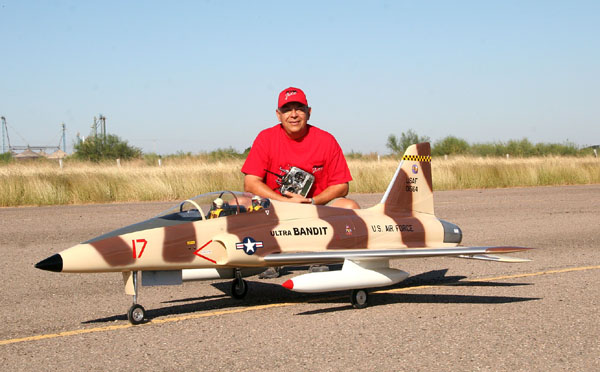 From: Jacobo Sevilla
To: Patty
Sent: Tuesday, November 06, 2007 8:46 PM
Subject: Ultra Bandit
Hi Patty, how are you, I feel great. I want you to please tell your father, that this is the best of the best of any other aircraft I ever flown. It makes me feel like a great pilot, because it fly's so well, and so easy, and with the combination of engine I have , this is FANTASTIC, all the power you want any time.
Well , I did 3 flights on Sunday, 11 minutes each one, and I have the hopper tank completely full, I tell you, 11 minutes is a lot of time with such a nice flying machine.
Any way, thank you very much to all of you at BVM, but a very special mention to Mr. SuperDesignModelJets, Bob Violett.
Best Regards,
Jacobo Sevilla
---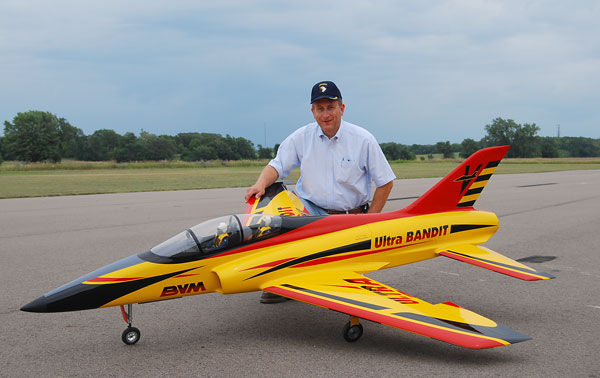 Jim Jensen of Edina, Minnesota is thrilled with the performance and easy operation of his Ultra Bandit. Jim uses an AMT Netherlands Olympus HP.
---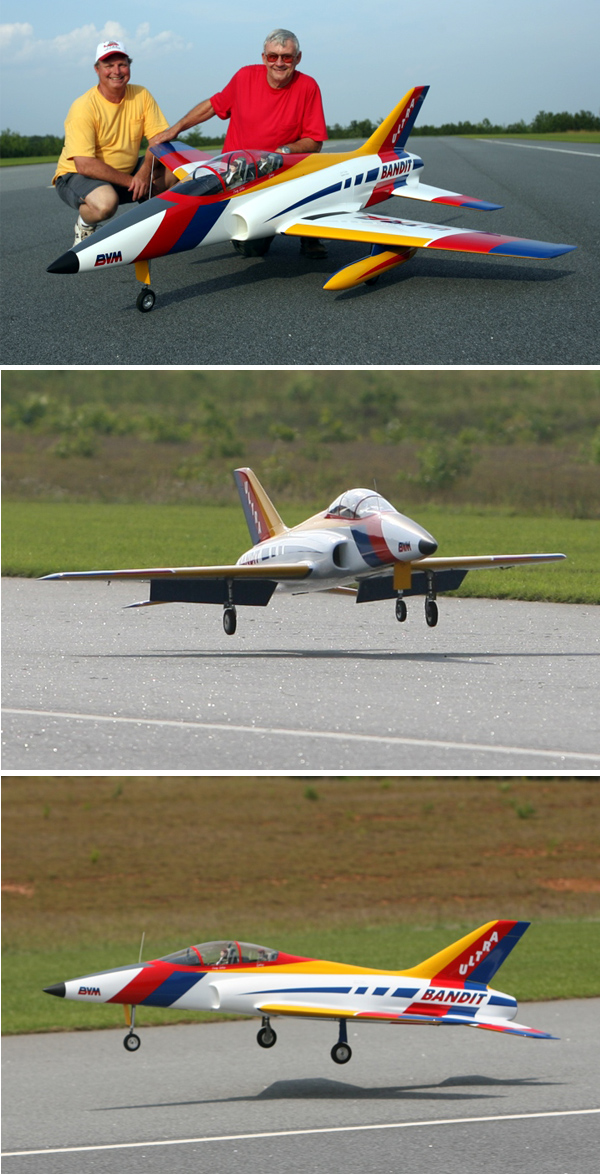 Dee Miller of Lakeland, Florida flew his #2 scheme Ultra Bandit at the Georgia Jets field with the help of BVM Rep Joe Rafalowski.
---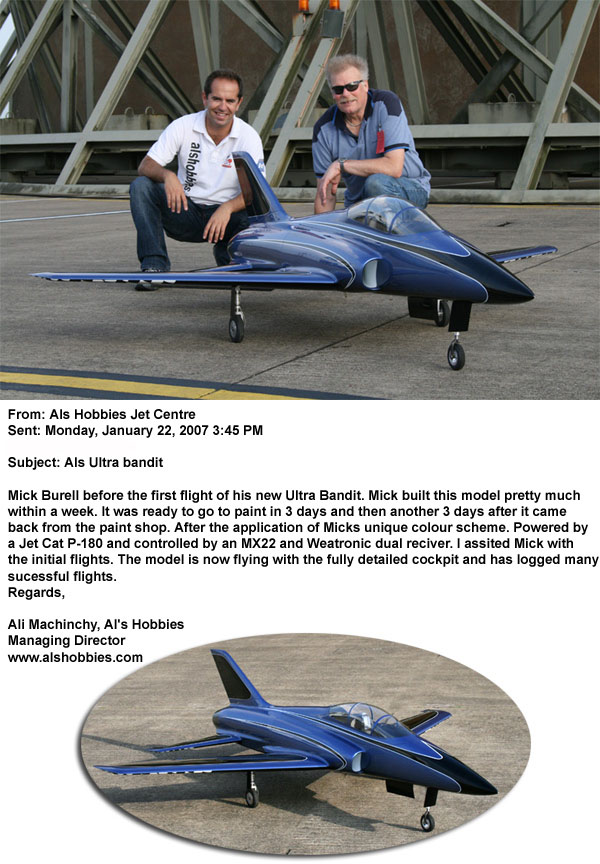 ---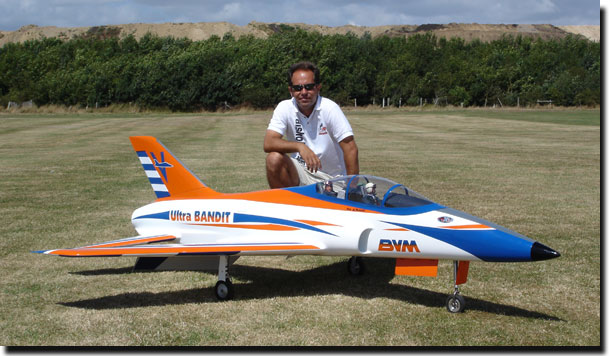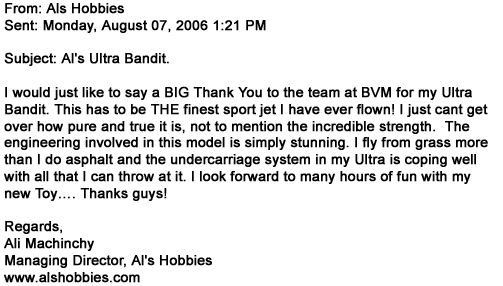 Ali Machinchy of Al's Hobbies in England owns this orange, white, and blue Ultra Bandit that is powered by an AMT Netherlands Olympus HP engine. Look for it at many of the jet events throughout Europe as Ali attends many events throughout the year.