Tool Descriptions | Price List & Ordering

TOOLS
USA distribution by BVM Inc.
The Faces of Perma-Grit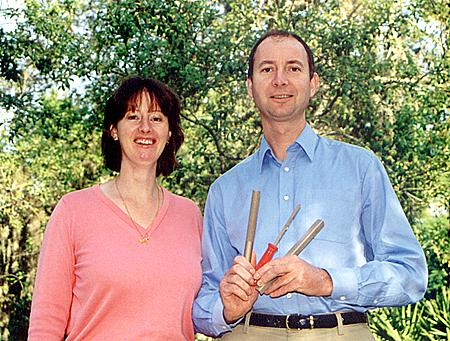 Ian and Tracy Richardson (from England) paid us a visit following their attendance at the E.A.A. "Sun and Fun" event. It seems that modelers aren't the only group who have discovered how great Perma-Grit tools are.


Since Ian is a superb modeler himself, he knows how to design tools to fit our needs and that the precision of manufacture and quality control are very important to us.


The new wedge shaped sanding block (design influence by Tracy) is an example. Once you have it in your hand - its obvious that you can see the work area better, sand up against an adjoining structure better and apply pressure more precisely.


Ian and Tracy accompanied us on a BobCat outing at a local model flying field and watched it perform in some serious crosswinds that had most of the other modelers grounded. Ian has one on order.


As with other BVM kits, the BobCat instruction manual features Perma-Grit tools for specific tasks of fine fitting the parts.
Perma-Grit
Great Tools for Great Modelers
Sanding Blocks
The perfect straight edge! Placed on its side, this block's sanding face is 0.5 mm above the table, allowing it to be used for squaring off materials, or producing the perfect dihedral angle. They can be used to block sand large areas, profile leading edges and feather trailing edge. Coarse and fine grits are permanently bonded to a custom made aluminum extrusion. Light and easy to grip they will never warp. The unique safe edge will protect the sanding face against damage. WB-140, SB-280 (11" length), SB-560 (22" length)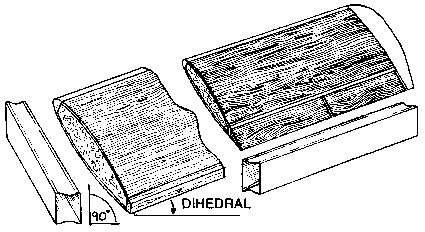 ---
Spar Slotters -



Perma-Grit has re-introduced these very useful spar slotting tools in 3 convenient sizes.



These 6" long steel bars have the Tungsten Carbide course grit bonded to one side allowing neat, true slots to be cut into plywood, balsa or composite formers and ribs. Two sizes available, SP9C has been discontinued.
3mm or 1/8" #3c
6mm or 1/4" #6c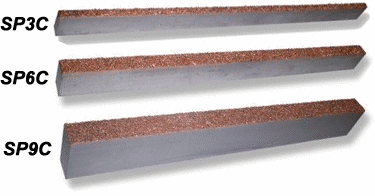 ---
Radius Tools
No need to glue sandpaper to dowels anymore! The handle is a smaller radius than the cutting face, making these tools perfect for wing fillets, tail fillets and all concave curves. Use them for openings on both plastics and fiberglass cowlings, etc. Perma-Grit will not cause paint to chip or flake off when modifying a finished item. Remember, Perma-Grit cuts foam, wood and glue joints all with ease. R-200, R-202, R-203, R-204



---
Tangent
Used for shaping and finishing corners. Either a 1/8 radius or sharp corner can be produced simply by rotating the tool. The width is less than a standard servo, making it ideal for fabricating servo trays. It is also useful for making internal corners of formers, doors, hatches, etc. One-half of the tool is coarse grit, the other fine. R-201

---
Rotary Files
Turned down from steel and coated in tungsten carbide grit, these rotary files are well balanced. The drum can be used for making wheel wells and servo cut outs, etc. because it cuts on the end face as well as the sides. All rotaries are ideal for routing, shaping and removing materials without tearing or clogging. These tools are available in a coarse and fine grit (RF-7 and RF-8 available in coarse only).RF-1 to RF-10



---
Needle Files
Made from tungsten carbide brazed to a mild steel base, these files are virtually unbreakable. Unlike conventional needle files, these will cut plastics, softwoods, hardwoods, fiberglass, ceramics, etc. The unique abrasive coating means they cut in any direction. Five shapes are available complete with a Swiss file handle for additional grip. NF-1, NFH-1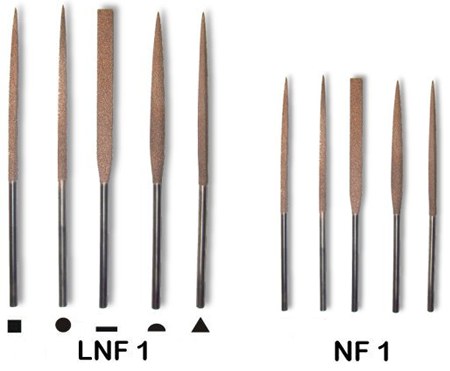 ---
Cutting Discs
Unbreakable tungsten carbide discs are available in 2 sizes. They are tough enough to cut piano wire as well as fiberglass, plastics, all woods and ceramics. The discs are available in 3/4" and 1-1/4" diameters complete with 1/8" stainless steel arbor and fit Minicraft, Dremel, etc. Remember: Always wear safety goggles when using rotary tools! RD-1, RD-2, RD-3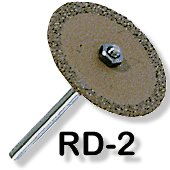 ---
Flexible Strips
Much thinner than the other Perma-Grit hand tools, these are thin enough to be bent to any shape, internal or external. They can be mounted to a solid base using epoxy or super glues allowing complex curves to be easily fabricated. FXT 103 (fine), FXT 104 (coarse)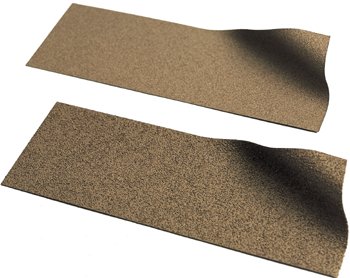 ---
Hand Tools
Thin flat files can be used to clean up slots, cut outs in formers and general sanding where the blocks are too large. The 6 mm square (S-204) Perma-Grits can be used for making spar slots, mini/micro servo trays and internal corners too small to be made with the R-201. Use concave tools to form leading edges, etc. on wings, tail planes and to radius any sharp corners. They are available in coarse or fine grit. F-101, F-102, R-200C, R-201C, R-202C, R-203C, R-204C, R-204F, S-204C, S-204F (C = coarse grit, F = fine grit)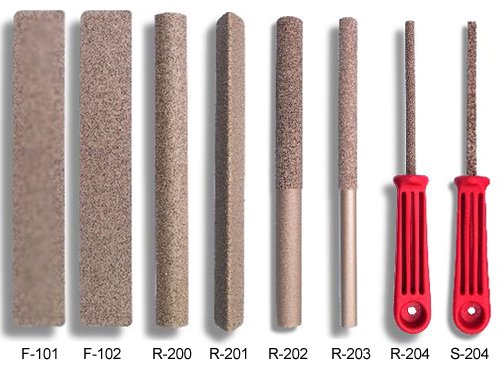 ---
Cleaning
We recommend using a DIY paint stripper because it is a much stronger solvent than paint thinners. Simply apply paint stripper to the surface of the tool, leave for five minutes, then clean by brushing under running warm water with a brass brush. This process will remove all paints, resins, epoxy glues, wood sap, etc. but has a limited effect on super glues. These can be dissolved using a standard debonder.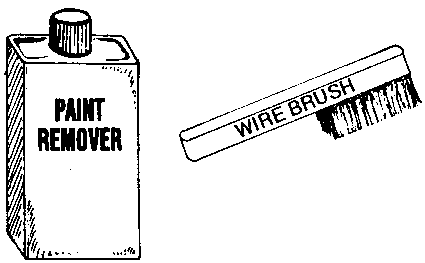 NOTE: All hand tools are uniformly sprayed with a thin coat of paint. This will be removed either by using the tool or cleaning with solvents, leaving the copper or nickel braze color on the surface. The tungsten grit will not be affected.
Tool Descriptions | Price List & Ordering
Contact Us
All graphics and photos Copyright 2017 BVM, Inc.
Use of graphics or photos without written permission from BVM is strictly prohibited.