Henry Nelson's visit | Flying the REAL F-100F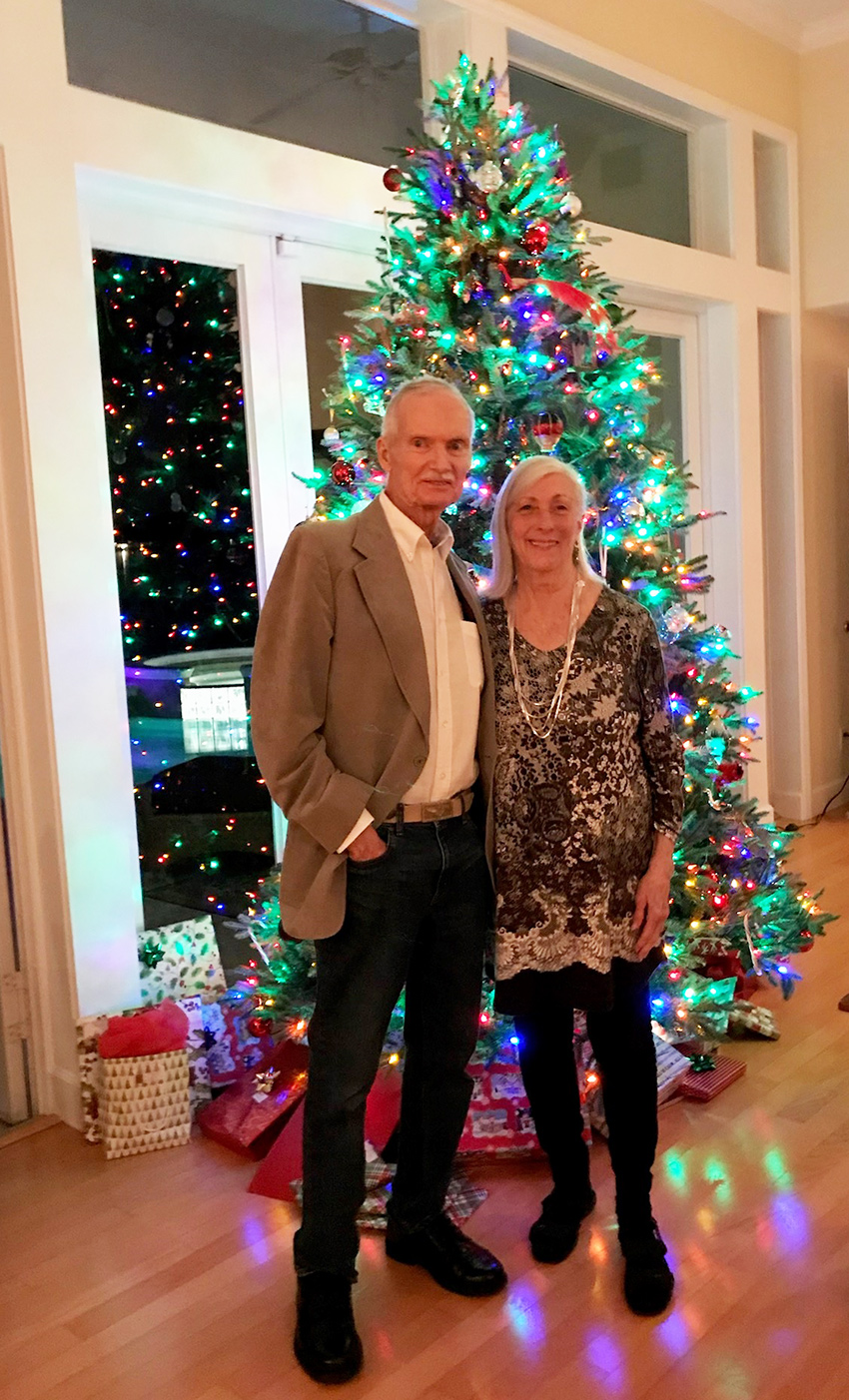 The heavens called up a special angel yesterday. It deeply saddens the Violett Family to announce the passing of our Mother, Patricia Violett.
Patricia passed away Sunday, January 17th at home surrounded by her loving family.
Pat, as she was known by customers, was the co-founder of Bob Violett Models. Her support of the hobby and love for people was the foundation of how BVM became such a family orientated company. I believe you can feel the extension of that bond in our close-knit jet community today.
Mom was not just a mother to my sisters, Marcia and Debbie, and me, but to all her employees as well. Over the years, beginning in 1982, they would become part of her extended family. Mom was always there to listen, give advice, and help when one of them was in need. In the events leading up to this week, as many of them have come by or phoned to pay respect, we continued to learn incredible stories of what mom had done to help or counsel when it was most needed.
Mom also truly connected with you, our customers. I know so, because after so many years, so many of you always ask first, how is Mom doing? After many a show or even a regular Sunday out at the flying field BV would call, last minute, usually, and announce that he was bringing home a few friends for dinner. This was never a problem for Mom. Everyone was welcome and there was always enough. Over the years Bob and Pat would open their home to numerous customers, interns, employees, and friends, often for months at a time. Mom was always gracious and welcoming everyone with open arms. All of them, as with the employees, would become part of her extended family. She loved every one of them as they were her own. It was important to Mom to know customers on a personal level. I could always hear her on the phone asking how their family was doing and would make the time to discuss the important things in life before moving on to the business at hand.
This unwavering ability to keep perspective of what is important in life was a true gift. As many have said, Pat was a genuine, wonderful, strong woman with a heart of gold.
From your daughters, Patty, Marcia, Debbie, extended family, and wonderful customers, we will miss our Mom dearly. We know that you are now resting comfortably with Dad.
We all thank Mom/Pat for making such a strong difference in our lives.
Rest in Peace, Momma
Your love and support for our Mom has been amazing and very comforting to our Family.
Please accept our sincere appreciation.
Her official obituary is now online at the below link.
https://www.dignitymemorial.com/obituaries/oviedo-fl/patricia-violett-10010201
---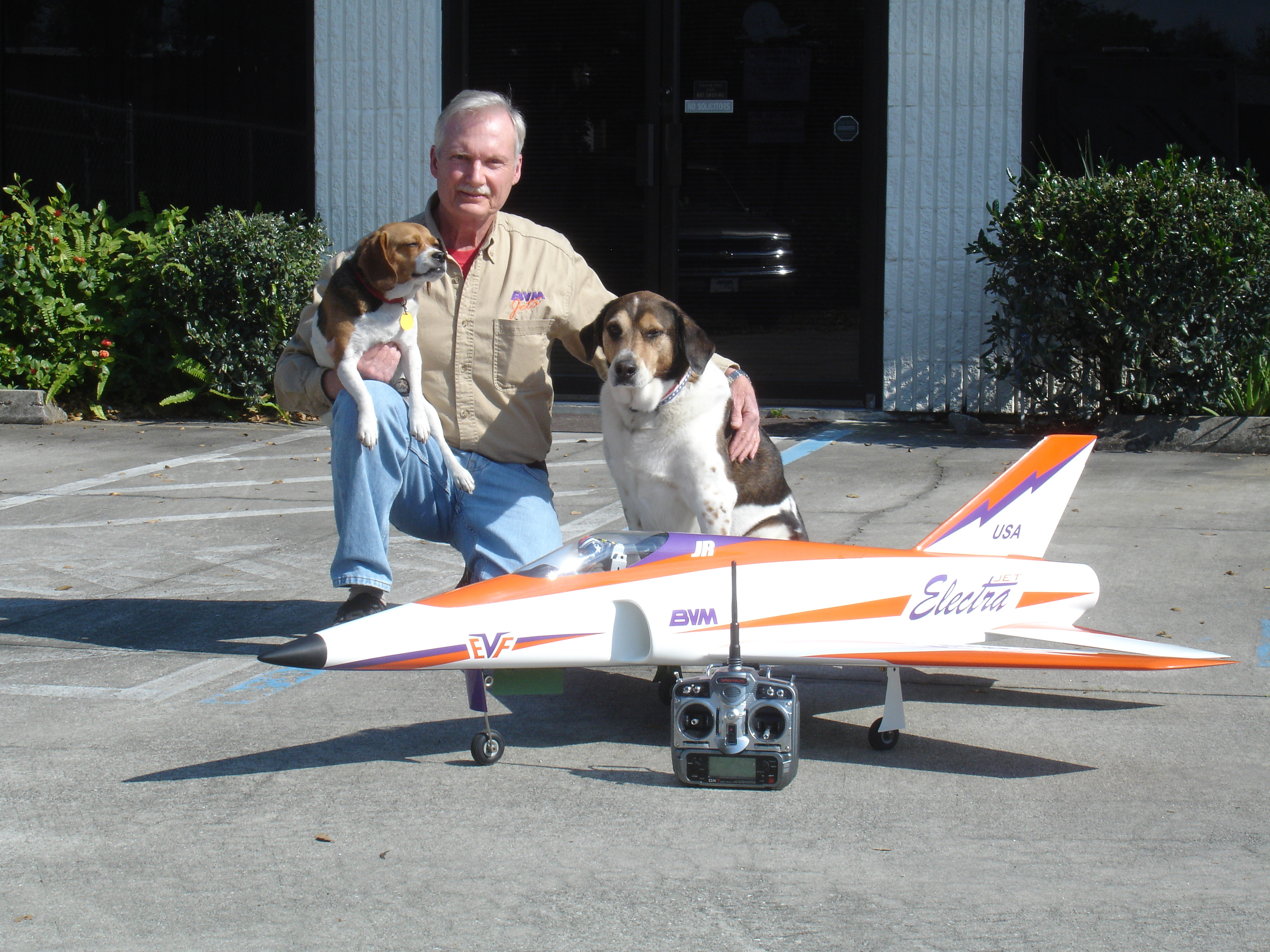 With extremely heavy hearts we regret to announce that our founder and namesake Bob Violett passed away on Saturday, March 21, 2020, at home surrounded by his loving family.

Passionate is probably the best word to describe Bob. He was one of the lucky ones that could turn the passion of his hobby into a career as well. He always said that you can't be successful running a model airplane company unless you had a passion for the hobby. And run a model airplane company was something that he did very well. BVM Jets was started in 1981 when BV was still a pilot at Eastern Airlines. Starting with his Sport Shark ducted fan model, he traveled the country going to events to show off his product capabilities. He followed his original models with his iconic Viper, Aggressor, and the scale F86. All of which became industry standard-bearers. Bob developed BVM Jets into much more than a model airplane company. The BVM Jets brand became synonymous with quality and excellence, so much so that people and companies want to be associated with it worldwide. When the first JPX turbine engines became available he jumped at the chance to use his knowledge to make sure his airframes would be able to handle this exciting innovation. Teaming with Kent Nogy they entered the first turbine-powered model, the BVM T-33 into competition in the 1994 Top Gun Invitational in West Palm Beach Florida. Bob knew there was a revolution coming to the Model Jet industry and he embraced it wholeheartedly. Using his Engineered For Success motto, he developed numerous scale and sport airframes all with his signature instruction package, plans, and innovative accessories. He knew that if a modeler would buy one of his airplanes that they would be coming back for more, and they did, with many of these people becoming not just customers but lifelong friends as well.
At the BVM facility, there are a few things you could always count on; a large number of airplanes and trophies in the showroom, thirty-plus years' worth of pictures on the walls, Patty on the telephone, and some young blood that BV would be mentoring or being mentored to. Bob was never afraid to have new up-and-coming people work with him, He embraced it. He knew he could teach his ways and learn from them, new technologies that were always being developed in the industry. Some of the great young talent that came through the BVM factory were Chris Huhn, David Ribbe, Dustin Buescher, Tommy Dodgen and currently Rob Lynch. He loved working with them and the energy that they would provide. It gave him pride to know that the Model Airplane industry was going to be in good hands for future generations.
The Model Airplane industry is going to miss Bob Violett tremendously, as is the BVM facility. It's impossible to replace a legend. He just loved to be working on the next project, always with the goal of making his jets better, safer, and easier for the customer. But the flying field was where he was always the most comfortable. From the early days of being a 3x world champion Pylon Racer to later being Mr. Top Gun, he was always silky smooth with a transmitter in his hands. As late as last year after a particularly good flight, you would see him with his big grin saying, "the old man still has it". And as usual, right after a great flight, he would take off down the flight line to see who else might need his help or advice. Always giving to make the hobby better and safer.
When he finally sold BVM three years ago his number one priority was to find a buyer that understood and could emulate his passion for the industry. Even though Bob hasn't been around the factory as much in the last few years his ideals are ingrained in the company. BVM Jets will continue with the passion that BV has inflicted on us all. There is a reason that the average employee at BVM has worked there for over 15 years. We have a dedication and love for the industry and the customers that we are privileged to work with. Bob has affected all of us, Patty, Rob, Louis, Don, Heather, Jeanette, Kirby, Julio, Gary, Rodolfo, and the many others with his desire to always do what is right for the hobby and most importantly the customer, and we pledge to follow through with his wishes.
Bob is predeceased by his infant son Robert Violett Jr. and survived by his wife of 58 years Patricia Violett; Daughters Marcia Jones, Patty Generali, Debbie Violett Grindstaff; Son-in Laws Tal Jones, Michael Generali; Grandchildren Victoria Tasch, Garrett Jones, and Mary Eileen Grindstaff;
Sisters Mary-Anne Schoeb, Marcia Geoghan; And thousands of fellow modelers that he considered his family.
God-Speed BV
Bob Violett's

RC Jet International Magazine

A tribute to the godfather of R/C jets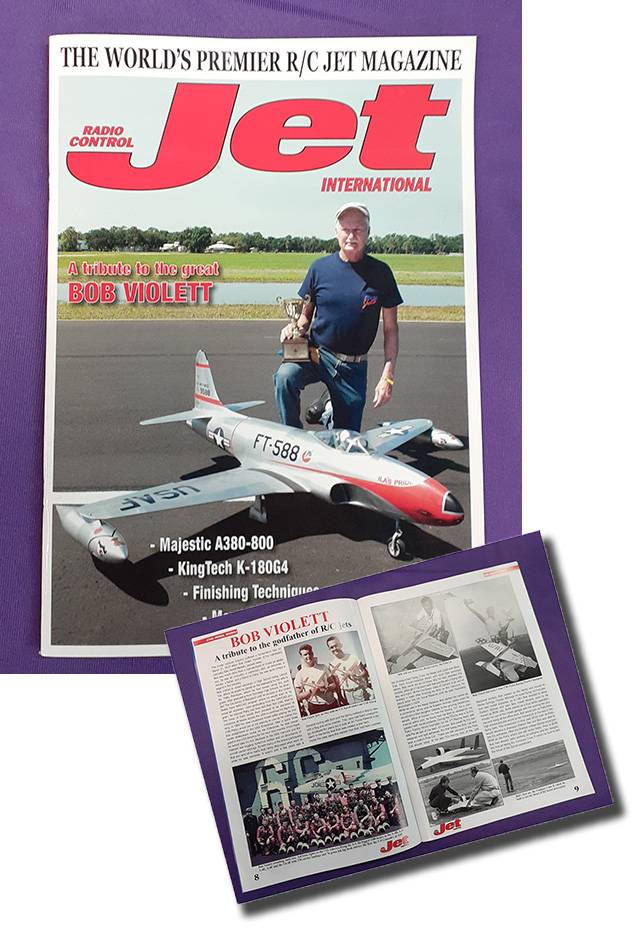 To order the digital edition, below is the link:
https://pocketmags.com/radio-control-jet-international-magazine
---
Skyhawk Revisited
at Sun-n-Fun April 2013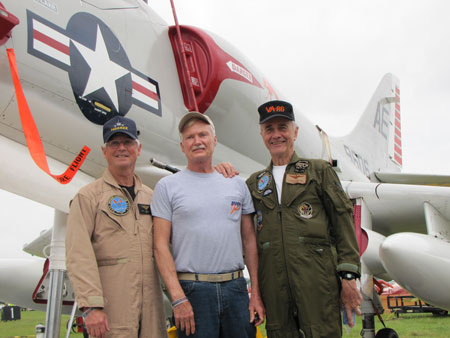 Dave Dollerhide, Bob Violett, and Larry Elmore
Sun-n-Fun is an annual gathering of aviation enthusiasts in Lakeland, Florida. Hundreds of display and airshow airplanes attract thousands of spectators from around the world. This was my first visit to Sun-n-Fun even though it's only a 1-1/2 hour drive from BVM. Previously, we have always been too busy preparing and practice flying our model jets for the "Top Gun Scale Invitational" that is scheduled in late April / early May.
When I read in the Skyhawk Association Journal that the "Skyhawk Ventures" A-4C was going to be there, we made time to attend. It was a very rewarding experience just to get next to a Skyhawk again. It has been 45 years since I last climbed out of the cockpit on 26 September 1968.
As a young Naval Aviator, I logged just over 1100 hours in the A-4B, A-4C, A-4E, A-4F, and the TA-4F with 378 carrier landings and 76 green ink log book entries. The two other guys in the photo, Dave Dollarhide and Larry Elmore are luckier than I, they are still flying this perfectly restored A-4C. It belongs to Dan Carr, also a former "Skooter" pilot from the 60's, and the aircraft is based and maintained at Sanford, Florida Airport and is being campaigned at multiple airshows.
These privately funded military jets are more important now that the "Sequestration" process has deprived American Citizens the privilege of viewing our aviation armed forces in action.

Skyhawks have a pair of 20mm cannons used
for strafing targets at low level in a 15° dive.
See also: www.a4skyhawk.org
Bob flew this Skymaster 1/5th scale A-4 at the "First in Flight" event in Wilson, North Carolina May 2011.
---
In Memory of:

1955 - 2008

Craig Wilson
28 Feb 1949 - 2 Nov 2008
---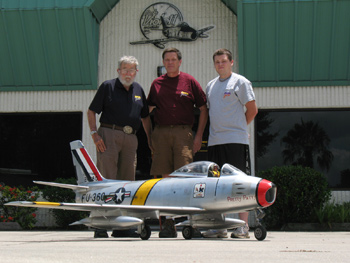 ---
A WWII Hero In Our Midst
Dean Bartmess: WWII Bronze Star Recipient
| | | |
| --- | --- | --- |
| Combat Infantry Badge | | The Bronze Star |
Contact Us
All graphics, photos, and text Copyright 2017 BVM, Inc.
Use of graphics or photos without written permission from BVM is strictly prohibited.