| | | |
| --- | --- | --- |
| | by BVM | |
Use For All Mechanical Mating Parts
Metal To Metal - Metal To Plastic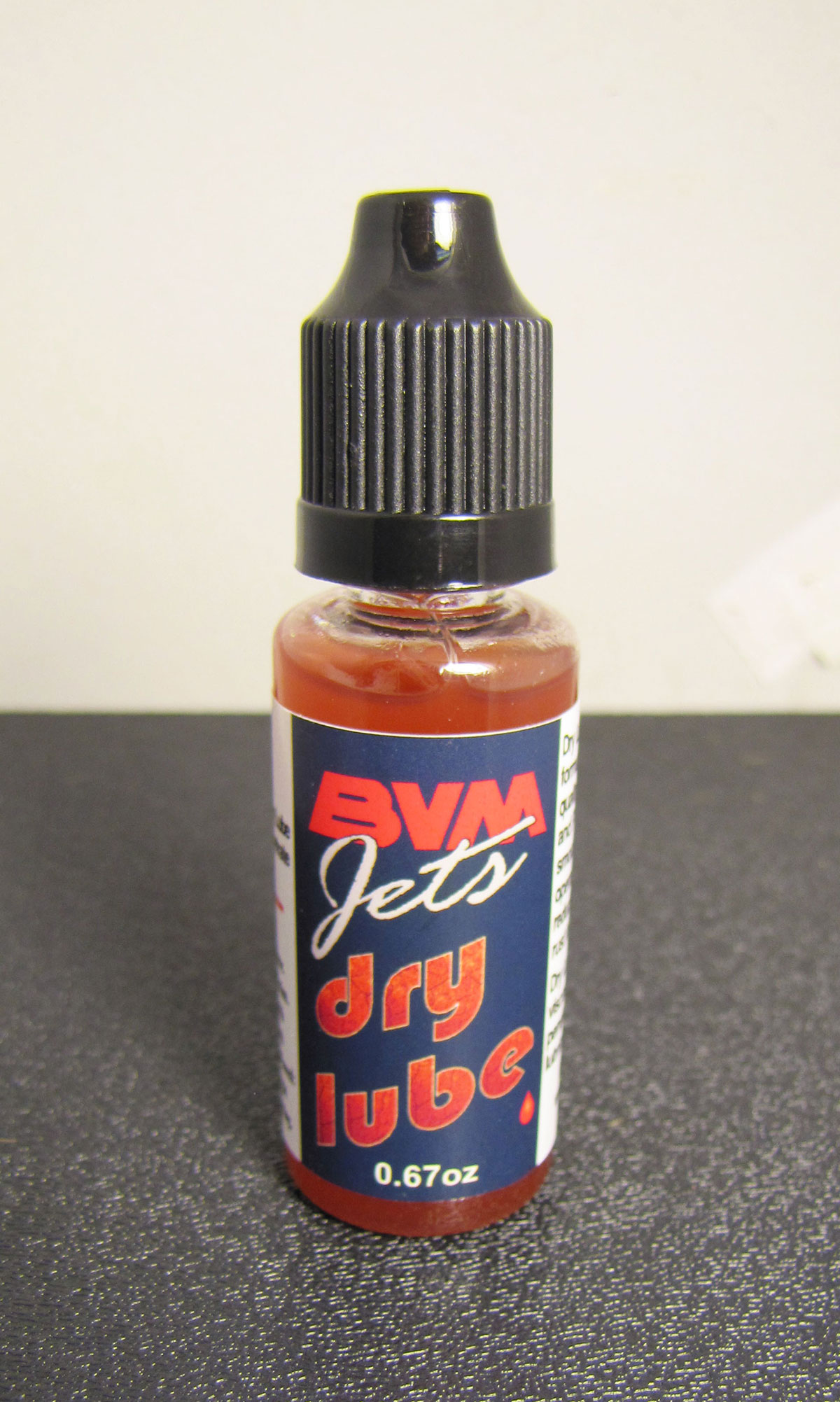 · Its light viscosity allows it to penetrate quickly and lubricate from within.
· Its formulation of high quality waxes and PTFE promote friction free operation.
· Its liquid carrier evaporates and leaves the friction relieving chemistry.
· It guards against rust and corrosion and it does not attract dirt.
· Especially good for electronically driven retractable landing gear and mechanical moving parts of pneumatic gear.

CAUTON: DO NOT apply to pneumatic cylinders.

For pneumatic cylinders, use only BVM Super-O-Lube BVM # 5779 or Thin-O-Ring Lube BVM # 1945.
"Dry Lube" also guards against rust.
by Bob Violett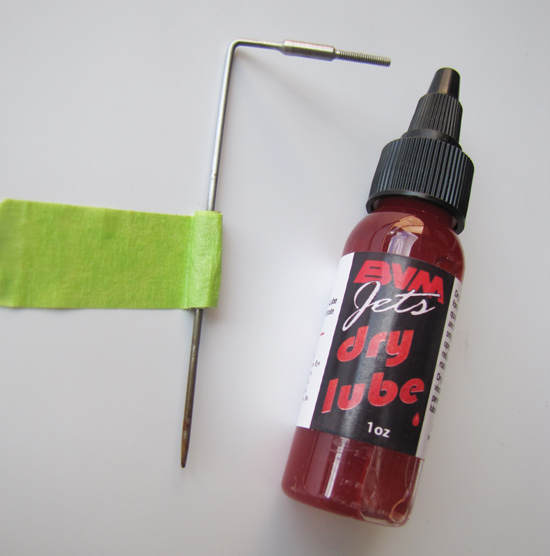 Summertime in Florida offers daily afternoon rain showers and constant high humidity. These are excellent conditions for testing rust prevention compounds, so we put the BVM "Dry Lube" to the test.
The sample shown above is a 1/16" piano wire bent 90 and then silver soldered into a BVM 2-56 Steel Threaded Coupler. We cleaned the soldered area with a detergent and scrubbed it with a 3M #7447 red scuff pad. Then we finger wiped the "Dry Lube" on, wiped again with a paper towel, then finger wiped on a second coat of "Dry Lube". Leaving one end of the wire untreated, we taped it to an outdoor fence and allowed it to absorb Florida's summer environment for 5 days. The results are very impressive. Compare the treated portion of the sample (top side) to the untreated portion.
So, besides being a great lubricant for mechanical moving parts, "Dry Lube" also performs very well as a rust prevention system.
It's a good practice to have one bottle for the workshop and one for your fieldbox.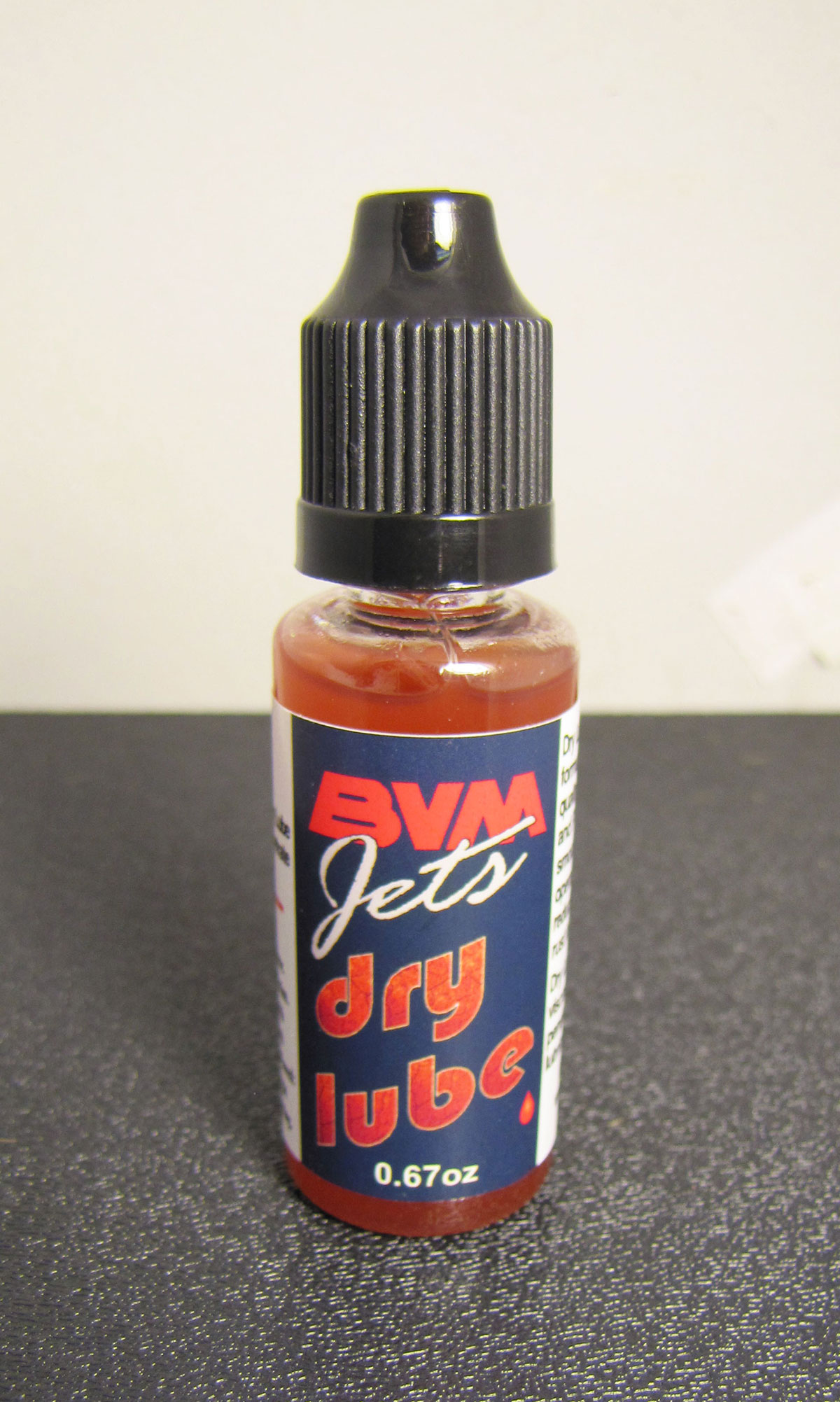 BUY 2 FOR $10.00
One for shop - One for field box.



Contact Us
All graphics, photos, and text Copyright 2020 BVM, Inc.
Use of graphics or photos without written permission from BVM is strictly prohibited.