Pennbags are made by Penn Hobbies. Penn Hobbies is a family owned and operated company that has been making wing and tail bags for their personal use for many years. They are now sharing them with the RC world. Their bags are made with a tough canvas on the outside and a soft fleece inside offering great protection for your jet. Wing bags come with handles attached.

Penn Hobbies are proud to say they are made in the USA.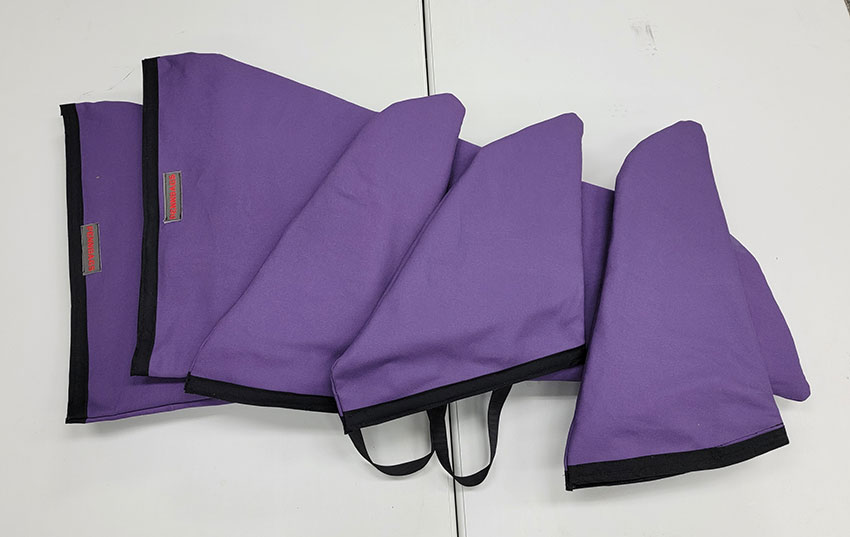 Penn Hobbies have come up with three different price categories for the GFG series of airplanes to make things a little simpler.
Medium, Large and X-Large.
AVAILABLE IN DIFFERENT COLOR OPTIONS

Outside Colors:



Purple
Black
Charcoal Grey
Royal Blue
Red
Orange

Inside Colors:



Orange
Red
Royal Blue
Yellow
Charcoal Grey

Premium Upgrade Option Available on the Wing and Fuselage Bags Only!

Get Double the Thickness of padding on a set of Bags. Tail Bags remain of normal padding.

Medium Set Upgrade - $30.00

Large Set Upgrade - $40.00

X-Large Set Upgrade - $50.00

FREE SHIPPING!
Bandit Fuselage Bag Only

Bandit evo
eBandit evo
Bandit ARF

$195.00

Medium
Medium Set of Wing & Tail Bags

F-100
1:5.8 Cougar
1:4.85 Yak 130
Bandit evo
1:9 Viper
1:7 Sabre

$240.00

Large
Large Set of Wing & Tail Bags

F-15
1.7:75 F-18
Ultra Bandit
Ultra Bandit evo
L-39
1:6 F-16
1:5.8 Sabre

$255.00

X-Large
X-Large Set of Wing & Tail Bags

1:5 F-16
1:5.5 F-18
1:4 Yak 130
Mirage
Renegade
Desperado

$295.00
Contact Us
All graphics and photos Copyright 2021 BVM, Inc.
Use of graphics or photos without written permission from BVM is strictly prohibited.