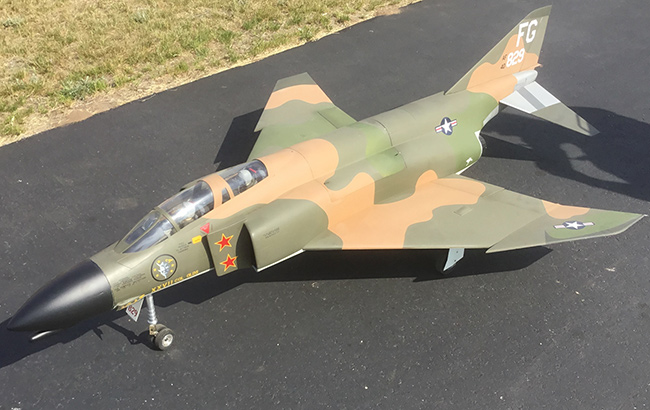 From: Marshal Emmendorfer
Sent: 10/4/19 4:09 AM
To: Patty
Subject: F-4


Patty,
This is my F-4. It just started it's 16 year. It has ( thanks to Steve Pully ) 180 flights on it. No crashes just 1 hard landing as the owner forgot to refuel it. Even with just an old Jet Cat P-120 it is a rocket ship that never fails to impress me.

Marshal Emmendorfer

---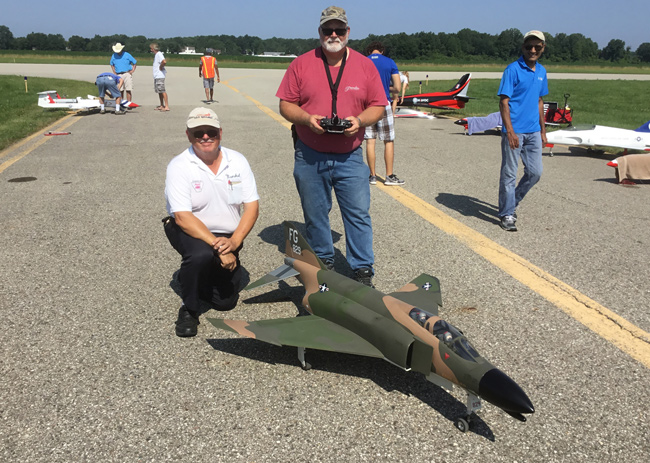 From: Marshal Emmendorfer
Sent: Sunday, August 5, 2018 11:49 AM
To: Patty
Subject: Blast From The Past

Steve Pully and I attended the Monroe Michigan jet meet. Yes, Steve does show up once in a while if I promise to let him fly the F-4 (165 flights now 14 years old). You can count my stick time on it in seconds. That's ok I still enjoy seeing it fly even if I have to get someone else to fly it. The F-4 was the most impressive plane there.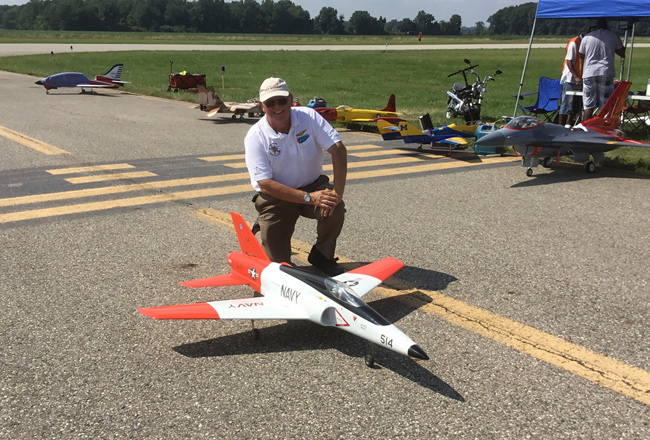 This is my early Turbine Electra. I decided to fly it again this last weekend. Not only does it fly good for me but it is my go to plane now. This plane has to be 10 or 12 years old.

Marshal Emmendorfer
---
From: Dave Evans
Sent: Saturday, July 14, 2018 9:24 PM
To: Heather
Subject: Phantom hot shots

Heather,

The Blue Angel Phantom was built by Bags and is currently being flown by my buddy Greg Thomas here in Vegas. He's been a modeler for 40yrs and had two planes on his bucket list, a BV Phantom and CARF Corsair. He now has both and both live up to the high standards he set.

The Edwards scheme was built by Craig Gottschang twenty years ago for ICDF and was subsequently converted to turbine.

Two models that have 35 yrs together still flying...must be BVM.


Dave Evans

---
From: Patrick Frost
Sent: Wednesday, November 1, 2017 6:09 PM
To: Heather
Subject: BVM F-4D finally finished!
Here are pictures of my BVM F-4D Phantom I finally completed after purchasing in 2012! This is my 4th BV Phantom and my first "D" model. This Phantom is modeled after General Dan Cherry's Phantom #550 that now resides at Aviation Heritage Park in Bowling Green, KY. I was honored to have the by-pass cover autographed by General Dan Cherry! He has since seen pictures and video of my Phantom in action and he was extremely pleased. This F-4D is my most accurate and detailed Phantom to date. It has panels of Flite metal beneath the camo paint, with thousands of hand applied rivets and mild weathering. It is equipped with every Detail 4 Scale option including; drogue chute, full lighting system, detailed cockpits, releasable centerline tank, operational tail hook, inboard and outboard pylons, Wing tanks, AIM 9 missiles, AIM 7 sparrows, MKII 500lb bombs and more! It is powered with a JetCat P-160RXi and flies superb! I've owned a lot of BVM Jets and the Phantom is my favorite to fly.
Regards,
Patrick Frost
"Frosty"
---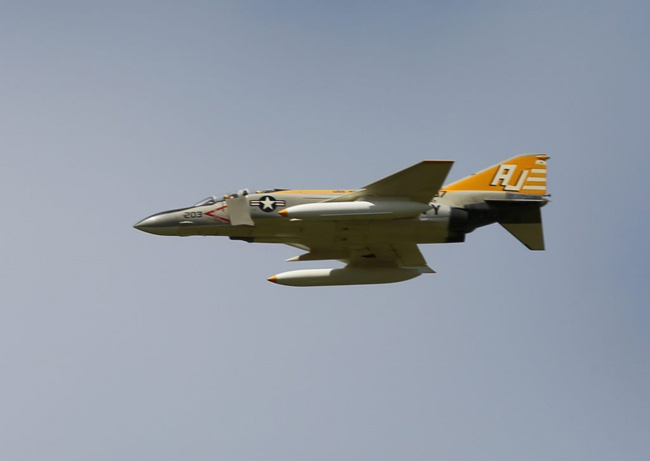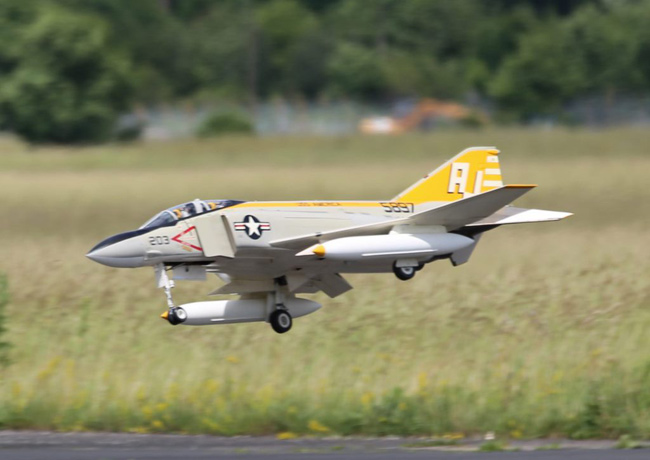 From: David
Sent: Monday, July 04, 2016 4:02 PM
To: Patty
Subject: Phantom
Thought you might like these. Still flying in its 17th season!

Regards,
David Gladwin

Editor Note: Light angles and camera setting makes the yellow appear to be orange.
---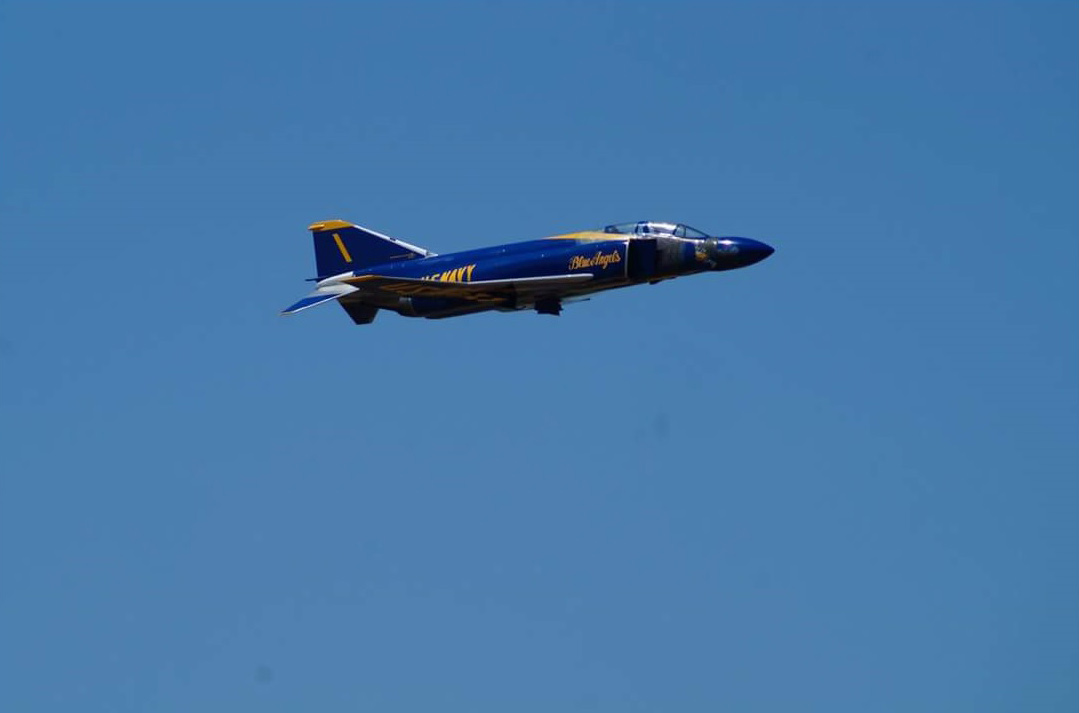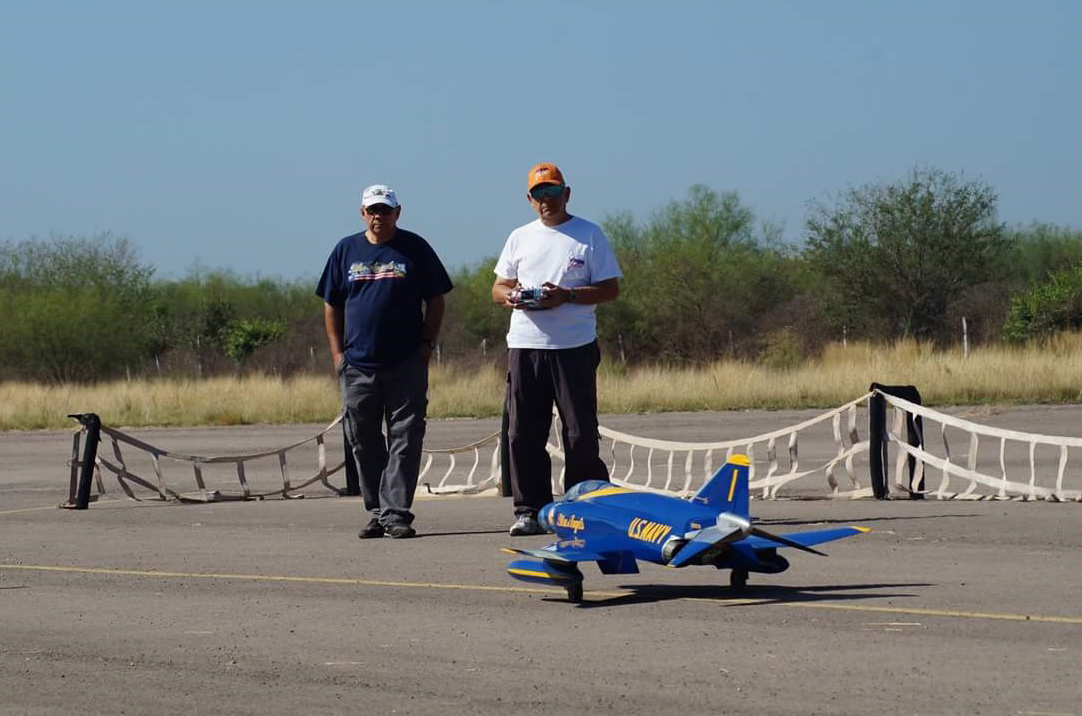 From: Jacobo Sevilla
Sent: Sunday, April 17, 2016 8:23 PM
To: Patty Generali
Subject: BVM Phantom
Getting back home, after a superb flight, my caller and brother is Dr. Lazaro Sevilla.
All the best,
Jacobo
---
From: Ritch
Sent: Friday, December 12, 2014 3:56 PM
To: Patty
Subject: F-4
Hi Patty and Bob,
Maybe you saw this picture from 12 O'Clock High. This is the new F-4 (to me) but it has been around for a long time. David Hart takes great pictures. One of my favorite BVM jet. Thanks for making such great jets.
Regards,
RITCHIE HOLT
---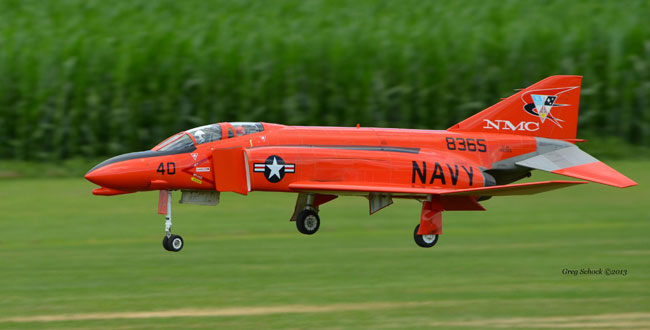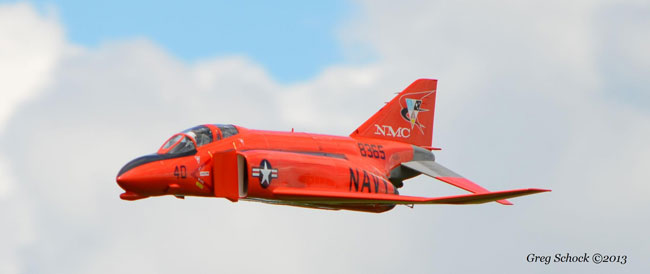 Most recently flown at Hamburg, Pa August 2013. After 18 years, it's still going strong, must be a BVM.
Thanks,
Dave Malchione
---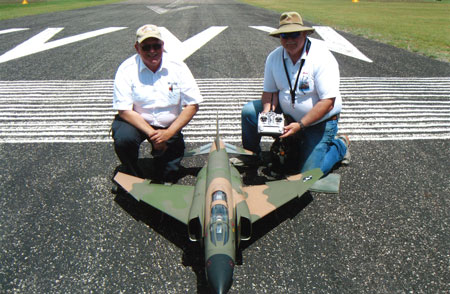 Bob,
Enclosed is a picture of Steve and I and my F-4. Steve just logged the 100th flight on it. It did take us 8 years to get there. Thanks for such a great kit.
Sincerely yours,
Marshall Emmendorfer
---
From: Rolf Řines
To: Bob
Sent: Tuesday, May 29, 2012 8:47 PM
Subject: BVM F-4
Hi Bob and staff.
I just wanted to send you a few pictures of my F 4. It is all your stuff and powered by a Merlin 140. It weighs about two pounds more than my composite Bandit. The tank colors are just to aid me in seeing it until I get comfortable with its siluete. The winter here finally let go and it was time to go fly.
Thanks,
best Rolf Oines, Norway
Ps enjoyed seeing you all at Florida Jets.
---
From: "Patrick Frost"
To: "Patty Generali"
Sent: Wednesday, November 09, 2011 3:37 PM
Subject: My BVM F-4E
Patty,
Here are pics of my latest BVM F-4E Phantom that I recently finished. I call it - Little Chris II. The Rhino was originally built by John Redman many years ago and I rigged it, primed it, Flite Metal'd and painted it in a Vietnam era camo scheme. The entire Phantom was covered in Flite Metal and took around 6 months to apply. I was well worth it and I had fun doing it. It's equipped with digital JR servos, JR 1222 power box receiver, JetCat TITAN SE and FROMECO batteries and regulators. It has a Details 4 Scale full scale lighting system, drogue chute, Extendable nose strut, MKII 5500lb bombs, releasable centerline tank, AIM 9 missiles, Pro-Mark Graphics, detailed cockpit, LE stabilator slats, 40,000 burnished rivets and much more. Nothing flies like a BV Phantom. This is my third one since '04 and I have loved every one!
Regards,
Patrick Frost 'Frosty'
---

From: Patrick Frost
Sent: Monday, June 13, 2011 11:32 PM
To: Patty
Subject: BVM F-4E
Ben Jr. and Frosty pose for a pic with the BVM F-4E at Gateway Fly-In 2011. This 13 yr old is already flying a Balsa Bandit and it's getting good FAST!!! Keep an eye on this superb pilot at your local Jet Event in the Midwest!
---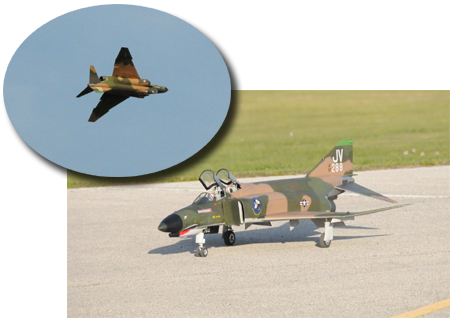 Ray Blair's BVM F-4 E was finished in a Vietnam era camo scheme complete with the Shark's mouth. Notice the extra effort on the canopies.
Photos by: Lin Moore
---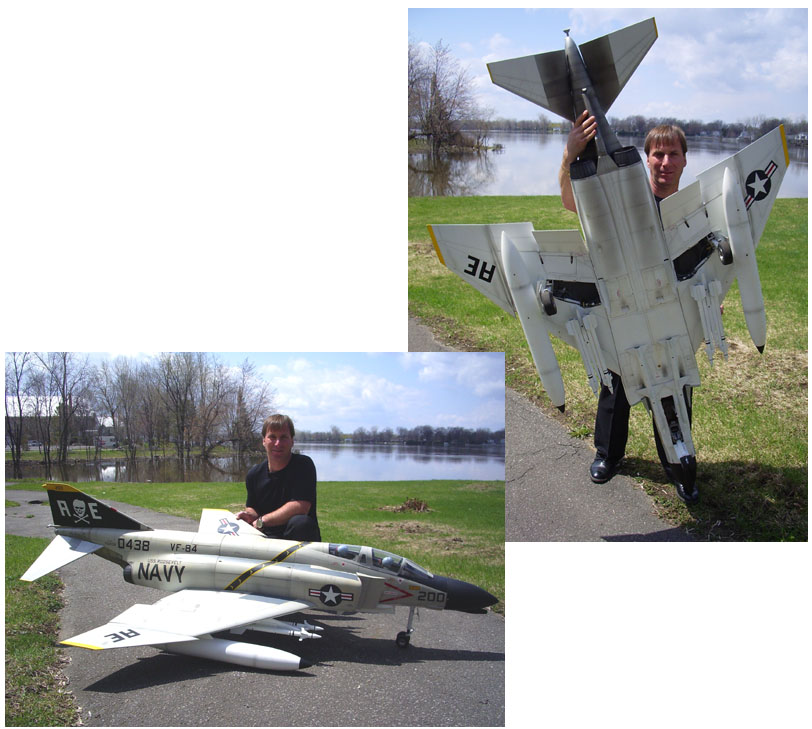 From: Reuben Malz
To: Patty
Sent: Wednesday, May 07, 2008 10:33 AM
Subject: My F4 pictures
Hi Patty,
Here are 2 pictures of my F4 Version II
I am very proud of this jet for several reasons. First, it is my first scale project and I waited for a truly superior model to warrant spending the time necessary to do a good job. I have 5 children, and time is precious. I spent the better part of a year building my F4. It is detailed according to the F4 Tamiya kit. I painted it with Tamiya spray cans for the base color and then a fine nozzle spray gun for the fine work. I used Pro-mark graphics with at least 10,000 rivets. I can fly it scale or just like my Super Bandit. I get a lot of compliments on this jet. Fellow modelers have a lot of respect for this jet. I have seen newer F4 entries come to market, but they fly like trainers. My F4 looks, sounds and flies scale. What more could I want. I also find it as much fun to fly as my Bandits. (And I have 3. – Balsa, Super & ARF).
Best Regards,

Reuben Malz
P.eng.
---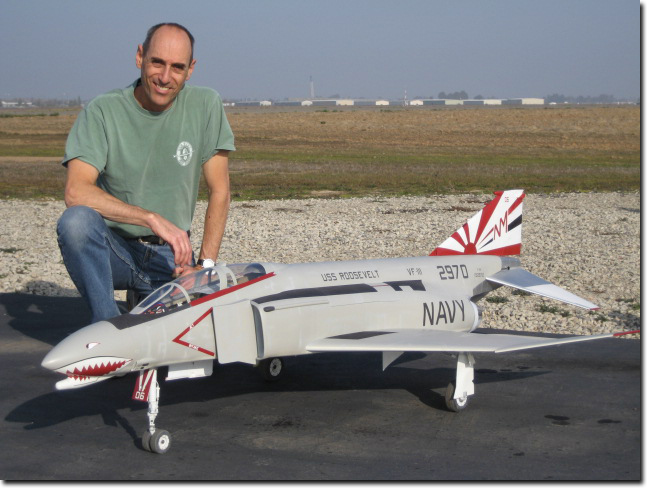 Steve Unze of San Anselmo, California test flew his new scaled out F-4 Phantom with JetCat P-120 power and all went as planned. Steve is doing the final detail work on it now and will be competing at Top Gun '07 with this beauty.
See Top Gun '08 Results
---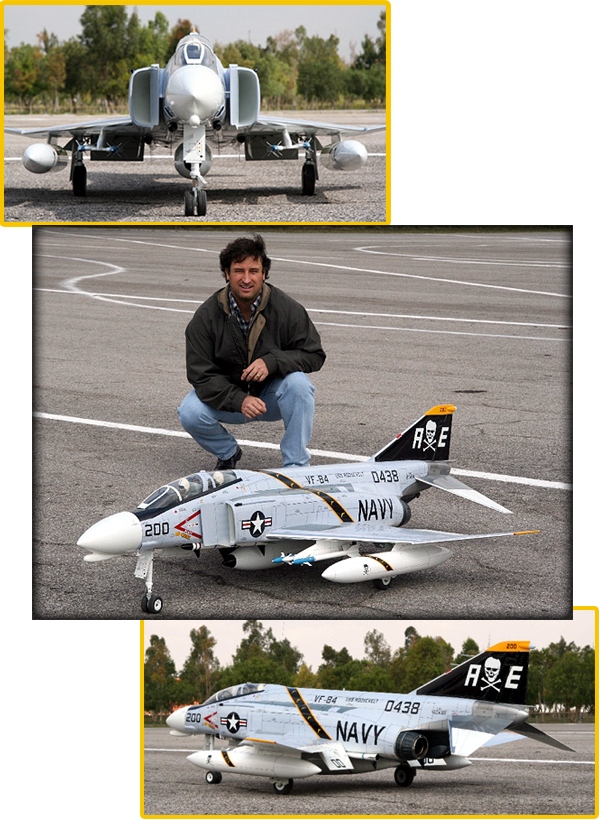 This Jolly Rogers F-4 is owned by Rafael Herrera of Mexico, where he flies at 6,000 ft altitude. The Phantom is powered with an Artes Rhino turbine and is very detailed thanks to markings by Pro-Mark. Rafael equipped his F-4 with BVM's 600 gallon centerline tank, 370 gallon wing tanks and AIM-7 missiles.
---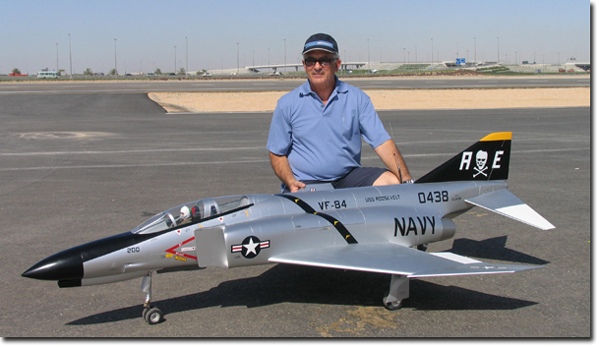 S.I. Stathis is enjoying his BVM F-4 Phantom with JetCat power in the United Arab Emirates. Stathis flys his Phantom and Super Bandit at the recently completed Dubai R/C airfield (40x300 meter runway).
---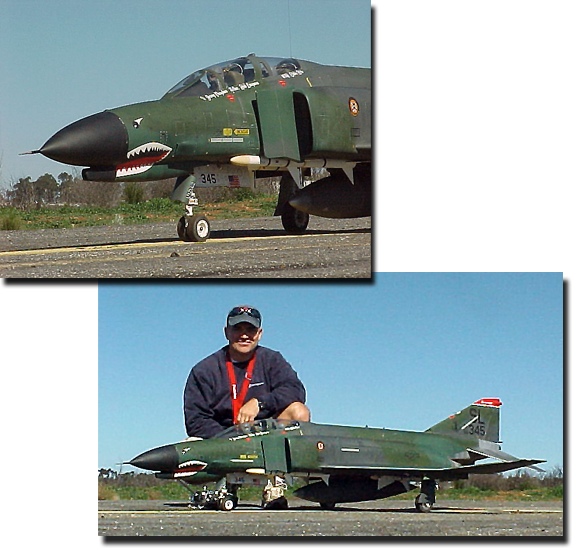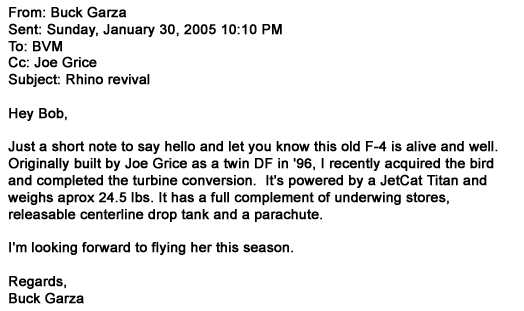 ---
Dr. Jose Rodriguez (right) of Houston, TX is the proud owner of this beautiful F-4 Phantom, professionally built by BVM Rep Phil Nuza (left). Jose chose to power his Phantom with an Artes Jet "Eagle" turbine and says the performance is outstanding.
---


Ray Blair of Houston, Texas is serious about BVM F-4's. It's easy to see when you look at his two detailed Phantoms. Both are powered by JetCat P-120's and equipped with smoke systems, and an air-operated scale nose strut that extends prior to takeoff.


---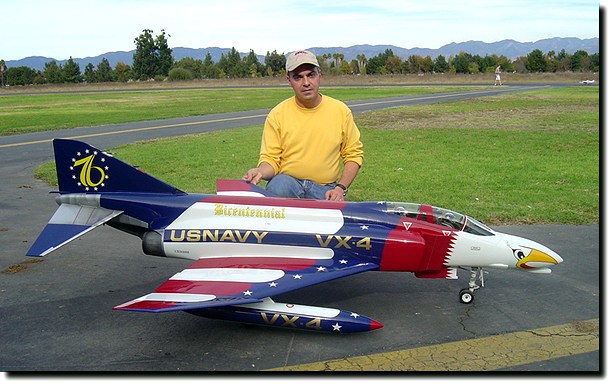 David Soufer of Los Angeles, California had Joe Grice build this beautiful Bicentennial F-4 Phantom. David is using an AMT Pegasus with full auto-start for power.
---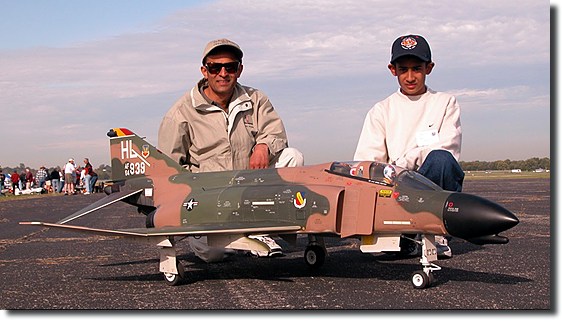 Shalish Patel and his son Nil have enjoyed there BVM Phantom for many years now. Currently Nil is flying the AMT Pegasus powered F-4 in scale competitions, most recently he flew in the Scale Masters in Dayton, Ohio (September 2003).
---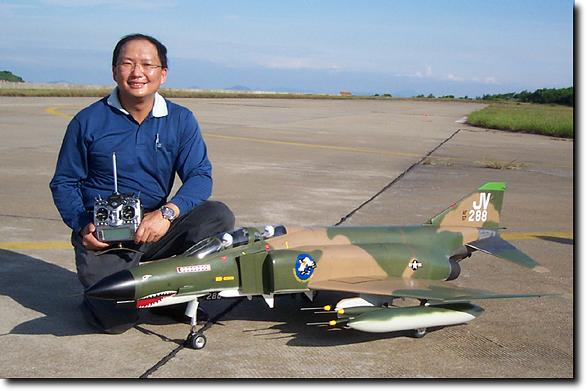 Simon To of Hong Kong is enjoying his AMT AT-400 powered "Arkansas Traveller" Phantom. He tells us that the performance is outstanding!
---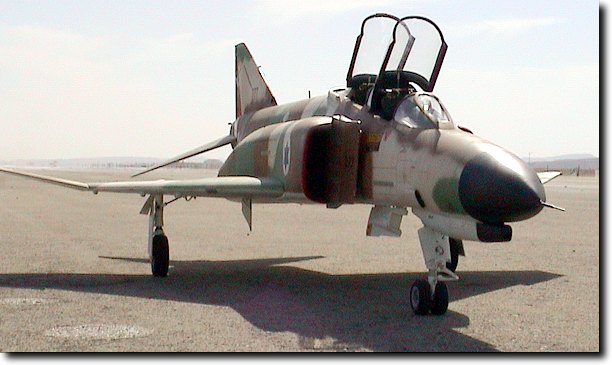 This super scale rendition of a BVM F-4E is the work of Peter Weiss from Israel. Approximately 2,000 hours over a 2 year period was devoted to the task of applying panel lines, rivets, insignia's (in Hebrew), AIM-9 and Sparrow missiles, landing lights, antenna's and fully functional lifting canopies. Peter uses a RAM 1000 for power set at 25lbs of thrust.


---


Julio Moron of Caracus, Venezuela is enjoying his F-4 Phantom using a RAM 1000. His F-4 came out at 23lbs and says it lifts off in 150 ft!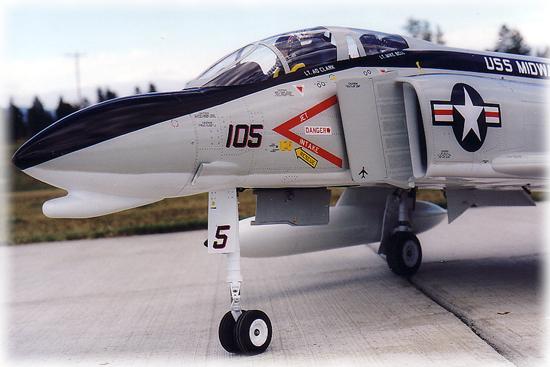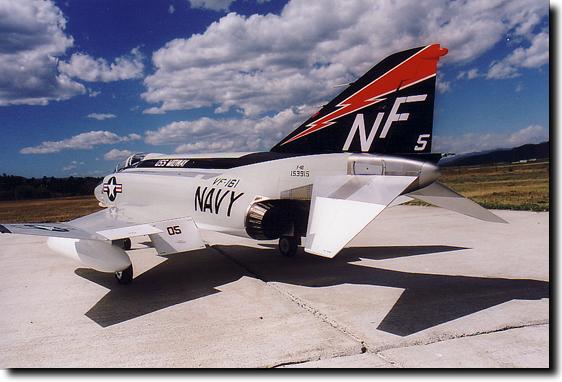 Ad Clark from Kalispell, Montana built and finished this fabulous Phantom. The VF161 scheme has been begging to be done right and here it is. Ad says he is still working on "weathering" the finish to give the airplane that realistic "used" look. This AMT AT-280 powered F-4 will debut at Superman week '02.

All of the markings on the model are of course, by Pro-Mark Graphics. They have everything you need to make your BVM jet look this good!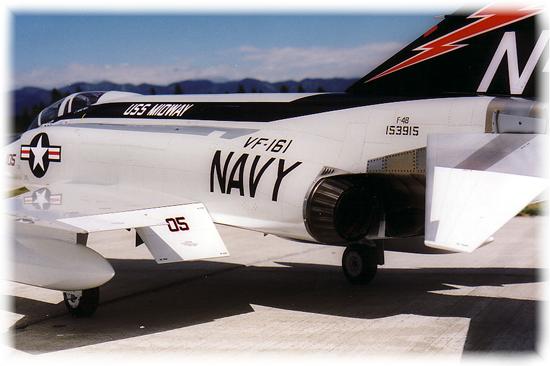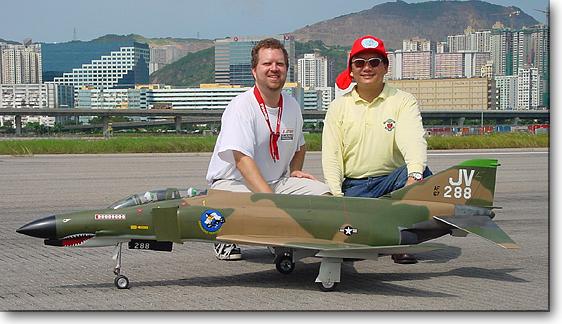 David Ribbe travels to Hong Kong on business a few times a year. David and Simon To get together to fly some of Simon's jet air force - this time his BVM F-4 Phantom. Great looking Rhino! Simon is another happy F-4 owner/flyer.


Mark Taylor sent us this photo of his two favorite models. Jaci Gaddis and oh yes, the F-4. It is Jet-Cat P120 powered and fully equipped. We should have a flight report on it soon. The Jolly Roger markings and stencils are available from ProMark.




(7/01) Mark Taylor has successfully flown his Phantom that is powered by a Jet-Cat P-120 engine. BVM rep Paul Bageman was on hand to check the model over and assist with pilot coaching. Paul and Mark reported that everything worked well - another happy customer!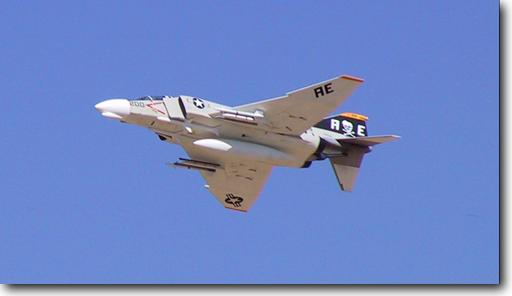 This is Mark Taylor's F-4 in flight during the Fresno Jet Rally. Thanks to Rich Fong for the photo's.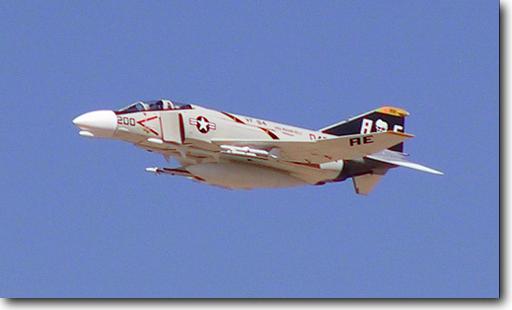 The Phantom with a Centerline tank.


We have been operating the F-4 clean wing and with the twin wing tanks. This photo series depicts the model in the "single centerline" configuration. This lightweight, fiberglass molded replica 600 gallon fuel tank is mounted to a servo release mechanism in the belly of the aircraft. The thin profile pylon is permanently attached to the tank.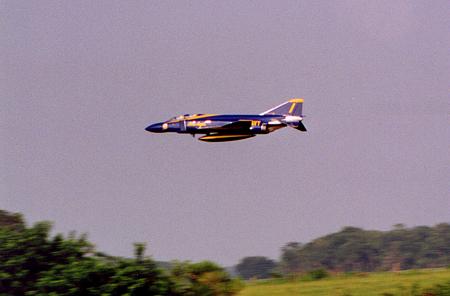 The Blue Angels used this extra fuel for extended cross-country flight to get to a show while combat F-4's combined the "centerline" with rockets, bombs and missiles for a variety of missions over North Vietnam.



The Blue Angel paint scheme is brilliant in the early morning sun. Mitch Weiss is photographing from eye level. The model is at about 20ft of altitude.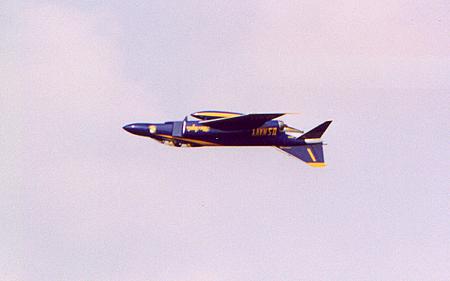 The Centerline tank adds to the complex profile of the Phantom and looks great on inverted fly-bys. Note the stab deflection angle to hold the nose level. I use 35% exponential dialed into the stab and aileron controls make maneuvers like this smooth.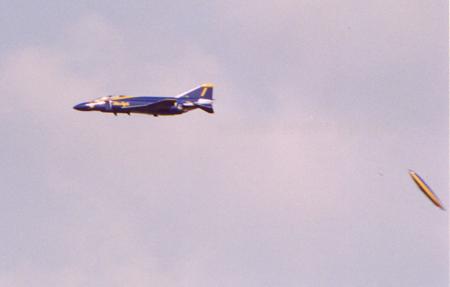 The tank release is clean and uneventful as long as it lands in the grass. This is an easy 10-point maneuver if you are interested in scale competition. The yellow trim allows easy spotting for pick up after the flight.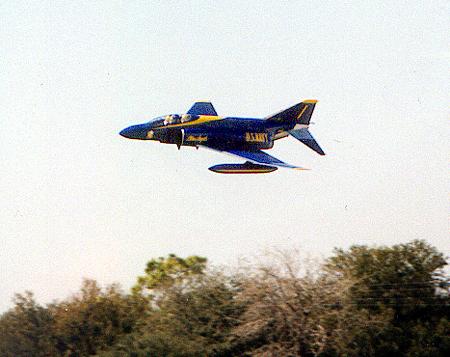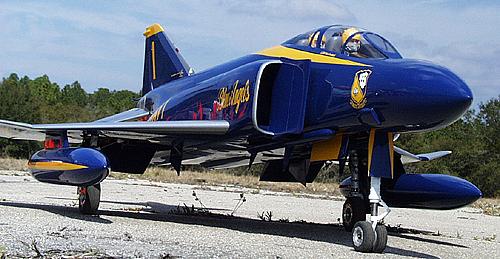 Here's a few shots of the BV's latest Pegasus powered Phantom II.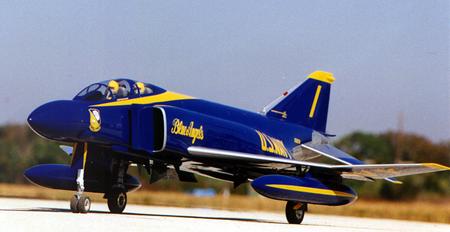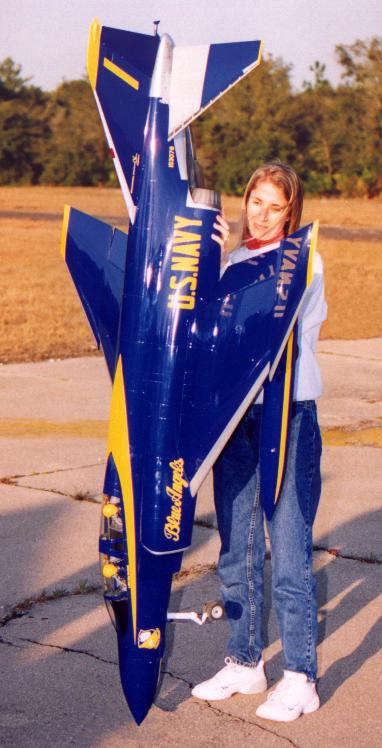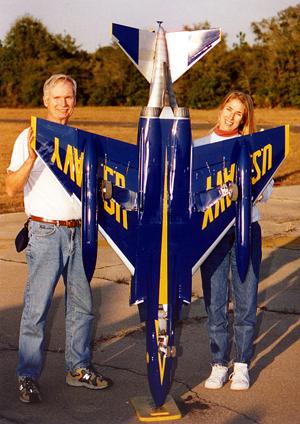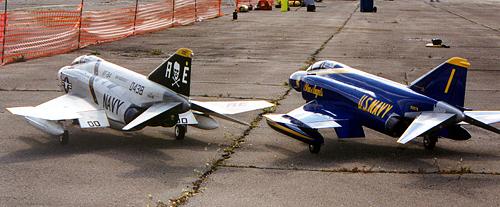 Tom Wood's Jolly Roger F-4 is powered with a RAM 1000, while Bob Violett's Blue Angel is powered with an AMT Pegasus. BVM offers installation kits for these engines and the JET-CAT P120.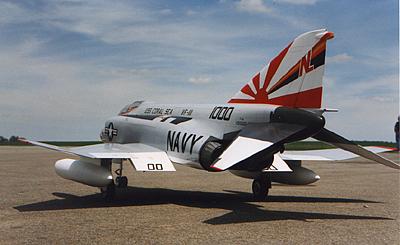 Jim Weigle's F-4 is powered by an AMT Pegasus and flys exceptionally well.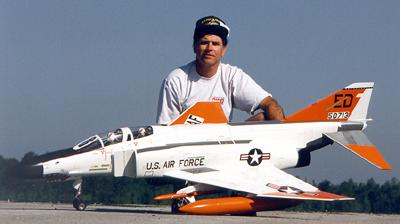 Craig Gottschang's F-4 has plenty of external stores which add to this beautiful model.



Jack Diaz on takeoff climb out with his F-4. This aircraft is now powered by an AMT Pegasus.




Here is a fine example of a beautiful scale paint scheme and markings done by Joe Grice.


Contact Us
All graphics, photos, and text Copyright 2016 BVM, Inc.
Use of graphics or photos without written permission from BVM is strictly prohibited.