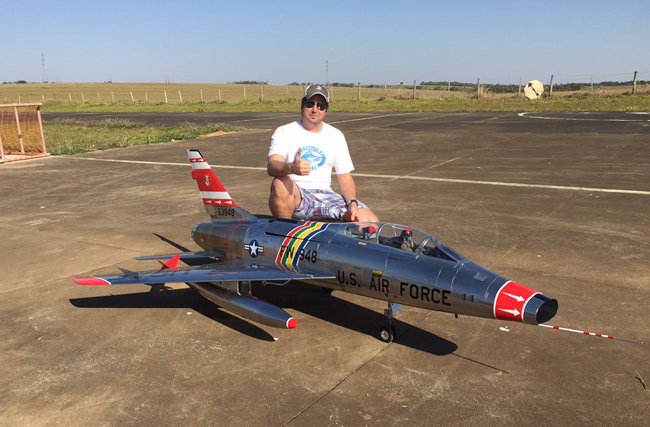 From: Bruno Borges
Sent: Sunday, October 02, 2016 5:11 PM
To: Patty
Subject: New BVM F-100
Hi Patty,
This is my new BVM F-100F built by Celso Desanti. This jet has a fantastic flight envelope!!!
Thanks
Bruno Borges
NOTE: Bruno is from Brazil
---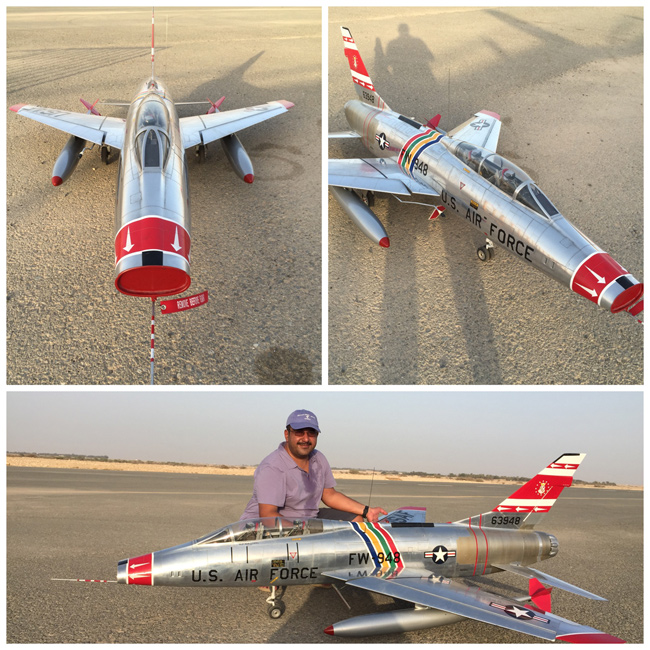 From: Khalid Naji
Sent: Friday, June 19, 2015 7:44 PM
To: Patty Generali
Subject: BVM
Hi Patty,
These are my recent June 2015 flight photos on my F100F model powered by an AMT Olympus. Still a very stunning model after 10 years of being flown, and an eye catcher to every visitor for our RC flying club.
Thank you Bob for your innovations.
Khalid Naji
Qatar
BV Comment: Congrats Khalid, it's a fabulous looking two seater and to keep it flying for 10 years represents your skills as a modeler and pilot.
---
From: Darryl Tarr
Sent: Friday, May 29, 2015 2:17 PM
To: Patty Generali
Subject: The "Hun" in Dubai
Hi Patty,
Had a very successful maiden with my F-100F today. She handles extremely well (like a loaded and scaled up version of my Ultra Bandit). Original JetCat P-180 powered and Futaba 14MZ.
Best regards,
Darryl
Captain Darryl Tarr
---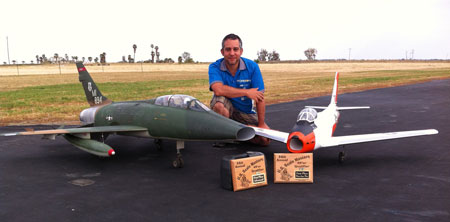 Bob, Dustin,
Last weekend we had the scale masters qualifiers at our field in California. I entered two categories: Pro am pro with the demo Fury and Advanced with my F100F. I won both!!! People were super impressed with the Fury. No one was expecting that an EDF could compete in a scale event. But as always, lots of practice, and being comfortable with the typical cross winds you find in any contest, paid out at the end. This year we are having the Scale Masters finals at my local field, so I will be competing. Need to decide if I will do Pro Am pro or Advanced. So, as always, BVM jets are at the top of all the scale events. Thanks for your for all you do to keep us flying (and winning!!!)
Gerardo Diaz
---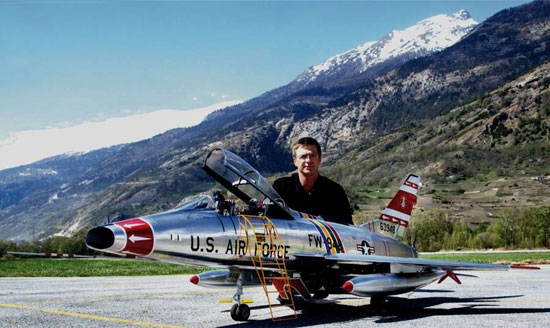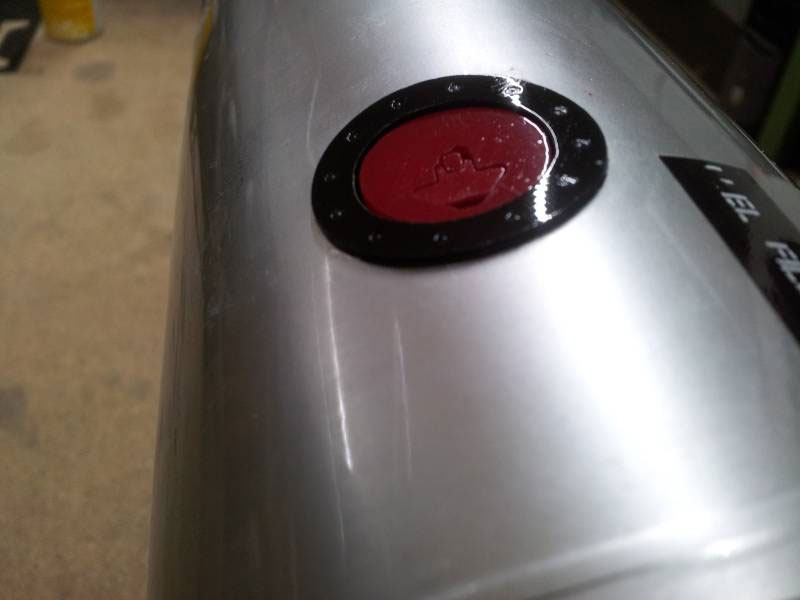 Rainer Willisch from Zermatt / Switzerland, has an "enormous effort and passion" invested in his BVM F-100F. A photo story will appear in an upcoming Jet Power Magazine.
---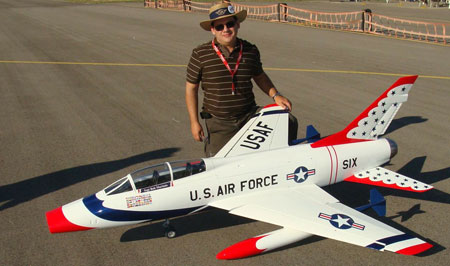 From: Paul Uriarte
To: Patty
Sent: Tuesday, November 22, 2011 12:02 AM
Subject: RE: Ultra Bandit quote
Hello Patty,
This is my F-100F. I did the Thunderbirds scheme but in white. It was a pleasure to build this nice kit and it would be great to see it on your website.
Thank you,
Paul Uriarte
---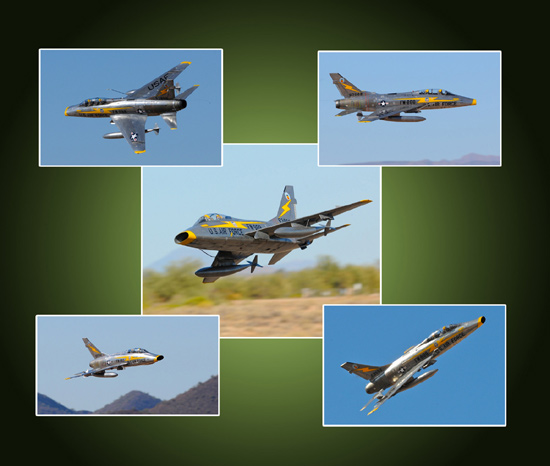 These fantastic "In-Action" shots of Joe Castaleo's F-100F were captured by Joe Balabon at an Arizona event in October 2009. I am not sure what camera or lens Joe uses, but he has freely given his talents to help all of us enjoy our sport a bit more.
---
From: Reuben Malz
Sent: Monday, November 17, 2008 10:26 AM
To: BVM
Subject: BVM F100F
Dear Bob,
After much success with the F4 Phantom, I drove my wife crazy with this even bigger project. I went all out with the larger 2-seater and every option from Details-4-Scale including the Auto-Chute, Nav-Lights, and Tail bumper. I spent 6 months covering it in Flite-Metal with great results, then having a blast with all the Pro-Mark graphics, which go on effortlessly. I choose a yellow scheme and a large jet for best visibility as I get older. These things are getting harder to see and I also wanted a unique one-of-a-kind model. I wanted a challenging project and the well engineered F100 delivered. (Functional LE Slats are cool). Balancing the model took thought as I had to locate all batteries to the rear section. Last year I flew the F100 in primer and found it tucked under in turns. Bob advised me to locate the CG ½" back the recommended location, and found it flew great this year in all its colors. The F100 flew last year with a JetCat P180. I switched to the new P160SX to save weight but more for the extra 2 minutes of flight time. The jet is setup with a Powerbox, Duralite, and JR 2.4 GHz. It is early November now and the sun is low and getting cold. I will have to wait until next year to fly this one again. Thanks to Tom and Bob for all the support and another great Jet from BVM, as usual.
Reuben
---
From: Rod Snyder
Sent: Monday, March 17, 2008 8:43 AM
Subject: Red Bull Florida Jets
Patty, Here are a couple of photo's of my Red Bull F-100 from Florida Jets. The paint scheme is produced with a base chrome paint form a company called Alsa Corp. The blue was then applied as a candy color over the Chrome. BVM's metal Kote was used in accenting panels to help achieve a more realistic affect. I always wanted to do a 2 seat F-100 in a sport scheme and this combination worked out perfectly. I have flown the aircraft twice with power provided by a Titan SE.
---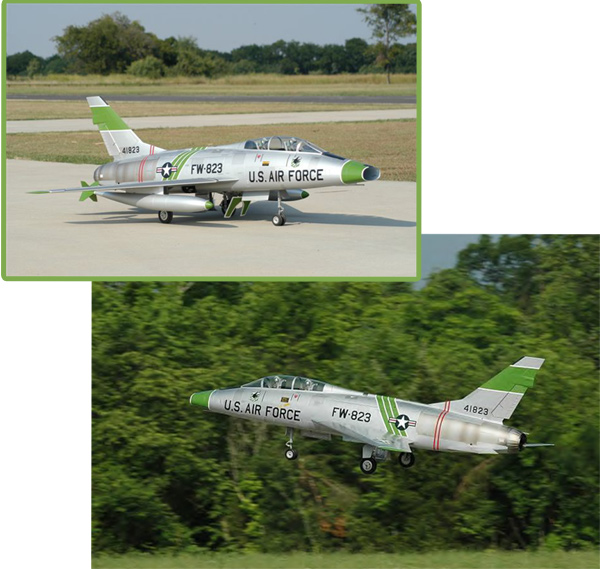 Ray Blair from Richmond, Texas is really enjoying his F-100F model powered by a JetCat P-180. The model was built by Kirk Jensen of Houston, Texas and is finished with Pro-Mark Graphics, rivets and some weathering.
---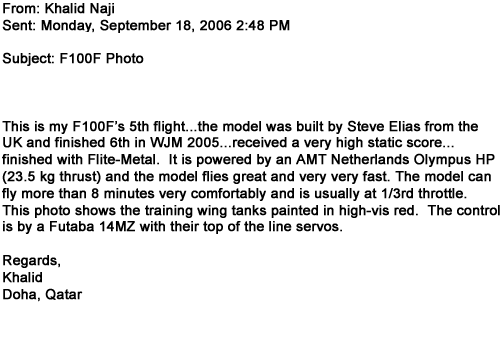 ---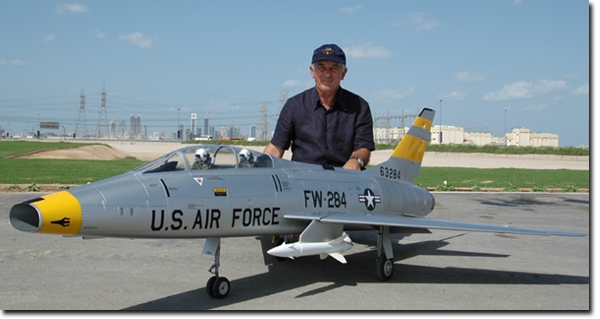 S.I. Stathis of Dubai, U.A.E. built and finished his F-100F using the BVM Metal-Kote II system. Stathis says the model is "superb" and powers his Hun with a JetCat P-180.
---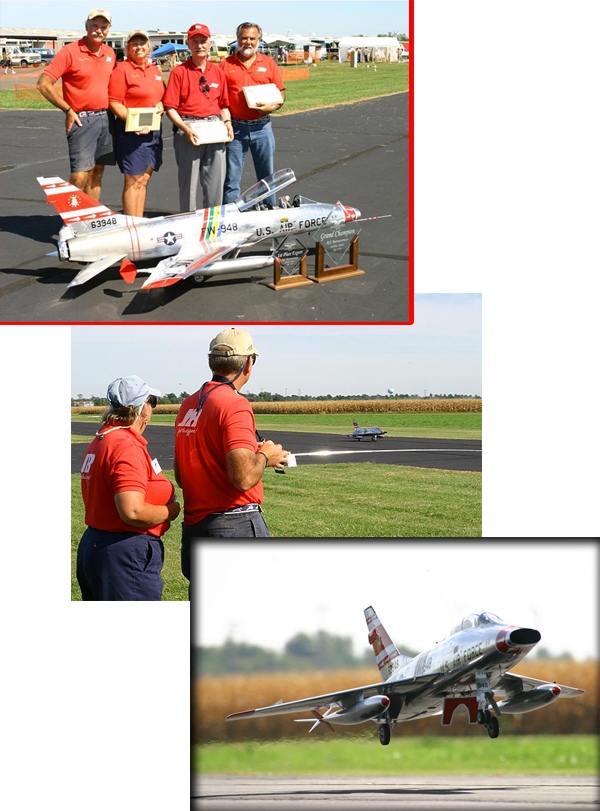 Terry Nitsch wins the U.S. Scale Masters - capturing the Triple Crown of U.S. Scale competition - Top Gun, AMA Nationals, and the Scale Masters for 2004.



The BVM F-100F utlized a JR 10X radio and an AMT USA Olympus for power.



Terry's efforts also won the high static and grand championship point awards.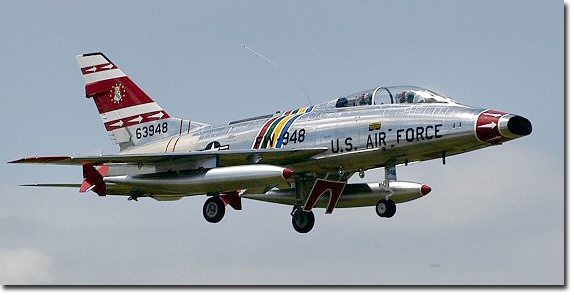 ---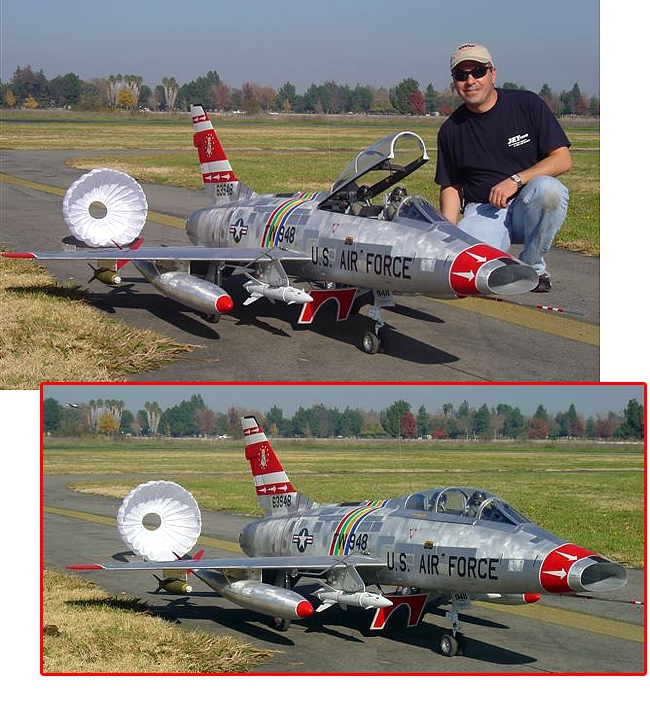 David Soufer is the proud owner of this magnificent F-100F that was built by Greg Anixter. The model has a fully operational air powered opening canopy, drague chute, and is finished in Flite-Metal. An AMT Netherlands Olympus HP electric start turbine provides plenty of push while a JR 10X handles all of the controls.
---
Simon To (from Hong Kong) looks very pleased with his F-100F. Joe Grice built and finished this superb "Two Holer HUN" for Simon. As intimidating as this machine may appear, BVM F-100's are easy to fly - just keep the power up in the landing pattern.
---
Bob Violett's F-100F is powered by an AMT AT-450 (Olympus) and is finished with ProMark markings and Metal-Kote paint..


Contact Us
All graphics, photos, and text Copyright 2016 BVM, Inc.
Use of graphics or photos without written permission from BVM is strictly prohibited.