U.S. Patent, Design Ownership, Showroom Photos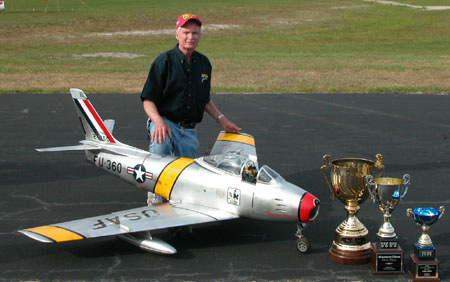 Bob Violett with his Top Gun winning F-86 Sabre. The Sabre won 1st place in Designer Scale and overall Mr. Top Gun awards at the 2006 event.
ABOUT BVM
Established in 1981, BVM has emerged as a world leader in the design, development and manufacture of radio controlled jet model airplanes. Founder and president, Bob Violett, a former U.S. Navy Jet Carrier pilot, commercial airline pilot and 45-year veteran of radio controlled flying, has drawn on this knowledge and experience to develop the unparalleled BVM jet kits and accessory product lines.
A trademark of a BVM kit is the extensive assembly and operations instruction package. Detailed text and photos take the guesswork out of the construction, equipment installation and operation.
BVM manufactures fifteen different jets in the U.S.A. for turbine and Electric VioFan power. Additionally, BVM is the primary distributor for Skymaster/Xtreme jet products that have earned a great reputation for quality. To power all of these jets, BVM offers six different power ranges of turbine engines and 2 power choices for the EVF. Our knowledgeable staff of jet builders and pilots can help you decide which engine and accessories are best for your BVM model.
BVM Jets are uniquely designed to ensure your success. Kits are produced using state-of-the-art technology and materials. These strong, lightweight airframes are capable of achieving the maximum performance for each model's classification, be it sport or scale. Kevlar, carbon fiber, end-grain balsa laminates, woven carbon cloth and other composite materials are carefully chosen and integrated into the design.
Additionally, all hardware needed to complete your jet is provided. In many cases these critical parts are of BVM design and manufacture because we know that jets require the strongest linkages, hinges, latches, landing gear mounts, etc. When you compare completeness, quality and performance, you'll discover that the BVM sponsored products are truly outstanding values. Most importantly, when you are a BVM customer, you will get the help you need to be successful.

License for Patent #5,601,159
Be advised that the BVM "O" Ring Brake Patent # 5,601,159 is effective until 15 July 2014.
Licenses to legally utilize this patent are available from Bob Violett.
Note: A change in patent laws (circa 1995) states that the duration of a U.S. Patent shall be: 20 years from date of filing, or 17 years from date of issue, whichever is the longest period of time.
Notice of US patent #5,601,159

"O" Ring Brake System

US Patent 5,601,159

NOTICE: The production and/or sale of model wheel brakes that utilize this
"O" ring brake system is strictly forbidden unless there is a licensed
agreement with patent owner Bob Violett.
Notice of US Patent
The BVM Electric VioFan (EVF)
design features are protected by U.S. Patent# 8,026,644

U.S. Patent Notice:

The Electric VioFan (EVF) is further protected with
U.S. Patent# 8,310,117 B2

Issued 13 November 2012
BVM

Clevis Pliers

patent pending
---
BobCat™ KingCat™ Bandit™ Ultra Bandit™ Electra Jet™ eBanditTM
The sport jet designs known as the BobCat, KingCat, Bandit, Ultra Bandit and The Electra Jet are the sole property of Bob Violett/BVM Inc. located in Winter Springs, FL U.S.A.
Bob Violett, the designer, claims all rights, trademarks, copyrights and intellectual property rights relative to the above listed sport jets.
Production and/or sales of a copy or close resemblance of these models is strictly forbidden without a written authorization from Bob Violett.
Contact Us
All graphics, photos, and text Copyright 2012 BVM, Inc.
Use of graphics or photos without written permission from BVM is strictly prohibited.