JetCat Turbines | Why buy a JetCat? | BVM Visits JetCat USA
BVM visits JetCat USA
by Bob Violett


Following our participation in the Dixie Jet Rally in St. George, Utah. Tom Dodgen and I pointed the BVM "Road Show Rig" south to Augora Hills, California; home of JetCat USA.



This recently established company (September '01) functions as the USA based distributor, repair and service facility for the very successful "made in Germany" JetCat turbine engine.



These engines have earned a reputation for great performance and extreme reliability, so it is not surprising to find that the people and facility are dedicated to the continued success of the product in the U.S.A.



It takes a certain passion for "the hobby" to be successful in this specialty sector of the business. Accordingly, Bob Wilcox and staff have established a very organized, efficient and fully equipped operation that will instill confidence in any current or future JetCat customer. During our two day visit, we witnessed that every customer's inquiry was handled personally and promptly. The few engines that were in for repair were turned around quickly and test run by Bob in his totally instrumented test cell. I was fortunate to watch a complete rebuild of an early vintage crashed engine and then see it perform to specs in the cell before it was shipped to the customer the following day.



My early experience with the JPX engine servicing allowed me to appreciate the simplicity of design that benefits the JetCat - a real credit to the German engineers. The California U.S.A. facility has the personnel, the parts, special tools and machinery to keep your engine in the air.



JetCat (Germany) and JetCat USA operate under the strict standards of ISO 9000. International Standards Organization 9000 is a system that documents the manufacturing process and tolerances such that the quality control of the end product is consistent and enduring. It is a significant investment in time and money for a company to adopt the ISO system, but, ultimately the customer and the company benefits from a more uniform product.



While Bob Wilcox and I were engrossed in the internal workings of the P-80's and P-120's, Tom Dodgen and Jason Somes were busy assembling a BVM Rafale B-O1, the soon-to-be JetCat P-160 flight demonstration machine.



It wasn't all work however, there was time to enjoy meals with friends and jet flyers Bruce Faber, John Payne, Jason Somes and Bob's charming wife Jan and daughter Leslie.



Our visit to JetCat USA was most pleasant and informative, and, after observing this business "at work" it is easy to understand why JetCat enjoys such a high level of customer satisfaction.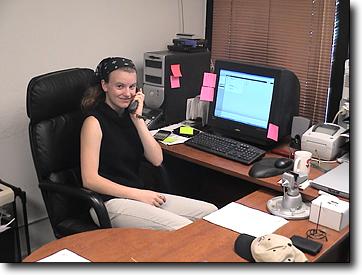 Bob's daughter Leslie is a great help in the office between school semesters.



A precision balancing machine is an absolute essential item for most turbine repairs.



Justin handles the minute-to-minute business items and gets some help from Dillon.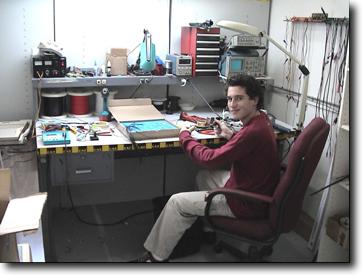 High school student Spencer Klein works part time on various electronic sub assemblies.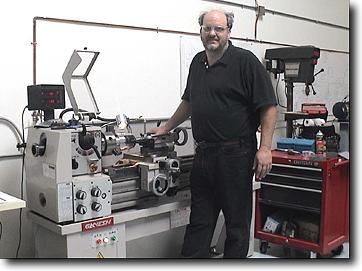 Certain rebuild items require special fixtures and an engine lathe.


As a Result!
In-the-field repairs
by BVM
If you fly JetCat, you know that it is rare to have an engine problem, but of course, all things mechanical and electrical will need service at some point. Should this happen at an event that we are attending, the BVM trailer will be equipped with some replacement parts and installation items (see JetCat parts and accessories).



JetCat USA and BVM want to keep you flying.
Bob Violett

Contact Us
All graphics, photos, and text Copyright 2012 BVM, Inc.
Use of graphics or photos without written permission from BVM is strictly prohibited.