Flying the REAL F-100F | F-100 Hot Shots | Jet Foam Cradle | Fuel System Flush Mount Fitting
BVM's F-100F
"Stretched Hun"

North American Aviation modified the F-100D by extending the forward fuselage with a 36" long insert to accommodate a second cockpit. The resulting "two holer" was dubbed the F-100F and was used by the U.S. Air Force for training and Wild Weasel and Misty FAC missions during the Vietnam War. It also saw considerable use in the Air National Guard during the late 60's and 70's.
Similar to other fighter/attack aircraft of this era the "F" was adorned with many different paint schemes.
Thanks to Lynn McCaulley who took photo's and measurements of a real "F", we were able to accurately reproduce the panel lines and details such as added vents and the elimination of two 20mm cannons and the relocation of the remaining two.
The 1-1/2 pounds of extra weight up front in the BVM model was compensated for by moving the engine and other components aft.
The two full depth cockpits are best viewed through an opening canopy so we developed a manually operated (for safety in flight) mechanism that allows the model to be presented properly for static display. All of the necessary parts are standard in the 2 seater kit.

SCALE: 1:6.75 or slightly larger than 1/7th scale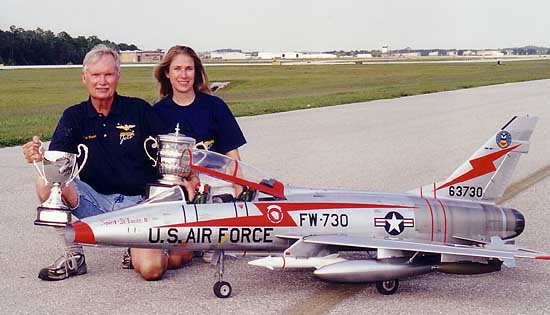 External Stores, Ordinance
Tail Hook, and Landing Lights
BVM makes the pylons (fully detailed F/G parts) and under wing tanks. Dan Gill makes the Bullpup missiles with launch rail (not shown on model), Mark 82 (500lb bombs), AIM-9 missiles with dual launch rails, tail hook and landing lights to the correct scale for 1/7 to 1/6 scale jets of this era.
Don't worry about the extra drag and weight of hanging this stuff under the wings. We have demonstrated through many flights that with sufficient and reliable power, the slatted wing will handle it with ease.
This fully loaded Hun weighs 36 pounds plus 10+ pounds of fuel at take-off, certainly not a strain for the 45 pounds of thrust that the JetCat P-180 produces.
BVM made some serious tooling investments to be able to produce the handsome two seater. The forward fuselage section (from the wing T.E. forward), the canopy, the engine access hatch and the inlet duct represent all new tooling and parts.
How does it fly?
It flies with authority and is perhaps one of the easiest to land jets there is, just keep the power on in the landing pattern. The instruction package describes this most critical phase of flight for any jet.

At this writing, I have made no adjustments in flight profile or technique - I would have to say that it flies the same as the single seat "D" model.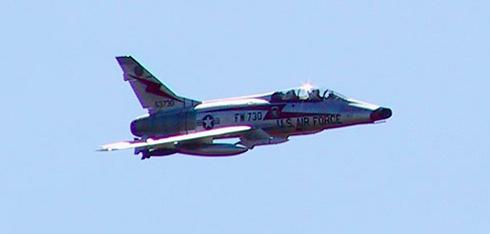 Availability and Price
F-100F kits are made to order - call for delivery.

You will also need (2) of the super detailed, resin molded cockpits.
PRICING
JET KIT
9750
F-100 F
$5,495.00
includes - airframe (all composite) with hardware, cockpit deck, plans & instructions.
LANDING GEAR SYSTEM
9710
Landing Gear System (complete)
$2,397.75
includes - retracts, air install package w/door cylinders, struts, wheels, brakes, and Smooth Stop brake valve.
TURBINE INSTALLATION KIT
All turbine installation kits include BVM Bypass system, S.S. tailpipe (double wall), S.S. augmenter, and hardware.
JetCat P-180RX
$685.00
JetCat P-200SX
$725.00
Jet Central Rhino
$685.00
KingTech K-180G
$685.00
FUEL CELLS
6105
Kevlar Kerosene Fuel Cells
$450.00
Options:
1955
F-100 Aft Hot Section paint kit
$72.50
9720
Wing Tanks - pair
$425.00
9725
Pylon kit (complete set of 6)
$525.00
9727
Inboard pylons (2)
$185.00
9728
Midwing pylons (2)
$175.00
9729
Outboard pylons (2)
$185.00
K9700-50
Cockpit detail kit
$334.95
9565
Aeropoxy glue kit
$87.95
Includes - glue gun, 2 glue cartridges, 2 long nozzles and 2 short nozzles
9735
Wing Fences - pr
$27.95
9737
Molded Refueling Probe and Pitot Tube
$62.00
650
Jet Case (f/g molded)
$629.00
PRICES SUBJECT TO CHANGE WITHOUT NOTICE AND APPLY TO SALES WITHIN USA ONLY.
Bob Violett Models Inc. 3481 State Road 419 Winter Springs, Florida 32708 USA tel 407-327-6333 fax 407-327-5020 www.bvmjets.com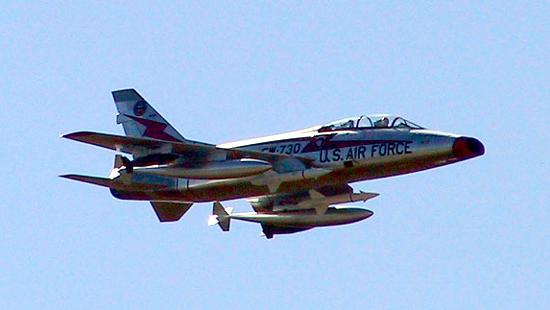 F-100 F
Airframe Directive (A.D.)
And other helpful notes

Wing Pylon Mounting
Locate drill locations per plans.
Drill pilot holes with 1/8" bit. be sure to align drill vertically with respect to ground stance of model. (not surface of wing skin).
Re-drill with 3/16 bit, then with 13/64" bit. (hole size is critical for proper installation of brass insert.)
Install brass insert onto 4-40 socket head bolt. Slowly thread insert into hole. Maintain vertical alignment to avoid braking maple block loose in wing.
Remove bolt from insert, if insert does not release, place a drop of water into hole to swell maple block around insert. Wait 10 minutes, then try to remove bolt again. If needed, a drop of ZAP can be used to hold insert in position in block.
---
F-100D & F
Stab Servo Arms

The details and instructions on the top view of the fuse plans show and emphasis that the stab pushrod clevises are connected to the 2nd hole from the center of the JR 215 heavy duty arms. THIS IS CORRECT.

The photo on page 54 of the "D" model and page 63 of the "F" model should be replaced with this image.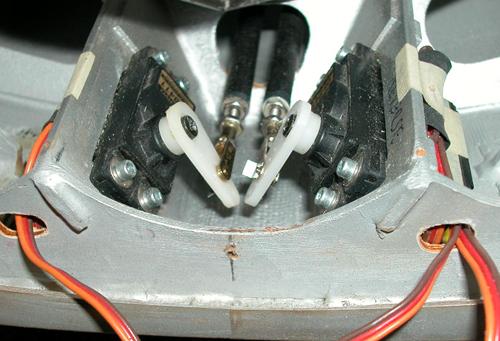 Contact Us
All graphics, photos, and text Copyright 2018 BVM, Inc.
Use of graphics or photos without written permission from BVM is strictly prohibited.