AFS Kit Addendums | Flap Templates | Decals | Paint Schemes | JR 12X Datasafe File | Power Installation (3) 4s packs| F- 86F Sabre/Fury Hot Shots | Electric Retract Conversion | EZ Pylon Kit | Wing Tanks & Pylons | Smoother with Gyros | Jet-Foam Cradle | Electric Retracts Flight Operation Procedures | Convert Existing Electric Motors to Xicoy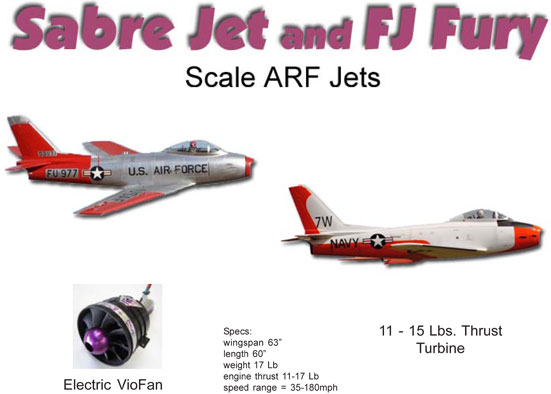 EVF or Turbine Power
North American Aviation built these similar airframes for the US Air Force and the Navy during and after the Korean War era. Our scale renditions with a 63" wing span are just the perfect size for the Electric VioFan or small turbine power. The conversion of the airframe from either source of power is simple and totally supported with BVM parts and instructions. Like all other BVM jets, the inlet and tailpipe systems are "Full Flow" designs, specific to the power system of choice.
The airframe is a light weight, all composite structure that features paint "in-the-mold" and "out-of-the-mold" techniques with a slightly "weathered" appearance appropriate for a scale model jet. Even the miniature stencils that direct the ground crews who serviced these jets are properly placed on your Sabre/Fury.
Engineered For Success
The Flying
FJ Fury ARF Available Now
EVF or Turbine power

BVM has always believed in showing you first hand just how our products perform.
The Components
Strong & Light All Electric Undercarriage
Electric Retracts Flight Operation Procedures
Sabre ARF Flap Templates - click here to view
Super Flow Inlet Duct
for
F-86 (63")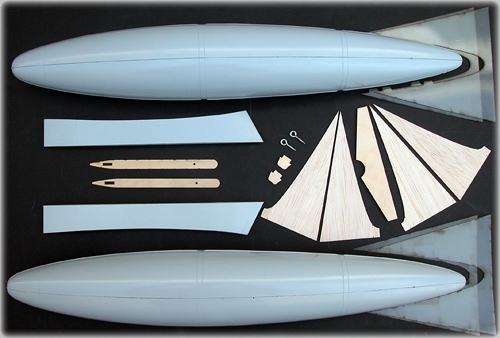 Fighter Bombers of this era had underwing pylons to carry extra fuel to get them to the combat zone and engage in air-to-air or air-to-ground attacks. These highly detailed epoxy glass molded options allow you to fully adorn the Sabre Jet.
Sabre ARF Servo List - click here to download the PDF file
Sabre Jet Decals
Sized to fit the BVM 60"- 63" F-86
These are freshly made waterslide decals that utilize the latest techniques and materials. The quality is superb. This set of 5 sheets will authentically adorn your F-86.
BVM # PA-FO-0001 Price (set of 5) $75.00
---
Sabre Addendums for AFS Kits
And other helpful notes
Battery Support Shelves for (2) Saddle Cells (10s power) Addendum
(03/12/2010)
---
Cockpit Interior Addendum
(03/12/2010)
---
Main Gear Installation Addendum
(02/02/2010)
---
Fuselage Internal Cooling Addendum
(01/14/2010)
---
Forward Equipment Mounting Addendum
(12/09/2009)
---
Rudder Servo Mount Addendum
(09/04/2009)
This simple machine made maple block assembly makes the rudder servo installation much easier. It is available at no charge to Electra (Kit or ARF) and Sabre (AFS or ARF) owners with your next purchase from BVM.
Kits shipped after September 2009 have these parts and instruction updates included.
---
(06/12/2009)
Note: All E Jets are built light weight. Give due consideration when handling each F/G component.
---
Main Gear Flex Mount Stiffener Addendum
(09/30/2008)
Contact Us
All graphics, photos, and text Copyright 2016 BVM, Inc.
Use of graphics or photos without written permission from BVM is strictly prohibited.